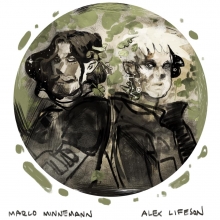 Multi-instrumentalist Marco Minnemann has announced the release of a limited edition EP featuring a new track he co-wrote with Alex Lifeson titled Lover's Calling. From Minnemann's Facebook page (thanks Mark R):
I'm very pleased to announce the release of this cool looking EP 12" vinyl picture disc.

Alex and I have been working together on a lengthy 7 mins+ piece called 'Lovers Calling', which also features both the incredibly talented Mohini Dey on Bass and Maiah Wynne on Vocals.

The EP will be available as a very limited collector's edition of 500 physical units only, to be sold exclusively at our merch tables on the upcoming Aristocrats tour starting end of June and my drum festival tour in September.

The EP also features the beautiful artwork and paintings by the amazing Brigitte Roka.

Stay tuned for more info.
Minnemann has collaborated with Lifeson on a few other projects over the past couple of years. Back in the summer of 2017 Lifeson made a guest appearance on Minnemann's album BORREGO, playing on 3 tracks, including one which he co-wrote with Minnemann - On That Note. He also appeared on the album Atheists And Believers - the 3rd album from Minnemann's prog-rock supergroup The Mute Gods, which released back in March.