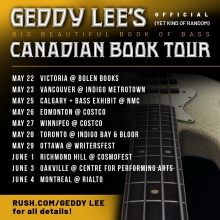 Earlier this week Rush and Geddy Lee announced a number of Canadian book signing events for Geddy's Big Beautiful Book of Bass. Geddy will be signing copies of his new book all across Canada at ten different locations from May 22nd through June 4th, including one special stop in Calgary on Saturday, May 25th where he will open Geddy Lee's Big Beautiful Bass Exhibition at Studio Bell at The National Music Centre (NMC), highlighting a selection of his rare and iconic bass guitars - the same collection that was featured at the Rock and Roll Hall of Fame in Cleveland earlier this year (photo here). You can get all the details and purchase tickets for the various events here.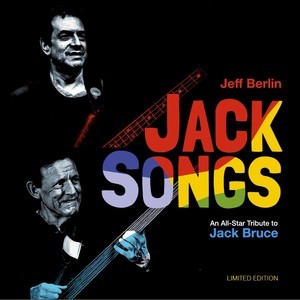 Bass legend Jeff Berlin began recording his long-awaited, all-star Jack Bruce tribute album Jack Songs earlier this year, which will feature a guest appearance from Rush's Alex Lifeson. The project is being funded via Pledge Music and has been in the works for over 3 years. In addition to Lifeson, it will include guest appearances from Steve Vai, David Sancious, Paul Shaffer and many others. Lifeson recently wrapped up recording a track for the album as described in this Facebook post, which includes a recent photo of Al in the studio. You can secure a copy of the album for $20 via the project's Pledge Music page.
Vulture magazine posted an article last week where they rank every Rock and Roll Hall of Fame induction ceremony all-star jam by "epicness". Their highest tier of epicness was labeled "Holy shit, this epicness should be outlawed", and Rush's 2013 jam of Crossroads with Public Enemy, Heart and others made the cut:
Public Enemy became the third hip-hop group to be inducted into the Hall, following the inductions of Grandmaster Flash and the Furious Five in 2007 and Run-DMC in 2009. This seminal "Crossroads" blues odyssey weaves a sonic tapestry that pretty much charts the entire history of rock as we know it - the prog, the metal, the hip-hop, the grunge, the swamp, and the hard - in stunningly seamless fashion, with the genre's elder statesman and newbies beyond gleeful to translate the history books into one clickable audiofile. The moment when Chuck D. holds his microphone to Lee's bass solo should also be GIFed for eternity. Okay, we did it.
Naples Daily News recently posted an article about all the rock stars who have lived in Southwest Florida, and Rush's Alex Lifeson gets mentioned:
The longtime guitarist for the Canadian band Rush lived in Naples before moving more than a decade ago. He left not long after Collier County sheriff's deputies arrived at the beach-side Ritz-Carlton during a 2003 New Year Eve's party and used Tasers to subdue his son, Justin. Lifeson's son later sued and settled out of court. ...
Slash and Alter Bridge frontman Myles Kennedy was recently interviewed for Music Radar to discuss his top 5 tips for vocalists. At one point he mentions Geddy Lee:
... "I still like to hit that upper register sometimes, just to punctuate things, but when you're using it less, there's definitely more of an impact when you do go for it." Some of these seeds were also sown two decades ago while [early group] The Mayfield Four were recording their sophomore album Second Skin with producer Peter Collins, who had previously worked with Canadian progressive rock masterminds Rush. "Peter said some really interesting things having worked with those guys in the past," admits Kennedy. "He actually told Geddy Lee the same thing he told me, to try and get him to consider singing in the lower register. That way when he went high, it would have a certain effect. It really stuck with me - I thought that story was cool!" ...
Godsmack frontman Sully Erna recently spoke with WMMR's Sara and recalled meeting Neil Peart with Godsmack drummer Shannon Larkin backstage on the R40 Live tour:
... "Me and my drummer Shannon, who idolized Neil, finally got to meet him several years ago. It was great to just hang backstage with him and sit and chat. He doesn't really meet many people anymore. He's gone through a crazy life of his own, but it was really nice to kind of share stories with him and tell him how important he's been to us. So, they [Rush] were retiring. We got to see the second to last show [of their R40 Live tour.] So, Shannon says [to Neil], 'Are you really done?' And he's like, 'Yeah, I think I'm done.' But then Shannon goes, 'Yeah, but you're still going to do side projects or something, right?' He's like, 'Yeah, no, I'm pretty much done.' And then [Shannon] goes, 'Well, what about just having a drum kit in your basement? Are you ever going to hold sticks again?' And he put his arm around Shannon and goes, 'You know what, son? I think I've done about everything I can do on the drums.' And Shannon goes, 'Yes, you have, sir!' and he walked away." ...
This past Wednesday, May 1st was the 12th anniversary of the release of Rush's Snakes & Arrows album. To celebrate the occasion, here's the album's opening track and first single, Far Cry, performed live from the Snakes & Arrows Live concert video:
That's all for this week. Have a great weekend!