UPDATE - 4/12@10:58PM: Rush posted a short, 15-second video to Facebook/Twitter of Geddy Lee saying a few words about Grace Under Pressure on its 35th anniversary:
Happy Birthday, Grace Under Pressure ! Listen to "Distant Early Warning" and all of your favorite Rush songs here: https://t.co/pN03wLJmPu #graceunderpressure pic.twitter.com/aYdfWW7Dy8

- Rush (@rushtheband) April 12, 2019
----- snip -----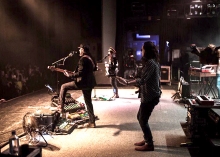 The Claypool Lennon Delirium kicked off their 2019 Spring Tour at the Danforth Music Hall in Toronto this past Wednesday night, and Rush's Geddy Lee sat in with the band for their cover of the Beatles classic Tomorrow Never Knows as seen in this video. The Claypool Lennon Delirium is a collaboration between Primus frontman Les Claypool and Sean Lennon. The duo recently released their second studio album South of Reality back in February. Geddy posted a few photos from the show to his Instagram yesterday along with a short message:
Les Claypool also posted the following message along with a photo to his Facebook page yesterday:
Last night was a pinnacle moment for this Ol' Colonel's career. My dear friend and childhood superhero #GeddyLee decided to join The Delirium onstage in Toronto for our rendition of Sean's Dad's, "Tomorrow Never Knows".

As Geddy slinked out of the shadows with my Pachyderm bass in his mighty grips, the crowd slowly swelled to a frenzy of recognition. The energy and excitement was so palatable that it brought a joyful tear to my eye. Like Joe DiMaggio stepping back up to the plate, Geddy proceeded to show us all why he is one of the greatest to ever wield a four string piece of furniture. It was pure magic and I imagine I'll feel the tingle on the back of my neck for some time.

Alas, our recording equipment went on the fritz so it will only live in our minds...and on the handful of cellphones that were fortunate enough to capture the glory. Good times.

- Les Claypool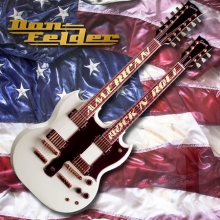 Former Eagles guitarist and songwriter Don Felder's highly anticipated all-new album American Rock 'N' Roll released last Friday and is now available for purchase. The album features guest appearances from Sammy Hagar, Slash, Richie Sambora, Orianthi, Peter Frampton, Joe Satriani, Mick Fleetwood, Chad Smith, Bob Weir, David Paich, Steve Porcaro, and Rush's Alex Lifeson. Lifeson appears on the album's 2nd track - Charmed - playing acoustic rhythm guitar on the song's bridge and electric guitar on the song's ending solo. You can listen to Charmed on various streaming channels including YouTube at this location, or purchase the album via Amazon and other retailers. Felder was recently interviewed for BackStory Presents and spoke for a couple of minutes about Lifeson's contribution to the album and how it came about. You can watch the interview at this location with the part discussing Alex coming in at the 19-minute mark (thanks RushFanForever).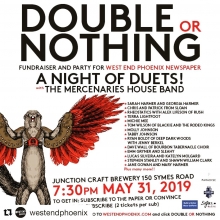 Speaking of Alex Lifeson, Dave Bidini's West End Phoenix monthly community newspaper for Toronto's West End launched back in October, 2017 and Lerxst contributes a "storytelling comic" titled The Meaning of Lifeson to the publication, which is illustrated by artist Casey McGlynn. The newspaper will be holding a Double or Nothing concert fundraiser on Friday, May 31st at Junction Craft Brewery in Toronto, and Alex Lifeson will be one of the participants, joining Chris Walla from Death Cab for Cutie and the Rheostatics. For a complete list of performers and ticket information, visit westendphoenix.com. Lifeson also performed at last year's fundraiser concert for the newspaper as described in this post.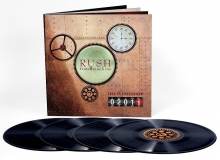 Fresh off their January release of Rush in Rio on vinyl, Rush is also set to release a 4-LP vinyl edition of their 2011 live release Time Machine 2011: Live in Cleveland in its entirety this coming June 7th. The set is now available for pre-order via the Rush Backstage Club. From the item description:
The Rock and Roll Hall of Famer's live album Time Machine 2011: Live In Cleveland is now on vinyl for the first time in it's entirety.

In 2010, Rush took a break from recording what would become the band's final studio album - Clockwork Angels - to launch its Time Machine Tour. During that tour, the Rock and Roll Hall of Famer's recorded their April 15, 2011 performance in Cleveland. It was a fitting tribute to the city, which was the first to play Rush's music on the radio.

That epic concert was released on CD in 2011, but the full show has never come out on vinyl, until now. TIME MACHINE 2011: LIVE IN CLEVELAND will be available on June 7 as a four-LP set.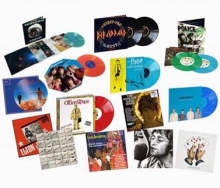 Remaining on the subject of Rush on vinyl, Record Store Day takes place tomorrow, April 13th, and Rush will be participating with a Hemispheres 12-inch vinyl picture disc - a re-release of the long out-of-print LE 1978 picture disc. The release will be limited to 5000 copies and is listed as an RSD First release - which means it will be available via other channels at some point after Record Store Day (likely via the Rush Backstage Club). To find participating store locations and to learn more about Record Store Day, visit the website at recordstoreday.com.


Actor Sean Marquette portrays the recurring character Johnny Atkins on the ABC '80s throwback comedy series The Goldbergs. The character was first introduced early in Season 3 of the show and is known for being a huge Rush fan and always wearing a Rush concert t-shirt in every episode he appears in. The show even aired an entire episode centered around Rush and featuring Marquette's character back in Season 3 (Season 3, Episode 21 - Rush) as described in this post. In one episode earlier this year (Season 6, Episode 16 - There Can Be Only One Highlander Club), the Johnny Atkins character was featured wearing multiple Rush t-shirts throughout the episode. Atkins also appears in The Goldbergs '90s era spinoff show Schooled where he plays the janitor at William Penn Academy, and Atkins and his love of Rush were featured in this past week's episode (Season 1, Episode 11 - Glascott Mascot). Atkins shows up in two separate scenes wearing his trademark Rush t-shirts. At about the 3-minute mark of the show Laney and C.B. are planning how to revive the school's student radio club, and Johnny the janitor appears (screenshot here). He proceeds to reminisce about the school's old radio station, which he started back in the '80s, and tells them about his radio show, "Rush Hour. 30 minutes of non-stop Rush songs." Lainey and C.B. eventually start the club, but end up micromanaging it to the discouragement of the students. Someone then steals the equipment and pirates the station, spreading rumors about Laney and C.B. At about the 13:30 mark Johnny Atkins shows up when it's revealed that he is the radio pirate (screenshot here). You can watch the episode online at the ABC website here (or on Hulu).
Jeff Isbell Racing showed off their 2112 car this past Sunday at the Denso Spark Plugs NHRA Four-Wide Nationals at the Strip at Las Vegas Motor Speedway​​​​​​. The orange car features the team's 2112 starman-inspired, Pro-stock logo on the back window along with Pro 2112 number on the side window, as seen in this photo gallery.

KISS bassist/frontman Gene Simmons is the co-founder of the Rock & Brews restaurant franchise, which opened its first restaurant in LA seven years ago. That location features a huge Rush Starman logo on the wall as seen on an episode of Gene Simmons Family Jewels back in 2012. The rock-themed restaurant now has over 20 locations all across the US, and sells a variety of Rock-themed merchandise in their online store, including a line of apparel with a Rush-inspired Discovery logo as seen here (thanks Fire Captain SAL.
Today marks the 35th anniversary of the April 12, 1984 release of Rush's 10th studio album Grace Under Pressure. The album marked a turning point in Rush's career in that it was the first album where the band used a producer other than Terry Brown, namely Peter Henderson. It was recorded in late 1983 and early 1984 at Le Studio in Morin Heights, Quebec. Grace Under Pressure peaked at #10 on the Billboard charts and was certified Platinum on June 26, 1984. The album's first single was Distant Early Warning which hit #1 on the US Mainstream Rock chart. Here are some clips from the first-ever airing of the Distant Early Warning video on MTV back in 1984, including some trivia about the shoot from VJ Mark Goodman.
Here's Geddy Lee performing the Beatles classic Tomorrow Never Knows with The Claypool Lennon Delirium in Toronto this past Wednesday night:
That's all for this week. Have a great weekend!!