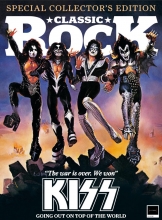 The latest issue of Classic Rock magazine (#261) hit newsstands earlier this week and Rush's Geddy Lee is the subject of the issue's 1-page Soundtrack of my Life feature, where he dishes on the records, artists and gigs that are of lasting significance to him. Geddy reveals the best and worst records he made, his favorite albums and musicians, and more. Here's how he describes the best live band he's ever seen:
Jethro Tull at Maple Leaf Gardens in Toronto. I think it was on the Thick As A Brick tour. The show began with the house lights on and a bunch of people in overalls sweeping the stage. Gradually there were less people sweeping, and then, all of a sudden, one of them would pick up an instrument, and next thing you know it's the guys from Tull launching into the show. For me that was the first band that combined incredible musicianship with complex songwriting, and they were funny. That influe me a lot in the later years of Rush - that attitude of taking your music seriously but not taking yourself seriously.
You can read a scan of the issue here and a 12-page sampler here. To subscribe or purchase back issues of Classic Rock, go here.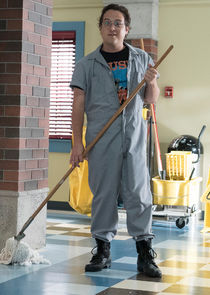 Actor Sean Marquette portrays the recurring character Johnny Atkins on the ABC '80s throwback comedy series The Goldbergs. The character was first introduced early in Season 3 of the show and is known for being a huge Rush fan and always wearing a Rush concert t-shirt in every episode he appears in. The show even aired an entire episode centered around Rush and featuring Marquette's character back in Season 3 (Season 3, Episode 21 - Rush) as described in this post. In one episode earlier this year (Season 6, Episode 16 - There Can Be Only One Highlander Club), the Johnny Atkins character was featured wearing multiple Rush t-shirts throughout the episode. Atkins also appears in The Goldbergs '90s era spinoff show Schooled where he plays the janitor at William Penn Academy. According to the show's publicist (Ike Richman Communications), next week's episode of Schooled (Season 1, Episode 11 - Glascott Mascot) will feature Atkins and his love of Rush:
... In this all-new episode, character Johnny Atkins, who always wears a Rush concert T-shirt, shows his love for Rush in a new way. In Schooled, Johnny is working at William Penn Academy as a custodian and reflects about his time in high school working at his school's radio station. He claims he put together a show called "Rush Hour," featuring 30 minutes of the greatest band in the world, Rush! ...
The episode will air this coming Wednesday, April 10th at 8:30PM on ABC. You can also watch it online at the ABC website here (or on Hulu).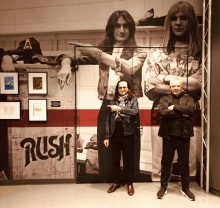 The Rock and Roll Hall of Fame in Cleveland is hosting a Cover Your Basses Weekend today, celebrating the Rock Hall's Canadian inductees, with a particular focus on 2013 inductees Rush. As the name implies, the event also celebrates both baseball and bass guitars; it will be the last chance for fans to view the Geddy Lee bass exhibit, and coincides with a weekend baseball series between the Cleveland Indians and Geddy Lee's hometown team - the Toronto Blue Jays. From the event's description:
Fans headed to the Cleveland Indians vs Toronto Blue Jays series are invited to cover their basses as the Rock Hall shines a light on its Canadian inductees. Guests will have one last chance to view the bass collection of Rush's Geddy Lee, as the exhibit showcasing some of Lee's globe-spanning bass guitars enters its final weekend. The Rock Hall will also open its vaults with rebroadcasts of Rush's 2013 Hall of Fame uncut Induction, the January 2019 Hall of Fame Series interview with Geddy Lee and Alex Lifeson, as well as a highlight reel celebrating several of the Rock Hall's Canadian inductees.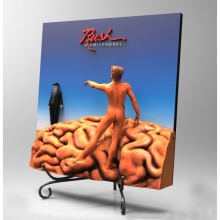 Earlier this week the Rush Backstage Club made a new, limited-edition product available - a hand-painted, hand-cast resin statue of the Hemispheres album. The back of this 3-D vinyl statue also has some sculpting of the Hemispheres brains, as well as a numbered Certificate of Authenticity. The 12"x12" piece weighs in at approximately 5 lbs, and can be desk or wall-mounted. Both the wire desk stand, and wall-mounting kit are included. This collectible is a limited edition of 1978, for the year of the album's release. You can purchase your copy at this location.
Megadeth bassist David Ellefson was recently interviewed for Linea Rock and talked about the band's new album, his time away from the band, his relationship with Dave Mustaine, and more. At one point he was asked if there was any drummer in rock history that he wished he could play with or a bassist that he admires in particular:
...Well, look, if for an afternoon I could just be part of Geddy Lee and Neil Peart, the rhythm section would be awesome. I don't know what I could possibly contribute to that, really, because they're amazing, probably would be my fan moment more than anything. ...
Last night, CNN's Chris Cuomo quoted Rush's Closer to the Heart to help make the case that our elected officials must lead the way in crafting policy based in empathy as seen in this Twitter post. This isn't the first time Cuomo has quoted Rush on the air - earlier this year he quoted Freewill:
Just now, @ChrisCuomo of @CNN quoted the rock band, Rush (@rushtheband), to make the case that our elected officials must lead the way in crafting policy based in empathy. (Fun fact, the song he quoted is from an album called "A Farewell to Kings.") pic.twitter.com/5URylesroz

- Walter Gilliam (@WalterGilliam) April 5, 2019
That's all for this week. Have a great weekend!