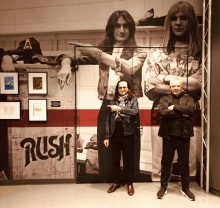 The Rock and Roll Hall of Fame in Cleveland will be hosting a Cover Your Basses Weekend April 5th celebrating the Rock Hall's Canadian inductees, with a particular focus on 2013 inductees Rush. As the name implies, the event will also celebrate both baseball and bass guitars; it will be the last chance for fans to view the Geddy Lee bass exhibit, and will coincide with a weekend baseball series between the Cleveland Indians and Geddy Lee's hometown team - the Toronto Blue Jays. From the event's description:
Fans headed to the Cleveland Indians vs Toronto Blue Jays series are invited to cover their basses as the Rock Hall shines a light on its Canadian inductees. Guests will have one last chance to view the bass collection of Rush's Geddy Lee, as the exhibit showcasing some of Lee's globe-spanning bass guitars enters its final weekend. The Rock Hall will also open its vaults with rebroadcasts of Rush's 2013 Hall of Fame uncut Induction, the January 2019 Hall of Fame Series interview with Geddy Lee and Alex Lifeson, as well as a highlight reel celebrating several of the Rock Hall's Canadian inductees.
Back in January the Rock Hall hosted a Rush Fan Day where Geddy Lee and Alex Lifeson made an appearance as part of Geddy's book signing tour for his Big Beautiful Book of Bass, and debuted the above-mentioned exhibit of several of Geddy Lee's bass guitars (photo here). For all the Cover Your Basses Weekend details, visit the Facebook event page and rockhall.com.