UPDATE - 3/9@4:25PM: Here are the 12 Beatles songs Geddy chose to play (thanks Will C). Geddy also introduced each song with a personal anecdote about why the song resonated with him. The channel will be re-airing the show tomorrow at 11AM EST:
Twist & Shout
Taxman
I Feel Fine
Paperback Writer
Ticket to Ride
We Can Work It Out
Norwegian Wood
While My Guitar Gently Weeps
I Want You (She's So Heavy)
Lucy in the Sky with Diamonds
All You Need Is Love
A Day in the Life
----- snip -----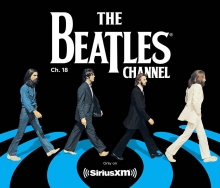 Back in early January, Geddy Lee was a guest DJ on Sirius XM's 80s on 8 channel and played some of his favorite hit songs from the 80s while promoting his Big Beautiful Book of Bass. While there, Geddy also recorded a guest DJ spot for Sirius XM's Beatles Channel (Channel 18), which will air tomorrow, March 8th at 5PM EST. Geddy will play some of his favorite Beatles tunes and likely talk a little about the book as well. You can find out more about Sirius XM's Beatles channel at the Sirius XM website here. Thanks to John at Cygnus-X1.net for the heads up.