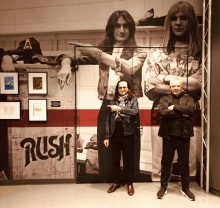 Rush fans from across the country braved the Snowpocalypse this past weekend and flocked to the Rock and Roll Hall of Fame in Cleveland for Rush Fan Day where Geddy Lee and Alex Lifeson made an appearance as part of Geddy's book signing tour for his Big Beautiful Book of Bass. The Rock Hall went all out to make Rush fans feel at home, playing nothing but Rush music on the sound system, overstocking their gift shop with all things Rush, and placing a Rush star man logo inside of the O on their huge Long Live Rock sign out in front of the building (photo here). They also debuted a temporary exhibit of several of Geddy Lee's bass guitars (photo here). The main event kicked off at 12PM with an interview of Geddy hosted by bandmate Alex Lifeson on the Klipsch Audio main stage. Rock Hall president Greg Harris said a few words and then VP Jason Hanley introduced Geddy and Alex. Alex then interviewed Geddy for about 20-25 minutes, with the focus mainly on Geddy's book (photo here). Alex asked about future plans and Geddy indicated that he has more book signings and possible bass guitar exhibits in the works, but after that ....
... I don't really have plans. Obviously [the basses] make me feel really guilty when I go in my studio and they're all staring at me. And they're saying [come play me] ... After 42 years together and doing all the great things we did together, and always knowing that your life is sort of scheduled, I kind of like the scariness of having no schedule ... it's nice to not know what's next for me. I'm really digging that. ... I am a musician at heart, so that when I feel that there's something that I have to say musically that I'll attempt to say it and if it's any damn good maybe people will hear it.
After the interview, Rock Hall VP Jason Hanley conducted a Q&A session for about 15-20 minutes, which kicked off with a question for Geddy about his experience playing with YES at the band's 2017 Rock Hall induction, as transcribed by Ultimate Classic Rock:
... I really did love playing that song with them ... It was bittersweet for me, because Chris Squire was such a huge hero to me. and the fact that he wasn't there was a vacuum that no one can fill properly. I felt for his family, because I know that's all that was on their mind that day. I felt a real weight to pull it off. I practiced, as I usually do, like a crazy person, to make sure I didn't embarrass Chris by my performance. ... The guys were really sweet to me, the guys in the band ... There sort of is two versions of Yes-I guess they had a schism at some point-so that was the first time they had been together again as a band in quite a while. So it was a little awkward at a few moments. But they all came together-and they were very kind and indulged me when I kept wanting to play the song over and over again. ...
One of the questions directed at Alex asked about bands that he's currently listening to, and he mentions up-and-coming rockers Greta Van Fleet as described in this Ultimate Classic Rock article:
... "At first, I thought-obviously, the influence of Led Zeppelin," he said. "But it's a new time for them, so many decades later, so they're developing their own audience." In fact, Lifeson drew on his own experiences with Rush to explain what he sees in the surging young band. "What really struck me about [Greta Van Fleet] is their musicianship, their desire to become better players, their arrangements," he said. "All of those things. As young players - I think they're all in their early 20s-there's a real great future for them as they develop their own style. "Much like we did," Lifeson continued. "We were a bar band, really. We had our influences. Certainly Zeppelin was a big influence for us. But once we got out and we got a chance to play and develop our own stuff and start writing our own material...well, you know, that's history. And I see that with them too. They're young enough that they can carry that banner for a rock band into the future." ...
Geddy then set up in front of his bass exhibit to sign books for fans for the next 3 hours or so. The interview/Q&A session was livestreamed via Facebook and is available to watch here (it kicks in around the 16-minute mark), and also on YouTube. For full coverage of the day's events, check out this post. Geddy will be conducting another book signing event next Wednesday, January 30th at Book Soup in West Hollywood from 5-8PM EST. Unfortunately the event is now SOLD OUT, with all the details available at this location.

Geddy Lee is on the cover of the March 2019 issue of Vintage Guitar magazine, although there aren't many details currently available online about the issue's content. It likely contains an interview with Geddy where he talks about his Big Beautiful Book of Bass. Thanks to Joe P for the heads up.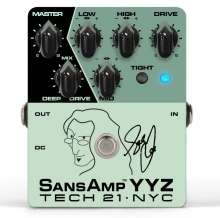 The 2019 Winter NAMM show is currently underway in Anaheim and will run through the weekend. A couple of years back, Tech 21 introduced their GED-2112 Geddy Lee Signature SansAmp at the 2017 NAMM show as described in this post. At this year's show, Tech 21 unveiled their pedal format version of the GED-2112 - the SansAmp YYZ:
Wanting to streamline and simplify his gear for new projects, Geddy Lee partnered with Tech 21 to design a signature rackmount SansAmp, the GED-2112. This challenging collaboration involved distilling a boatload of equipment into a single rackspace. Challenging ourselves, to bring a super-compact, portable alternative, we further distilled the rackmount into a pedal format. The SansAmp YYZ offers Geddy's core sound and the versatility for many different styles.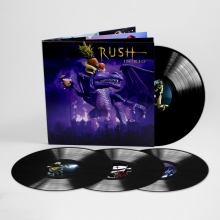 The 4-LP vinyl edition of Rush's 2003 live album Rush in Rio that was announced back in November is now available for purchase. The set is produced on 180 gram vinyl with a newly designed heavyweight gatefold jacket, and also includes a download card containing all of the tracks. The set is now available for purchase via Amazon and other retailers. The live album/film was originally released as a 3-CD/2-DVD set on October 21, 2003. This is the first time it's been made available on vinyl.
CNN anchor Chris Cuomo quotes Rush's Freewill at about the 40-second mark of this news report from last week. Thanks to Michael P for the heads up and RushFanForever for the link.
Stefan Björnshög published a piece this past week for Stargazed Magazine titled There will probably never be a band like Rush again... where he laments the band's retirement.
The Dubuque Symphony Orchestra's 7th annual Ultimate Rock Hits concert took place this past weekend, and their setlist included a version of Rush's Limelight as seen in this video.
Classic Rock posted their list of the 30 best rock collaborations ever this past week, and Rush's collaboration with Aimee Mann on the band's 1987 hit Time Stand Still made the cut (thanks RushFanForever):
This collaboration is shrouded in mystery. Even Mann is unsure how it came about: "They called me up and I went to Toronto. I never found out why they chose me specifically. I just did as I was told." Still, the results - Rush's highbrow commerciality tempered by Mann's delightfully wistful vocals - are stunning.
Ultimate-Guitar.com posted a list of the Top 10 Most Influential Bass Players You Should Check Out Right Now and Rush's Geddy Lee made the cut of course:
There could be no talk of influential bass players without the name of Geddy Lee popping among the first. Being a part of legendary Rush, Geddy Lee doesn't stop trying out new things, experimenting with sound and being relevant to every new generation that discovers Rush for the first time. He is considered the best by many and with a good reason - composing, singing and playing bass with no compromises on any part is truly remarkable.
This coming Sunday, January 27 is Holocaust Remembrance Day, and - as most Rush fans are aware - both of Geddy Lee's parents were Holocaust survivors. Toronto's Q104.3 spoke with Geddy about his family's incredible Holocaust story when Ged was in studio last month promoting his Big Beautiful Book of Bass. They'll be airing the full interview on Sunday at 7AM, and you can check out a short preview snippet here and here:
That's all for this week. Have a great weekend!!