The 11th annual Scott Medlock-Robby Krieger Golf Classic and All-star Concert to benefit St. Jude Children's Research Hospital took place this past weekend at the Saddlerock Ranch in Malibu, CA, and Rush's Alex Lifeson was one of the many guests to participate. The All-star concert took place Sunday evening and Lifeson performed Rush's Freewill, The Spirit of Radio and Limelight with some help from Chicago's Jason Scheff on bass/vocals. California Rock News was at the concert and posted a huge gallery of photos along with a number of videos to their YouTube channel including video of all three of Alex's performances: Freewill, The Spirit of Radio, Limelight. There's also some video of Lifeson offering up a couple of signed guitars for the live auction as seen in this video, and this one, along with this video of Alex chatting with fans on the red carpet. Getty Images has a ton of photos posted from the concert at this location. The golf tournament portion of the event took place on Monday afternoon and was followed up by an impromptu concert where Alex Lifeson sat in on guitar with Robby Krieger and others to perform a couple of Doors classics including Riders on the Storm and Roadhouse Blues. California Rock News also posted an extensive gallery of photos of Monday's festivities, including several of Alex, at this location. Alex took a moment to chat with IndiePower.com on the red carpet and spoke a bit about the current state of rock music:
... Generations change, tastes change, music changes. I think for a long time, rock music always occupied a certain area, and pop music came up, and it was all sort of related. Pop music today is not so related - it's not guitar based like it was in the past - so it's really, really different. Like my grandkids, for example - [they are] 15 and 11 - they listen to all the stuff that they listen to; they listen to rap and some pop music. So I get to hear some of it. But our music is not their music, and they really don't connect to it at all, even in that classic rock sense; they're just not interested in it. So I don't know where it's going. I just know that I still have a lot of fun playing music. I work with a lot of different people now - very, very different things; a great variety - so that's what's really important to me. ...
You can watch the entire interview below or on YouTube at this location. There's also this short video of Alex and Scott Medlock discussing the charity.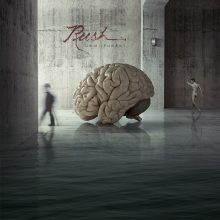 Just as they've done the last 2 years with their 2112 and A Farewell to Kings 40th anniversary box sets, Rush will also be releasing a Hemispheres 40th anniversary box set this upcoming Holiday season. Ole/Anthem's Andy Curran was recently interviewed for Music Life Magazine and spoke at length about the series of 40th anniversary sets, including plans for a Permanent Waves set in 2020:
... we dug deep into the archives over here at Anthem and were able to come up with a really cool live concert almost in its entirety from the Pink Pop Festival in 1979. In terms of a choice of rarities, this was a recording where if you searched diligently you might have been able to find bits and pieces of it online from people who had recorded it. We worked closely with the Pink Pop Festival and a radio station and television station in the Netherlands that broadcasted it and got the full show. ... part of 2112 had been clipped off, so we found a full recording of 2112 where I think it was recorded from the board, from the same Hemispheres Tour in Phoenix, Arizona. Then there was also a bunch of really great photos that the band gave from their collection taken during the recording at Rockfield in Wales. Rich Chycki also did a great job remastering the album itself in 5.1. ... There are times when I am literally pinching myself because, first off, I can't believe I am actually working with these guys, and secondly that they trust me with it. It's like being part of their inner circle. And then it's so amazing to find something that no one has ever seen or heard before. When you find something the is unique and special, it's very cool. There is some visual stuff that I am going through right now, that they documented during the time when I was literally a kid buying tickets and going to see them. One of the reasons I bought a Rickenbacker was because of Geddy Lee. My God, its like being a kid in a candy store at times," he said. "My job is to make sure that we keep the integrity of what that band did and deliver first class stuff. Anything I find always has to go back to those guys for approval. Recently I found a recording from a hotel of something they did and Geddy looked at me after hearing it and said, 'the world can never hear that.'" There will not be a 40th anniversary Rush re-issue in 2019, with the next one come in 2020 with a Permanent Waves package, ...

The Hemispheres box set is slated for release 2 weeks from today on November 16th and will be made available as a 2 CD or 3 LP set along with a Super Deluxe edition that includes both the 2 CDs and 3 LPs along with a bonus Blu-ray disc. The set uses the Abbey Road Studios 2015 remastered edition of the album, along with a newly restored bonus recording of the band's June 1979 Pinkpop Festival performance in the Netherlands (with the 2112 performance replaced with one from a Tucson show in November 1978). The Super Deluxe edition also includes a 5.1 Blu-ray mix of the album (from Rush engineer Rich Chycki) and 4 bonus videos. The Super Deluxe edition also includes several exclusive items, including a 40-page hardcover book with unreleased photos and new artwork by original album designer Hugh Syme. The Rush Backstage Club is also offering various merchandise bundles which you can check out here. There's currently a promotion where if you pre-save the set on Spotify, you can enter for your chance to win a Super Deluxe Edition of the box set. For all the details and to enter, go to this location. You can pre-order the box set now via Amazon (2 CD, 3 LP, Super Deluxe edition), and also check out this unboxing video. As mentioned above, last year Rush released their A Farewell to Kings 40th anniversary set, which included a CD of covers of a few of the album's notable tracks, including a cover of Cinderella Man by Canadian band The Trews. The Ole TV YouTube channel posted a video interview a few weeks ago where they chat with frontman Colin MacDonald about the cover. You can check out the interview on YouTube (thanks RushFanForever).

The Kidney Foundation of Canada's annual A Brush of Hope charity auction fundraiser ended last week and Alex Lifeson's Self Portrait #2 painting wound up selling for over $12,000 CAD! Alex has participated in the auction nearly every year since 2006, including last year with his painting 20,000 Feet Over The Sea which ended up selling for nearly $9,600 CAD. The Kidney Foundation of Canada is now offering a set of 100 limited edition prints of 20,000 Feet Over The Sea to raise money for the charity. Each print is numbered and personally signed by Alex Lifeson and comes on high quality, heavy stock, acid free paper along with a certificate of authenticity. The prints cost $200 CAD and you can purchase your copy at this location.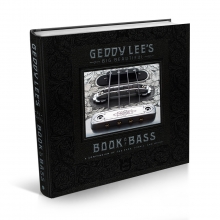 The release date for Geddy Lee's Big Beautiful Book of Bass has been pushed back a couple of weeks from its original December 4th date to December 18th. The Rush Backstage Club is offering an Ultra and Luxe Limited Edition version of the book, both of which are leather-bound, 408-page hardcover books, hand numbered and signed by Geddy Lee. Each comes in a customized slipcase, which is exclusive to the limited editions, and enclosed in a custom silver tolex briefcase, reminiscent of certain guitar cases. The Ultra edition costs $950, is limited to 250 copies and also comes with these additional items:
- Silver Tolex Case with secret compartment
- Behind-the-scenes Mini Booklet
- Two custom Geddy Lee guitar picks from Dunlop
- Glossy photograph, signed by Geddy Lee (8' x 9.5")
- Printed Setlist from R40 Tour, with Geddy's basses for each song
- Immaculately reproduced Vintage Fender Hang Tag
- Full set of Rotosound Swing Bass Strings (same gauge and scale as Geddy uses) in custom vintage style box
- Guitar polishing cloth with BBBofB Skull logo
- Free bonus BBBofB Standard Edition
The Luxe Limited Edition costs $450, is limited to 900 copies and includes these items:
- Custom BBBofB fabric book bag
- Behind the scenes mini-booklet
- Two custom Geddy Lee guitar picks from Dunlop
For all the details and to pre-order your copy of either of the Limited Editions or the Standard Edition for $59.99, visit this location. They are also offering a Big Beautiful Book of Bass t-shirt and mug for sale. You can also pre-order Geddy's Big Beautiful Book of Bass via Amazon for around $40 at this location.
Speaking of Geddy, Canadian culinary competition Canada's Great Kitchen Party (previously known as Gold Medal Plates) presented its annual Toronto Regional Qualifier for the Canadian Culinary Championships this past Monday, October 29th at the Metro Toronto Convention Centre, and Geddy Lee served as one of the judges for the competition. Chef Elia Herrera of Los Colibris took home the gold medal at the event, which was hosted by George Stroumboulopoulos and included performances by Ed Robertson, Tom Cochrane and others. Geddy Lee did not perform but did appear in a few Twitter photos such as this one, and this one. Geddy has participated as a judge for the event in the past.


Boston auction house RR Auction will be hosting a Marvels of Modern Music auction starting next week, and one of the lots up for auction includes some rare items from Mr. Big guitarist Paul Gilbert's personal collection. The lot contains a copy of Hemispheres signed by Alex Lifeson with a personal note along with 3 posters handmade by Lifeson himself and a letter from Gilbert describing the items:
"When I was playing guitar with Mr. Big in the early 90s, we had the good fortune to support RUSH on their Presto and Roll the Bones tours. I was (and still am) a huge fan of RUSH, so I was thrilled to be able to meet them and to watch them play every night. I asked Geddy, Alex, and Neil to sign my 'Hemispheres' album, and they were nice enough to write some great messages.

During these tours, I still had 'big hair.' One night, at a concert arena in Atlanta, this led to an accident on stage. Every night, I played some of my guitar solo using a cordless Makita drill (with a customized drill-bit, with 3 guitar picks on the end.) This particular night, I accidentally brought the drill (still spinning) a little too close to my hair. The drill-bit caught a strand of my hair, and in a moment, it was hopelessly tangled...

All of Rush's crew, and all of Mr. Big's crew met me at the side of the stage...After several failed attempts, and threats of scissors, they finally managed to untangle the drill...At the next show, I was (carefully) getting ready to play with my drill again, when I saw that some signs has been posted for me. Alex Lifeson had made warning signs to make sure that I knew that 'A Power Tool is Not a Toy.'"
For all the details visit the RR Auction website at this location (thanks RushFanForever).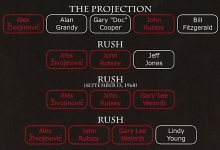 Ultimate Classic Rock posted a story this past week about the Pre-Fame Names of Rock's Most Famous Bands, and they mention one of Rush's early incarnations as Hadrian, although they got all the details very wrong.
Rush/Hadrian: Canadian teenagers Alex Lifeson, Jeff Jones and John Rutsey formed Hadrian in 1968. Jones was soon replaced by schoolmate Geddy Lee on bass. Three years later, the band changed their name to Rush. Still playing at high schools and local bars, they didn't release any music until 1973's cover of Buddy Holly's "Not Fade Away." After their first album in 1974, Rutsey grew tired of touring and quit. Rush, now without a drummer, held auditions to fill the role, which Neil Peart answered.
Rush actually formed in 1968, but then briefly splintered apart in 1969, with Alex Lifeson and John Rutsey forming Hadrian with Joe Perna and a couple of others, while Geddy Lee had brief stints in Ogilvie and Judd. Rush then re-formed in 1970 with Lifeson, Lee, Rutsey and Mitch Bossi, before dropping Bossi in 1971. For a timeline of all the different early Rush variations, check out the Rush Family Tree chart that was included in the 2014 Rush: Rediscovered box set.
Halloween took place this past Wednesday and to celebrate the occasion, Prog magazine posted their ultimate prog rock Halloween playlist which included Rush's Witch Hunt (thanks RushFanForever):
This eerie sounding track from Moving Pictures became part of Rush's Fear series of songs, that also includes The Weapon from Signals, The Enemy Within from Grace Under Pressure and Freeze from Vapor Trails.
Here are a few videos of Alex Lifeson from this past weekend's Medlock-Krieger Golf Classic and All-star Concert:
That's all for this week. Have a great weekend!