UPDATE - 11/2@9:31AM: There's also this short video of Alex and Scott Medlock discussing the charity (thanks RushFanForever).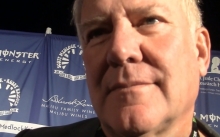 The 11th annual Scott Medlock-Robby Krieger Golf Classic and All-star Concert to benefit St. Jude Children's Research Hospital took place this past weekend at the Saddlerock Ranch in Malibu, CA, and Rush's Alex Lifeson was one of the many guests to participate. The All-star concert took place Sunday evening and Lifeson performed Rush's Freewill, The Spirit of Radio and Limelight with some help from Chicago's Jason Scheff on bass/vocals. Alex took a moment to chat with IndiePower.com on the red carpet and spoke a bit about the current state of rock music (thanks BlabberMouth.net):
... Generations change, tastes change, music changes. I think for a long time, rock music always occupied a certain area, and pop music came up, and it was all sort of related. Pop music today is not so related - it's not guitar based like it was in the past - so it's really, really different. Like my grandkids, for example - [they are] 15 and 11 - they listen to all the stuff that they listen to; they listen to rap and some pop music. So I get to hear some of it. But our music is not their music, and they really don't connect to it at all, even in that classic rock sense; they're just not interested in it. So I don't know where it's going. I just know that I still have a lot of fun playing music. I work with a lot of different people now - very, very different things; a great variety - so that's what's really important to me. ...
You can watch the entire interview below or on YouTube at this location. California Rock News attended the weekend's festivities and posted a huge gallery of photos along with a number of videos to their YouTube channel including video of all three of Alex's performances: Freewill, The Spirit of Radio, Limelight. There's also some video of Lifeson offering up a couple of signed guitars for the live auction as seen in this video, and this one, along with this video of Alex chatting with fans on the red carpet. Getty Images also has a ton of photos posted from the concert at this location. The golf tournament portion of the event took place on Monday afternoon and was followed up by an impromptu concert where Alex Lifeson sat in on guitar with Robby Krieger and others to perform a couple of Doors classics including Riders on the Storm and Roadhouse Blues. California Rock News also posted an extensive gallery of photos from Monday's events, including several of Alex, at this location.