UPDATE - 9/24@9:58AM: Here's a review of the Rock and Roll Hall of Fame: In Concert: Encore DVD/Blu-ray.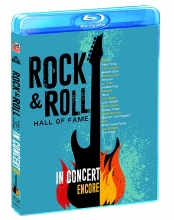 Today the Rock and Roll Hall of Fame releases their Rock and Roll Hall of Fame: In Concert: Encore DVD/Blu-ray featuring highlights from the Rock Hall's induction ceremonies from 2010-2013, including Rush's 2013 induction. The video complements their earlier release of the Rock and Roll Hall of Fame: In Concert DVD/Blu-ray back in April that featured highlights from the Rock Hall's induction ceremonies from 2014-2017. From the editorial review:
Each year, the Rock & Roll Hall of Fame honors rock music's pioneering figures during a prestigious black-tie ceremony. As the Hall of Fame enters its third decade, it's these singular induction ceremonies-featuring the biggest names in classic rock from the '60s, '70s and '80s-that have become nearly as epic as the artists they celebrate. This 2 Blu-ray Disc set features poignant reunions, moving and often hilarious induction speeches, and 44 iconic performances.
Among the highlights from the 2010, 2011, 2012, and 2013 induction ceremonies:

* The legendary Canadian power trio Rush performing fiery classics Tom Sawyer and The Spirit of Radio for their fervent fans.
* Red Hot Chili Peppers leading a searing all-star jam session of Higher Ground anchored by Slash and Ron Wood.
* Heart going Crazy on You before being joined onstage by fellow members of Seattle rock royalty from Pearl Jam and Alice in Chains.
* Alice Cooper ripping into ferocious versions of Eighteen and Under My Wheels before closing the set with Rob Zombie on School's Out.
* The Hurdy Gurdy Man Donovan is joined onstage by John Mellencamp for a chilling performance of Season of the Witch.

Features complete Hall of Fame induction speeches, including:
* Don Henley inducting Randy Newman
* Neil Young inducting Tom Waits
The video can be ordered now as 2 Blu-ray discs or on 4 DVDs (Blu-ray, DVD).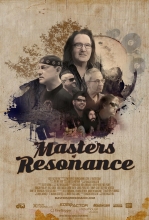 Neil Peart and the R40 drum kit are prominently featured in the Edge Factor documentary Masters of Resonance, which had its first pre-release theater screening as part of the Rush Family Reunion event at the Fox Theatre in Toronto back in June. The documentary's official world premiere took place last month at the GRAMMY Museum at LA Live, and included a post-screening conversation with storyteller and founder of Edge Factor, Jeremy Bout, DW's John Good, and drummer Paul Wertico. The film will be hitting the festival circuit soon and be released to video-on-demand streaming channels later this fall. It is also now available for pre-order on iTunes at a special pre-sale price of $9.99 (50% off), with an expected release date of October 19th. Releases on other platforms are lined up for December. For more information about the film and to keep up on the latest news, visit the website at mastersofresonance.com, and follow them on Facebook and Twitter. You can watch the trailer on YouTube at this location.
Kevin J. Anderson and Neil Peart's Clockwork Lives: The Graphic Novel made StudyBreak.com's list of the 8 Most Important Graphic Novels of 2018:
This steampunk graphic novel is an exercise in adaptations. It's based on bestselling sci-fi author Kevin Anderson and Rush drummer Neil Peart's novel of the same name, which is developed from their previous "Clockwork Angels" novel, which is an accompaniment to Rush's album of the same name. Whew. "Clockwork Lives" follows a woman who receives an unlikely gift from her alchemist father upon his passing - a blank book to be filled with other people's stories, and her own. Coming from a quiet life in a small village, she now finds her life full of adventure and purpose.

This year's Rush Eucon European Rush fan convention takes place next weekend at The Box in Crewe. The 2-day event will feature Rush tribute bands Machines on Friday night and Bravado on Saturday. Other activities include Rush Fans Got Talent, the legendary Rush Quiz and the famous Eucon charity raffle and auction. Proceeds from the event will go to support Jessie's Fund. For all the details and to purchase tickets visit the Rush Eucon 2018 Facebook page and also follow them on Twitter.
Treble magazine recently posted their list of 10 Epic Opening Tracks and Rush's 2112 made the cut:
Stakes were high when the Canadian prog power trio recorded the side-long titular suite to their 1976 breakthrough album. Sales of their previous album, Caress of Steel, had been anemic. Mercury Records were sighing in annoyance and tapping their watches. Granted one more chance to save their careers, Rush hunkered down and constructed a 20-minute musical allegory loosely based on objectivist author and world champion scowler Ayn Rand's brief novel Anthem. "2112" tears through nastily-inclined totalitarians like Alex Lifeson tears through Dean Markleys. The story writes itself. Dullard priests bluster, wayward man finds an abandoned guitar, teaches himself "Maggot Brain," gives priests a PowerPoint on merits of said guitar, priests snort their derision, man shuffles home dejectedly, has a dream about simpler times, offers himself up as a martyr despite nobody really asking him to, and then faster than you can say "CSI: Syrinx" the exiled forefathers show up and boot those stuffy priest asses back down to entry-level positions in the mailroom. So if you're ticked off about the invasive tendrils of theocratic fascism getting all up in your business, fear not: 94 years from now the Elder Race is gonna be all over that bitch. - Paul Pearson

Comedian Margaret Cho was a guest on CP24 in Toronto's morning show earlier today, and she showed up wearing a Rush 2112 t-shirt as seen in this video clip (thanks Louis P). It looks like some version of this shirt:
That's all for this week. Have a great weekend!