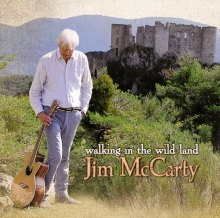 Yardbirds drummer Jim McCarty's latest solo album Walking in the Wild Land has several Rush connections including being co-produced and mixed by former Rush producer Terry Brown, featuring Alex Lifeson on the track Soft In A Hard Place, and Hugh Syme adding keyboards and orchestration to three of the album's tracks. McCarty was recently interviewed for Metal Express Radio and addressed the album's many Rush connections. Here he talks about how Alex Lifeson became involved:
... Alex is a big fan of the Yardbirds and Rush did covers of Heart Full of Soul and Shape of Things on their Feedback EP a while ago and he also worked with Terry Brown who produced some of the older albums. Terry thought it`d be a good idea to ask him and Alex thought it`d be a great idea to do it. ... He recorded his parts in his own studio and sent them over. ... [Soft in a Hard Place is] a softish song and he put that hard edge into it which worked well with the song. He basically did what he thought would go with the song and I think it turned out great. I`m really happy with it. ...
Longtime Rush album artist and occasional pianist/keyboardist Hugh Syme added some keyboards to the tracks Changing Times, Dancing Leaves and So Many Questions. Here's what McCarty had to say about Syme's involvement:
... It was Terry`s idea as I wanted some string parts and he said Hugh was very good at that. Hugh is actually an artist rather than a professional musician and he did a great job. I wanted something quite subtle and he did it just the way that I wanted. Hugh is English and he brought a real English feel to it. ...
You can listen to Soft in a Hard Place on YouTube at this location, and order the album via Amazon here. Alex has 2 solos in the song; one at the 2:20 mark and another at the 4-minute mark.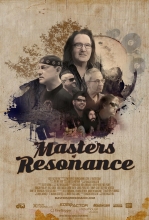 Earlier this year, Edge Factor completed production of their long-awaited documentary Masters of Resonance, featuring Neil Peart and the R40 drum kit. The film had its first pre-release theater screening as part of the Rush Family Reunion event at the Fox Theatre in Toronto last month, and the documentary's official world premiere will take place at the GRAMMY Museum at LA Live on August 8th, with tickets now available at this location. The premiere will include a post-screening conversation with storyteller and founder of Edge Factor, Jeremy Bout, DW's John Good, and drummer Paul Wertico, moderated by GRAMMY Museum Artistic Director Scott Goldman. The film will then hit the festival circuit this fall and be released to video-on-demand streaming channels, beginning with iTunes, later this year. Here's a synopsis of the film as provided by the filmmakers:
When was the last time an object spoke to you, and you listened?

Storyteller and Founder of Edge Factor, Jeremy Bout once believed that a drum was a glorified pail with a lid on it. All drum kits sound the same if you hit them with a keen sense of rhythm, right? Then he met John Good, Co-Founder of DW Drums and realized, "Boy, was I wrong." The innovation, craftsmanship, and sheer brilliance behind the science of drum making inspired Jeremy and the filmmakers at Edge Factor to share the legacy of John and the DW team, in the music documentary film Masters of Resonance.

This film takes you on a journey from the forest to the stage and pulls back the curtain on drum making. It begins with sustainably harvesting the wood in the forests of Michigan, then shows the design, manufacturing, and painting operations in the DW Drums factory. The finished product is revealed, as completed drum kits are played by many of the biggest names in the music industry. These processes are perfectly demonstrated as the DW Drums team creates the iconic Rush R40 tour drum kit, using 1500 year old Romanian bog oak. Along the way, you will witness the unique relationship that these drum makers share with musicians, as Jeremy interviews world class drummers from the DW Drums roster.

Rush drummer Neil Peart, beautifully captures the message of the film when he asks, "What could be more transcendent than a musical instrument?" It's the team's unending pursuit of excellence, willingness to embrace failure to find solutions, and the dedication of each team member that empowers DW Drums to create objects that live forever in the music they create.
For more information about the film and to keep up on the latest news, visit the website at mastersofresonance.com, and follow them on Facebook and Twitter. You can watch the trailer on YouTube at this location.


The folks at FANTOONS are at the San Diego ComicCon this weekend with their pop-up shop full of official Rush merchandise including several new prints and a new convention-exclusive Arcade Starman shirt as seen here. The limited edition album cover prints have a blueprint theme and can now be purchased online (Signals, Moving Pictures, A Farewell to Kings). If you are going to the convention, stop by booth O-07 and check them out. To view and purchase all the Rush merchandise FANTOONS has to offer, visit their Etsy store at this location, and be sure to follow them on Facebook and Twitter.
Yesterday John at Cygnus-X1.net posted the fifteenth installment of his Rush: A Brief History of Time series where he compiles scans and transcriptions of old Rush articles, reviews, interviews, and advertisements. This installment has been dubbed the Ohio Files due to the entire collection of articles and advertisements coming from newspapers situated in the Ohio Valley. From Cygnus-X1.net:
... As most fans know, Rush's early rise to fame in the United States began in the Cleveland, Ohio area where then-DJ Donna Halper first started spinning the band's debut album on Cleveland's WMMS radio station. Since that time, and throughout their career, the Ohio area remained an important part of Rush's history. So much so that the band recorded their 2010-11 Time Machine Live Album in Cleveland, Ohio. Not only does this installment focus on articles from the Ohio area, but nearly half of the 69 totals entries come from the 1970's, with 18 alone coming from the band's 'debut' year of 1974. ...
You can see this latest batch on John's website at this link. Also be sure to check out his chronological listing of all the collected articles from the series at the bottom of the page. Thanks John!
Last July Jacob Moon and David Barrett, along with drummer Rob 'Beatdown' Brown, performed a free concert of Rush and Rush-inspired music at the Lee Lifeson Art Park in Toronto's Willowdale neighborhood. The crowdfunded event was such a success that they decided to do it again this year, and just this past week reached their goal of $2,112 to fund the free concert, which will take place this coming Wednesday, July 25th. As part of last year's crowdfunding campaign, they also recorded and released a cover of Rush's Time Stand Still produced by Terry Brown, and this year they'll record a cover of Rush's New World Man. To learn more about the event and the crowdfunding campaign, go to this location.
USA Today posted an article this past week with their list of 35 musicians who famously told politicians - Don't use my song, and Rush made the cut at #27:
Song: "Tom Sawyer," "The Spirit of Radio"
Politician: Rand Paul
Outcome: The Canadian rock band asked 2010 Senate nominee Paul to stop playing their music at rallies. Though some have interpreted early band lyrics as having libertarian leanings, Rush's attorney stated it was "not a political issue" but "a copyright issue."
The Foo Fighters played a show at the Rogers Centre in Toronto last week as part of their Concrete & Gold tour, and Rush's Geddy Lee and Alex Lifeson were in attendance as special guests of the band. Geddy posted a series of three photos to Instagram of himself and Alex backstage with the guys after the show, including one depicting drummer Taylor Hawkins sporting his awesome Rush t-shirt as seen here:
A great big cheers to @foofighters and their super kind crew for an awesome show and much appreciated hospitality shown to myself and my bestie Alex last night in our hometown of Toronto. A truly great hang! Kudos to Taylor for that killer drum solo and for rockin' that Rush T shirt!
#foofighters #sometimesgoodguysfinishfirst !
#RushFoos
#Taylorrocks
Foos guitarist Chris Shiflett also posted a photo of himself with Ged and Al from the show to his Instagram with this hilarious caption:
Big news - looks like I'm gonna be the new drummer in Rush!! Whoo hoo!!!!
There's also this video tweet with Taylor showing off his Rush t-shirt and thanking Toronto for "making Rush":
Super-cool shoutout paid to Canadian rock icons @rushtheband by @foofighters drummer Taylor Hawkins at last night's #Toronto concert! pic.twitter.com/cvTQ1OuOTy

- Natalie Rea 🇨🇦 (@Nat_Rea) July 13, 2018
That's all for this week. Have a great weekend!!