Former Neil Peart drum tech Lorne (Gump) Wheaton is currently on tour with Steely Dan, who played a show at the Los Angeles Forum earlier this week with the Doobie Brothers co-headlining. While in town, he took some time out of his schedule to hang with his former boss for a lunch date as seen in this Twitter post. Wheaton had been Neil Peart's drum tech since the Vapor Trails tour.
Bassist Billy Sheehan sat down with the metalmasterkingdom YouTube channel for an interview when Sheehan's current band Sons Of Apollo made a stop in Toronto back in late April. Sheehan spoke at length about how he became a fan of Rush, and his experience with Mr. Big opening for the band back in the Presto era. From Ultimate-Guitar.com's transcription of the interview:
... I was never really a Rush fan. Now why? Because just there was no time really. When I started to come up, getting busy, playing more, I didn't have time to get involved in listening to other bands. So I just never got into Rush. In the early days, I was into Genesis, King Crimson - a lot of prog stuff. I was in a prog band that did covers in clubs - Return to Forever, Mahavishnu Orchestra, King Crimson, Genesis ... So when I heard Rush, a couple of albums in they were beginning to get a little bit progressive. But I already kind of heard the original progressive rock and locked into that, so it was hard for me to bring in anything new. And again, I didn't really have time to listen to a lot of stuff, so I didn't know much of them. I've just heard some things on the radio. So when we [Mr. Big] went to tour with them and I got to see them every night - then I really became a Rush fan. As a matter of fact, on the [1989's] 'Presto' tour, they had a song called 'The Pass.' I love that song! And then, all the older material - I really got into it. And I just loved the band. But more importantly, the people that are in that band are some of the finest people I've ever met. Kind, generous, just really wonderful. They allowed Mr. Big to come up on stage and jam the last song with them. Just great! Geddy [Lee] is the grand master. I have his solo record, [2000's] 'My Favourite Headache.' Bass tone - mind-blowing, great. Just a wonderful guy. Neil [Peart], of course - a legend. Alex [Lifeson] too. Just great, great playing. So I was so glad that I didn't completely miss out on Rush experience by being on tour with them and getting to know them and see them perform every night. Canada should be very, very proud of their songs. ...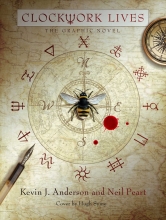 The graphic novel representation of Kevin J. Anderson and Neil Peart's 2015 novel Clockwork Lives - the follow-up to Clockwork Angels - will be getting released as a graphic novel via Insight Comics later this month. Insight Comics has provided a sneak peek of several panels from the graphic novel, including a pdf download of several panels from the book here, a preview of the first 12 pages here, and several other panels available via the Amazon listing. The 176-page, full-color, hardcover book is beautifully-illustrated with a cover design from Hugh Syme, and is currently slated for release on June 26th. It can be pre-ordered at this location.
PJ Media's Lauren Spagnoletti posted an article last week where she profiles 7 Wildly Successful Bands That Are Totally Overrated ... in her opinion at least. Guess who is number one on her list?
When I first heard "Tom Sawyer," which is the only song by Rush that I can tolerate, I thought it was a woman singing. My husband, who is deeply fond of this band, schooled me quickly on lead singer Geddy Lee. He informed me how talented these musicians are - that they have all been acknowledged as "proficient players on their respective instruments." But when I listen to them, all I hear is screeching - from the vocals to the guitars. Yes, they've been nominated for seven Grammy Awards, but thanks but no thanks.
Stone Temple Pilots drummer Eric Kretz was recently interviewed by iRock Radio at this year's Rock On The Range festival last month in Columbus, Ohio. When asked to name the drummers that inspired him he mentions Neil Peart, saying, "... you've gotta throw in Neil Peart for his just incredible awesomeness at everything he ever did ..." (thanks Will C).

Back in March of last year, former Rush producer Terry Brown hosted a full-day Sound Recording Master Class Workshop at Phase One Studio in Toronto with the David Barrett Trio (aka DB3), and they'll be hosting another such Master Class this year on Saturday, September 29th at The Chalet Recording Studio in Claremont, Ontario. For all the details go to this link and check out the Facebook event page.
On this date back in 2010, Rush released the Caravan/BU2B single. Here's video of the band performing Caravan live from the Time Machine 2011 - Live in Cleveland concert video:
Here's wishing the Cygnus-X1.net website a Happy 14th anniversary! That's all for this week. Have a great weekend!