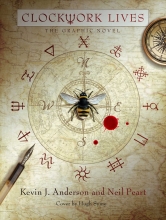 The graphic novel representation of Kevin J. Anderson and Neil Peart's 2015 novel Clockwork Lives - the follow-up to Clockwork Angels - will be getting released as a graphic novel via Insight Comics next month. In celebration of Free Comic Book Day this past weekend, Insight Comics provided a sneak peek of several panels from the graphic novel. There's a pdf download of several panels from the book here, along with several other panels available via the Amazon listing. The 176-page book is currently slated for release on June 26th and can be pre-ordered at this location.

Back in October of last year, Neil Peart, Michael Mosbach (Neil's riding partner and Rush security man) and SABIAN Cymbals' Chris Stankee paid a visit to San Clemente Island, one of the eight islands that make up the California Channel Islands, thereby becoming members of the All Eight Club - a select group of people who have set foot on all eight of the islands. Each of these islands requires very special visitation arrangements so it's not an easy accomplishment, and Neil and company needed to be escorted by the Navy SEALs in order to visit. The trio are now included in the list of 200-plus members on the Santa Cruz Island website's Channel Islands All 8 Club page. Michael posted a photo of Neil on the island to the West Side Beemer Boyz Instagram page back in October, and I'd featured it in a Friday Rush updates post back at the time, without knowing the full significance of the event. Just this past week, the crew received their official membership as seen in this Instagram post:
It's official! We are officially on a very short list of the All 8. Santa Cruz Island Foundation. #bubbarulez #variablecrew

This year's Rushfest Scotland will take place at the Dreadnought Rock Club in Bathgate, central Scotland tomorrow. You can get all the details on their website and by checking out the flyer. Rush tribute band The Rushians will perform, longtime Rush roadie Tony Geranios (aka Jack Secret) will appear via Skype, and all profits from the event will go to St.Columba's Hospice in Edinburgh. For more information visit the Rushfest Scotland website and follow them on Facebook.

Speaking of Rush fan gatherings, in the wake of Rush's apparent retirement and the last RushCon event back in 2016, a group of Rush fans got together last year and organized a Rush Family Reunion gathering in Toronto centered around a Massey Hall performance of 2112 by tribute act Classic Albums Live. They'll be carrying on this tradition in 2018 with the 2nd annual (so far) Rush Family Reunion next month on Thursday, June 21st through Saturday, June 23rd in Toronto. The event will include a kickoff party on Thursday at Alex Lifeson's Orbit Room with guest speaker Terry Brown. Friday's festivities will include a pilgrimage to the Lee-Lifeson Art Park in Willowdale followed by an evening screening of Edge Factor's Masters of Resonance documentary at the Fox Theatre. On Saturday fans will take a harbor cruise on the tall ship Kajama with an all-Rush DJ, and top things off with a Saturday night performance by Rush tribute band 2112: For the Love of Rush at the Duke Live. For all the details, visit the group's Facebook page here, and for reservations/tickets check out this post.
Bassist Lee Pomeroy was recently interviewed for Bass Guitar magazine to talk about all of his various projects, playing with YES, ELO and others, and how he got into progressive rock and playing the bass guitar. When asked about his influences, he immediately brings up Geddy Lee:
"One of my huge heroes is Geddy Lee; I tend to like bassists who sing. What they do appeals to me more, for some reason. Back in the 80s, Geddy used an Ashly preamp, and I've just bought one - for $150! It's absolutely fantastic. Did you see Geddy play Roundabout with Yes at the Rock And Roll Hall Of Fame last year? I was there, with ELO! So I got to hang out with Geddy and [Rush guitarist] Alex Lifeson for half an hour backstage and chat. Lovely guys. I saw Geddy again later, just before he went on stage, and he'd watched ELO and said 'My God, you guys sounded incredible' - which, for me, was really nice because he's one of my biggest heroes. ... I actually gave Geddy a mod tip for his Fender Jazz which he didn't know about. On my Jazz basses, I've had a 250kHz push-pull pot by DiMarzio installed, because when you pull the pot up it goes from series to parallel - in other words, you suddenly have an overall volume for the bass instead of individual volumes per pickup. That makes the sound much fatter. It's so good that I never play my Jazz basses these days without it being in parallel, even though you lose a bit of treble. Herbie Flowers has his basses wired the same way. Geddy said he'd look into it!"
Speaking of bass players who are fans of Geddy Lee, this past week, Mr. Big bassist Billy Sheehan recalled via Twitter the moment back in 1990 when he stood in for Geddy Lee during a Rush soundcheck.
Years ago, Mr Big was on tour w Rush on their Presto tour, Geddy was late for soundcheck -- stick in traffic from LA to San Diego. They asked me to get up and jam w Neil & Alex for sound check, and recorded it. I played through Geddy's rig on his...
The tweet includes the audio from the jam, which has already been available online for many years.
It's Rush week on the Rockin' the Suburbs podcast with Jim Lenahan and Patrick Foster. Each day this past week their show focused on one classic Rush album, including 2112, Moving Pictures, Permanent Waves, and Signals, along with today's episode where they discuss all of Rush's live albums. All the episodes are available for listening on their website here (thanks Erik D).
On a sad note, it was 10 years ago today on May 11, 2008 that original Rush drummer John Rutsey passed away at age 55 from complications due to diabetes. In honor of John, here's the video of Rush's 1974 performance at Laura Secord Secondary School:
That's all for this week. Happy Mother's Day to all the Rush fan moms out there!!