Geddy Lee's upcoming Big Beautiful Book of Bass now has a tentative release date of November 13, 2018 and is already available for pre-order. It's currently listed at 360 pages, and the cover hasn't been revealed as of yet. Here are some more details via the Cooke Agency website:
Rock 'n' Roll Hall of Fame and RUSH bassist Geddy Lee's Geddy Lee's Big Beautiful Book of Bass is a gorgeous, fully illustrated love letter to rock 'n' roll's rumbly bottom end, complete with a guided tour of Lee's extensive vintage bass collection, personal anecdotes, observations and history, from one of the world's most revered and beloved masters of the instrument.

This lavishly illustrated book presents one facet of Lee's own personal journey. The bass guitar has been his passport, his vehicle, his fuel; this book will be his account of a life lived on the stage and a view of the world he's seen on the road.

With contributions from arts journalist Daniel Richler and Lee's trusted bass tech, John "Skully" McIntosh, with photography by Richard Sibbald, Geddy Lee's Big Beautiful Book of Bass will have something for every reader, from RUSH fans who want to know the inside story of Lee's relationship with the instrument that has given him so much in his life, to the most knowledgeable musicians and collectors. This will be the definitive book on the bass, from one of the most respected players in history.

Aside from the HarperDesign trade edition, there will be limited run of signed and numbered deluxe editions available as well. ...
Back in a January Friday updates post I'd noted that Luthier Bruce Johnson revealed on the TalkBass Forum that Geddy had visited his shop this past fall to interview him for the book, specifically to discuss his knowledge of the history of Ampeg Scroll Basses. It turns out that Johnson also wrote a detailed blog post chronicling the visit, including several great photos, for the Packing House Creative website back in October as seen here. Geddy's co-author Daniel Richler accompanied Geddy on the visit and was mentioned in the post and can be seen in the photos:
... They are putting together a story about how the electric bass was developed, in the time period up to 1972. How it evolved, as different individuals and companies experimented with the design. And how that design affected how basses were played during the early days of rock music. As part of their research, Geddy and Daniel have been traveling around interviewing various people who know the background of the instruments of that time.

Geddy has a large collection of vintage electric basses of his own. Over the last few years, he's become interested the Ampeg Scroll Bass, an obscure model of electric bass which was made from 1966-1969. Those basses are my particular area of expertise. I've repaired and restored more than a hundred of them for customers over the past 20 years, and I have several of my own. I've done extensive research and writing about them. I also build and sell new improved versions of the Scroll Bass, as my main product line.

In his collection, Geddy now has 5 nice examples of these Ampeg Scroll Basses. As he acquired these basses, his long time instrument technician Skully has been in communication with me. I've helped them with technical problems and historical information.

So, they came to my shop mostly to talk about the old Ampegs, as research for the book. ...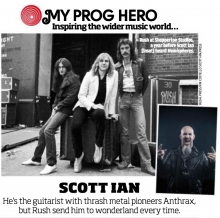 Anthrax's Scott Ian talks about Rush and Geddy Lee as part of the My Prog Hero feature on page 20 of the March, 2018 issue of Prog Magazine (thanks RushFanForever):
I got into Rush because I was 14 at the right time! As a kid growing up in New York City in the late 70s, I was constantly discovering new bands and Rush sounded like a more muscular Led Zeppelin to me, at least on their first couple of records. But Geddy Lee's bass playing was my biggest attraction to that band - that's what initially caught my ear because it was just so original and so punchy. Is it too much of a cliché to say that La Villa Strangiato is my favourite Rush song? As a kid who loved Tolkien, Hemispheres was right up my alley. How could I not like a concept record with a nine-and-a-half-minute instrumental and a song about trees? La Villa... is just such an epic. It was just three guys who challenged themselves so hard by doing this; they certainly never took the easy route and I think that really shows in that song. They never pigeonholed themselves as being one thing: they're Rush. We, as Anthrax, have always felt that same way. We started out as a heavy metal band but we've never been afraid to push the boundaries and go places that no other heavy metal band had gone. You have to do these things for yourself and hopefully everyone else will come along for the ride. The other guys in Anthrax are even bigger Rush fans and that's one of the reasons we covered Anthem on our 2013 Anthems EP. We've always wanted to do a Rush song and I think it was Charlie's [Benante, drums] idea to do that one. I would love to cover La Villa... at some point as well. Geddy and Alex [Lifeson] heard our version of Anthem and said they liked it, which was amazing to hear. We almost ended up performing with Geddy at the Revolver Golden Gods Award Show but the logistics just didn't work out. In a weird way it was almost a relief because we would have been there with our jaws on the floor, staring at him the whole time and not being able to play our instruments. I think in hindsight it's better that it didn't happen!
Back in the summer of 1987, Neil Peart spent 10 days cycling through the Pyrenees Mountain range that separates Spain and France, and detailed his adventures in a privately published book titled Pedals Over The Pyrenees. John at Cygnus-X1.net recently obtained a copy of the book and has transcribed a lengthy excerpt which you can check out online here.
Former Guns N' Roses drummer Steven Adler was recently interviewed for the Johnny Dare Morning Show on Kansas City radio station 98.9 The Rock, and spoke about how not being invited to rejoin the reunited GN'R line-up affected him. At one point he was asked about his relationship with Slash and said the following:
... "I thought me and Slash were going to be like Geddy Lee and Alex Lifeson. They've known each other since they were in junior high school; they grew up together playing music; they got successful; and they stayed together for, like, 50 years. I thought that's how Slash and I were going to be, but it didn't work out that way. ...
Guitar World magazine recently sat down with Gwar lead guitarist Pustulus Maximus to ask him what's currently on his playlist, and one of the songs he listed was Rush's Necromancer:
The beginning sounds very much like Pink Floyd, but Alex Lifeson's solo in the rock part has an amazing groove and feel. This is the style of guitar playing I feel the most inspired by.
The Cleveland Plain Dealer posted their list of the 250 greatest songs by Rock and Roll Hall of Fame artists this past week, and Rush's Tom Sawyer made the cut at #242:
"Tom Sawyer" is so epic in nature; it was bound to become Rush's signature song. But it's also one of the band's easiest points of entry, clocking in at four and a half minutes with Geddy Lee's hypnotic synthesizer as the driving force.
The Indianapolis Symphony Orchestra announced last week the hiring of James M. Johnson as their new CEO. The Indianapolis Star published an article about the hiring titled 5 things to know about James Johnson, one of which is that he's a recovering bass player:
... Johnson, now 54, took up bass when he was about 10 years old and studied it through college years at Pacific Lutheran University in Tacoma, performing in orchestras and jazz combos. His musicianship skills led him to flirt with dreams of becoming a rock star when he was in high school. A bass-guitar-playing Johnson and his friends started a band in his parents' basement that cycled through several names - tremendously bad ones, he laughs now - including Contraband and Red Alert. The group played '70s hard rock covers, originals and tackled the entire Rush catalog, including 2112 from start to finish, he said. ...
The original Moon Records release of Rush's debut album occurred around 44 years ago this month, sometime in March of 1974. Here's the band performing at the Laura Secord Secondary School in St. Catharines back in the Spring of that year for an episode of Canadian Bandstand:
That's all for this week. Have a great weekend!