UPDATE - 2/5@4:02PM: Scott Hill was recently interviewed for Revolver magazine and spoke about Lifeson's contribution to the album along with his favorite Rush songs:
... "Subdivisions" [from 1982's Signals LP]. I would hear that song all the time at parties in the mid-Eighties. And from '80 - '87, all I listened to was hardcore punk rock stuff. That's it! No rock - but that Rush song, I would just listen to it all the time. I mean, I love "Fly By Night," I love "Working Man," I love all their songs with the gnarly riffs. But I really love "Subdivisions," I just love it. ...
----- snip -----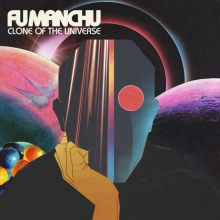 Southern California fuzz rock pioneers Fu Manchu will be releasing their 12th studio album Clone Of The Universe this coming February 9th via their personal label At The Dojo Records. Last month we learned that Rush's Alex Lifeson makes a guest appearance on the album's 18-minute, side-long centerpiece Il Mostro Atomico. Drummer Scott Reeder posted a story to his blog earlier today explaining how Alex's guest appearance came to be:
... a question was posed to us by management that needed answering ... from the Hemispheres ... What would you guys think about having Alex Lifeson play on your long song on Side Two? Um ... No, seriously, ... .um ... How about HELL YES!!! And so began us having to keep a secret from everyone about even the remote possibility of this happening. When we went into the studio to record everything, we didn't plan on Alex putting anything down as we didn't know if his schedule would actually permit it. So we managed to do the entire bed track of what was to become "Il Mostro Atomico" just figuring it was NOT going to happen. It was a great tracking session with the drums going down in 2 takes ... All of the rest of the percussion for "Il Mostro Atomico" was added as well, with yours truly on congas, shakers, wind chimes, fish, vibra slap, tambourine and Brad Davis on triangle. It was also during these sessions that we finally got the email from Alex saying that he had a window of time that he could do the session in. So off the tracks went to him and soon enough I was sitting upstairs at home, opening his sessions and listening to what he had done. To say I was excited and blown away is an understatement. It was pure Lifeson magic; melodic, noisy, tasteful and most of all compositional. All of the things that have made me love his playing for 40 years. And here it was sitting in OUR song. If you would have told me when my parents friends gave me my first vinyl of "Caress of Steel" (together, they also gave me KISS "Alive"..way to corrupt the youth!!) that the guy ripping "Bastille Day" and "Lakeside Park" would be playing on my bands album some 35 years later I would have said "you're crazy, I'm going to be a marine bioligist, not a drummer!!" Life goals ... there's still time maybe? So again the clock ticks and we wind up missing our own imposed deadline, with shows booked for November 2017 that were supposed to be album release shows. With mixing, mastering and artwork to do we will never make it. In the middle of all of this, Alex was kind enough to actually record more material that we were not able to use because having reached our cut off. Sadly we just had to put a finish date on the record to even get it out in early 2018. Thus ... we have "Clone Of The Universe" coming out February 9th 2018 and we are more than excited to play as much of it as possible live, including all of " Il Mostro Atomico" which clocks in at 18:08. The same exact running time as side one of my favorite RUSH albums, "Hemispheres". Maybe we can get Alex to join us on the road somewhere to jam on it ... but for now Bob has to learn Alex's parts. Not a bad job to have!! ...
The band will be hitting the road in support of the album next month. For more information visit the Fu Manchu website at fu-manchu.com, and you can pre-order Clone of the Universe at this location.