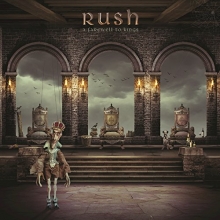 Rush's new A Farewell to Kings 40th anniversary box set edition officially released earlier this month, and fans can purchase either a 3-CD set, a 4-LP set or the Super Deluxe set. Each set includes the Abbey Road Mastering Studios 2015 remastered edition of the album, a complete Rush concert recorded in February 1978 at London's Hammersmith Odeon newly mixed by Terry Brown, and four newly-recorded cover versions of songs from the original album by Dream Theater, Big Wreck, The Trews and Alain Johannes. Rush has released streaming audio versions of all 4 covers, including Dream Theater's cover of Xanada here, Big Wreck's version of Closer to the Heart here, The Trews Cinderella Man here, and multi-instrumentalist Alain Johannes' cover of Madrigal here. The band has also made streaming audio versions of the previously unreleased 1978 live versions of Closer to the Heart, Lakeside Park, 2112, and Neil Peart's drum solo included in the box set available on YouTube and other streaming channels. You can listen to Closer to the Heart here, Lakeside Park here, 2112 here, and the drum solo here. The set also contains a Cygnus X1 sound effects outtake titled Cygnus X2 Eh which you can listen to here. Additionally, there's a 1.5-minute promotional, unboxing video highlighting the contents of the set which you can watch here, and this really cool 360-degree rendering of the album cover from FANTOONS. The Super Deluxe edition includes both the 3 CDs and 4 LPs along with an additional Blu-ray Audio disc containing a new 5.1 surround mix of the album by Steven Wilson, along with three original 1977 promo videos from a newly found 2-inch quad video master. John at Cygnus-X1.net has transcribed the liner notes (including Rob Bowman's essay) and made them available online here, along with scans of all the artwork here. The album and its milestone anniversary are also the subject of a recent In The Studio with Redbeard rockumentary radio show special, which is available for listening online at this location. The program consists of interview segments with Rush from past In the Studio interviews and runs about 18 minutes long. The set is now available to order at Amazon (3-CD set, 4-LP set, Super Deluxe set) and other retailers, and is also available in stores.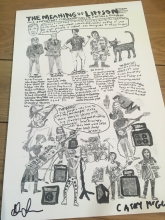 Dave Bidini's West End Phoenix monthly community newspaper for Toronto's West End just released its second issue last week. Alex Lifeson contributes a "storytelling comic" titled The Meaning of Lifeson to the publication, which is illustrated by artist Casey McGlynn. The newspaper has made 100 prints of the 2nd issue's comic signed by both Alex Lifeson and artist Casey Glynn which are available to purchase for $100 via the Rush Backstage Club. The West End Phoenix is a new monthly community newspaper for Toronto's West End developed by musician (Rheostatics), writer and publisher Dave Bidini and slated to launch in October. From the website:
... The West End Phoenix, a monthly community newspaper for Toronto's West End, launched in October 2017. Dreamed up by musician (Rheostatics), writer and publisher Dave Bidini, it is a home-delivered broadsheet devoted to telling the stories of a diverse, compelling and quickly evolving catchment, from the Junction Triangle to Parkdale, Christie Pits to Baby Point. Inspired by a summer working at the Yellowknifer, a vital smalltown paper in the Northwest Territories, Bidini imagined the Phoenix as a way to reflect his own community and to provide a place for the journalists, artists and storytellers who live there to work there, too. Contributors reflect the broadest range in both experience - from legendary voices to young writers - and perspective. Their views illuminate the catchment and transform the idea of a community newspaper. ...
New York based wine seller Zachys is currently running the online portion of their annual Holiday Auction, which features hundreds of bottles from the private collection of Rush's Geddy Lee. From the Zachys website:
... The first nearly 500 lots come from a cellar that rocks. Anyone who tuned in for our live auction last weekend understands the sheer speed with which people rushed to snatch up the wines from the private cellar of Geddy Lee (Lots 1-466). And yes, we intended that pun. Each bottle in these lots comes from the immaculate cellar of bassist and lead vocalist of the rock group Rush. Provenance is impeccable. Both the cellar and the sourcing. ...
You can check out Geddy's collection and place your bid here. The auction ends in 2 days on December 17th.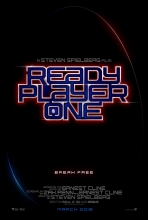 Ready Player One is the critically-acclaimed, 2011 sci-fi book from author, self-described seventies/eighties protonerd and Rush fan Ernest Cline. Ready Player One makes several references to '80s pop culture, with particular attention to cult films, classic arcade video games and music. The book contains many direct Rush references including a particularly significant plot point centering around the band's 2112 album. Back in 2015 we learned that legendary director Steven Spielberg had been tapped to direct a film adaptation of the book, with comic book movie writer Zak Penn and Cline collaborating on the script. The movie is currently slated for release this coming Spring with the lead role played by 20-year-old American actor Tye Sheridan, best known for his roles in The Tree of Life (2011), Mud (2012), Joe (2013) and as a young Cyclops in last year's X-Men: Apocalypse. The first trailer for the film was released at the San Diego Comic Con earlier this year and prominently features Rush's Tom Sawyer, which plays in the trailer from the 1:40 to 2:20 marks. This bodes well for the possibility of seeing more Rush featured in the film, including the prominent role played by 2112. The film's second trailer was released earlier this week, and the featured song this time around is Van Halen's Jump. The trailer does contain some new footage from the film, but still no clues as to whether the film will include any of the many Rush references from the book. The film releases on March 30, 2018 and you can watch the first trailer here and the second trailer at this location. Cline also recently confirmed that he's writing a sequel to the book, although he didn't reveal any details.
Premier Guitar's Levi Clay featured the riffs of Alex Lifeson in the latest installment of his Obsessive Progressive series. Clay breaks down some of Lifeson's best-known riffs, complete with an online lesson and commentary. You can check it out on the Premier Guitar website here.
Waves.com recently sat down with multi-platinum mixing and recording engineer Richard Chycki to discuss mixing Rush for 5.1 surround, his tips for mixing large drum sets and multi-amped guitars - and which plugin he'd take with him if he time-traveled back to analog days. You can read the interview online here.
Brent Chittenden of the Journal of Musical Things website published chapter 50 of his year-long, 52-week series 52 Albums that Changed My Life this past week, and the featured album for this installment was Rush's Clockwork Angels. Chittenden also featured Rush's Counterparts in Chapter 36 of his series earlier this year.
The GNAV TV YouTube channel posted an old, rare video of Geddy Lee helping to award the Best International Video Award at the 1996 Much Music Video Awards. Geddy and hostess Denise Donlon say a few words, and then reveal the winner as Alanis Morissette. You can watch the video below or on YouTube at this location.
Rush's Time Stand Still documentary will air on Showtime tonight at 9PM EST. That's all for this week. Have a great weekend!