Geddy Lee was the guest on this past week's episode of the AXS TV interview series The Big Interview with Dan Rather. The interview was conducted at Geddy's home in Toronto, and covered a number of subjects including Geddy's upbringing and introduction to music, Rush fans and fandom, his Rush bandmates, baseball, his family life and more. In the final segment, Dan asked Geddy what he's been up to currently along with his plans for the future. Geddy spoke a little about his book project and then was asked about touring plans:
... No plans for touring right now ... at all ... I'm not sure that Rush as the 3-piece that people know will ever tour again at this point. It's highly unlikely. But I would say that ... this is the first time in my life that I've spent 6 months in my home and in my hometown without going to an airport. I've watched the garden go from being frozen solid in winter, watched the buds come up for the first time, watched all the various nuances of my home garden come to life - and it's been so good for me. It's been so edifying to see my hometown and to live as a normal person lives. I know most people take that for granted but for me it's been quite special. I'm really not in a hurry, and I know there will come a time when I will have to feed the beast - when I have to get down to the studio and write. And I still go down there and put ideas on tape and I know they're not going anywhere. So when the moment is right, and it feels right, and I'm ready to go out and do battle out there then I'll put something together and I'll go do that. ... it's a bit early to say [whether I'll record or tour], but probably a little bit of both. Invariably if I put music together that I'm proud of, I'll want to play it for someone. ...
Several clips from the interview are available in this post, and you can also purchase a digital copy for $2 at this location.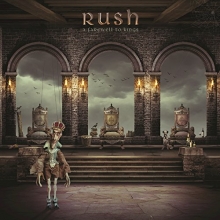 Rush's A Farewell to Kings was released 40 years ago this year, and to celebrate the anniversary Rush is releasing a 40th anniversary box set edition of the album, similar to the 2112 40th anniversary box set that was released last year. Fans can purchase either a 3-CD set, a 4-LP set or the Super Deluxe set as described here:
The A Farewell to Kings 40th Anniversary Super Deluxe version includes three CDs, one Blu-ray Audio disc and four high-quality 180-gram vinyl LPs.

The set encompasses the Abbey Road Mastering Studios 2015 remastered edition of the album for the first time on CD; a complete Rush concert recorded in February 1978 at London's Hammersmith Odeon, newly mixed by longtime Rush engineer and original A Farewell to Kings producer Terry Brown from the multi-track live tapes; four newly-recorded cover versions of songs from the original album by Dream Theater, Big Wreck, The Trews and Alain Johannes; and an instrumental studio outtake of the spacey sound effects the band has creatively titled "Cygnus X-2 Eh."

The Hammersmith show features, for the first-time ever, over 34 minutes of unreleased performances including a complete "2112" suite, "Lakeside Park," a drum solo and "Closer To The Heart." The Super Deluxe Edition's audio content on its CDs is duplicated on its vinyl discs. Meanwhile, the Blu-ray Audio disc contains a brand new 5.1 surround mix of the album by four-time Grammy® nominated surround sound producer Steven Wilson, along with three original 1977 promo videos from a newly found 2-inch quad video master significantly improving the video quality for "Closer To The Heart." The Super Deluxe package also includes an elaborate new 40th anniversary cover treatment by longtime Rush creative director Hugh Syme, who has also created a new piece of artwork for each of the album's six songs, and an extensive 12,000-word liner notes by Grammy®-winning rock historian Rob Bowman.

Finally, The Super Deluxe Edition includes several exclusive items, including a unique King's Ring, with custom velvet pouch and neck chain; two lithographs with original artwork by Hugh Syme; a special 12-inch turntable mat featuring distinctive artwork by Hugh Syme; and a reproduction of Rush's original 1978 A Farewell To Kings tour program. ...
Rush has also released a streaming audio version of the previously unreleased 1978 live version of Closer to the Heart that's included in the box set. It's available on most streaming channels as well as YouTube. The set is slated for release around December 1st and is now available for pre-order (3-CD set, 4-LP set, Super Deluxe set). There are also various merchandise bundles available via the Rush Backstage Club. Rush will also be celebrating the A Farewell to Kings 40th anniversary by participating in the Record Store Day Black Friday event on November 24th with the release of a 7-inch vinyl version of Closer to the Heart/Madrigal. Back in April Rush released a Cygnus X-1 12-inch 180 Gram Audiophile Vinyl EP for Record Store Day, also in celebration of the album's 40th anniversary. From the Record Store Day website:
Canadian rock legends Rush have been making music for more than five decades. The songs on this RSD 7" are "Closer to the Heart" and "Madrigal," both released in 1977 on A Farewell to Kings. This single is being re-released for RSD Black Friday to celebrate the 40th anniversary of the LP. This 7" has a large center hole, and new art by longtime Rush album designer Hugh Syme. It also comes with a custom 7" adapter and is to be timed with the 40th anniversary of A Farewell to Kings box set re-issue.
AXS TV released a bonus clip from Geddy Lee's interview earlier this week where Geddy talks about the recording of A Farewell to Kings. You can check out the video at this location .
BBC Music posted an article last week on secret codes and ciphers hidden in music and they give some attention to Rush's YYZ (thanks Tony R):
How do you title an instrumental piece of music? Do you aim for a word or phrase that somehow sums up the feeling of the music, or do you use something completely random? Seemingly, Canadian rock power trio Rush opted for the random option when they came up with the name YYZ for an instrumental they'd written for 1981 album Moving Pictures. However, if you've ever flown into Rush's home city of Toronto you might know that YYZ is the IATA airport identification code of Toronto Pearson International Airport. The track is named for Toronto, and Toronto is also embedded into the track. ... it's Morse code (- . - - / - . - - / - - . .) for Y-Y-Z. Guitarist Alex Lifeson was training to become a pilot while Rush were recording Moving Pictures. In a documentary, he said: "We were coming back from the studio when we were making the record - just for a break - and my flight instructor came and picked us up in a small plane. On the way back, we'd tuned in the identifier for Toronto airport on the radio... [and we thought] that's a really cool rhythm. That's how the beginning part came about."
Motley Crue's Nikki Sixx recently interviewed guitarist John 5 (Marilyn Manson, Rob Zombie) for his video series My Favorite Riff. John 5 plays a medley of his favorite guitar riffs in the video, one of which is Alex Lifeson's Limelight riff as seen here at about the 15:45 mark. Speaking of Limelight, the latest issue of Bass Guitar magazine (issue 149) features the bass line from the song in their Revolver series as seen here (thanks RushFanForever):
You've heard of synaesthesia, right? It's essentially where your senses overlap - so, for example, you might 'see' a taste, 'hear' a colour or 'touch' a sound. A good example is Geddy Lee's bass tone on Rush's 1981 tune 'Limelight, a high point of that year's Moving Pictures album. When we listen to it, it seems crunchy, meaty, dark, fat and chocolatey (apply your own adjectives as you please). It's a bit like chewing on a massive Dairy Milk with nuts and raisins in it, or maybe we're just hungry.. either way, get your ears (and teeth) around this stunning line post-haste.
The debut issue of UK magazine Music Geeks came out last month and includes an interview with music blogger/podcaster Don Valentine. When Valentine was asked about his go-to feel good album he answers with Rush's Grace Under Pressure (thanks RushFanForever):
"Grace Under Pressure" by Rush always perks me up, an unusual choice I know. It's a hook laden album, spoiled only by the 80s keyboard sound and the fact that Alex Lifeson was going through a mini-mal stage wanting to be Andy Summers, so Geddy Lee compensated by buying ten more keyboards and loads of bass pedals.
Here's the bonus clip from Geddy Lee's AXS TV interview where he talks about the recording of A Farewell to Kings:
October was another big month for Rush releases, 2 of which celebrated anniversaries last week. Rush's 15th studio album Counterparts celebrated its 24th anniversary on October 19th, and the band's 5th live album and 1st live concert DVD Rush in Rio celebrated its 14th anniversary last Friday. This Sunday on October 29th Power Windows, Exit ... Stage Left and Hemispheres all celebrate anniversaries as well. That's it for this week. Have a wonderful weekend and a safe/happy Halloween!