UPDATE - 10/23@7:39PM: And ANOTHER preview. Geddy talks about the recording of A Farewell to Kings in this one:
Geddy Lee talks about @rushtheband's album "A Farewell to Kings," as the band prepares for its 40th anniversary release! #TheBigInterview pic.twitter.com/t4zoqCPsGf

— AXS TV (@AXSTV) October 23, 2017
----- snip -----
UPDATE - 10/23@2:05PM: AXS TV uploaded yet another preview clip over the weekend. In this 2-minute clip, Geddy talks about who he is as a person - outside of his professional persona as the front-man of Rush:
----- snip -----
UPDATE - 10/20@12:24PM: AXS TV has just uploaded that 5-minute preview clip that I'd mentioned below:
----- snip -----
UPDATE - 10/19@9:59PM: Here's another short preview video of Geddy's interview (thanks RushFanForever). It's a 2-minute clip where Geddy shows Dan his baseball memorabilia collection and talks about throwing out the first pitch at the Blue Jays home opener a few years ago, and singing the Canadian National Anthem at an All-Star game back in the '90s. The clip was uploaded by Sophie Vukovich - a promos producer/editor at AXS TV. AXS TV has also been airing a 5-minute preview clip where Geddy talks about Rush fandom; this clip should hopefully be up on YouTube soon as well.
----- snip -----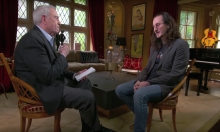 We learned last month that Geddy Lee would be the guest on the AXS TV interview series The Big Interview with Dan Rather this coming Tuesday, October 24th. AXS TV has just posted a 30-second video preview promoting the episode which you can check out below or at this location. Geddy talks a little about Rush's Rock and Roll Hall of Fame induction in the clip. For those who don't have access to AXS TV, the episode will be made available to purchase the following day for $2 at this location.