UPDATE - 9/20@10:21AM: Here's a short, 30-second promo vid for the 5th season which features Geddy Lee at around the 10-second mark (thanks RushFanForever):
----- snip -----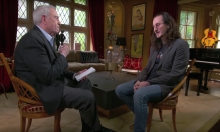 The AXS TV interview series The Big Interview with Dan Rather kicks off next month and AXS TV has announced the lineup for the upcoming fifth season, which includes an appearance by Rush's Geddy Lee on October 24th:
The X Factor UK" judge Sharon Osbourne will sit down with award-winning newsman Dan Rather to discuss her prolific career in the fifth season fall premiere of AXS TV's dynamic original series "The Big Interview" on Oct. 10. Osbourne is the first guest in an exciting lineup of nine all-new episodes which feature Rather conducting candid, up-close-and-personal interviews with some of the biggest names in the entertainment industry. ... The new season also includes iconic Grammy-winning California native rockers The Doobie Brothers, as Rather chats with band members Tom Johnston, Patrick Simmons, and John McFee on Oct. 17. Canadian rock icon and renowned Rush front man Geddy Lee is up next on Oct. 24, followed by introspective folk songstress Jewel on Oct. 31, and actor Kiefer Sutherland, who is taking a leap into country music on Nov. 7. Blues-rock legend Steve Miller follows on Nov. 14, game-changing English rocker and guitar legend Peter Frampton joins Rather on Nov. 21 and famed E Street Band axe-man/actor Steven Van Zandt appears on Dec. 5. ...
For more information on the series, visit the website at AXS.com. Thanks to Dave L and Scott G for the heads up.