UPDATE - 10/16@7:10PM: According to Progarchy.com's Brad Birzer, the specific track that uses the Neil Peart drum samples is The Impulsive Type, although Birzer mistakenly thinks that Peart actually played on the recording (thanks RushFanForever).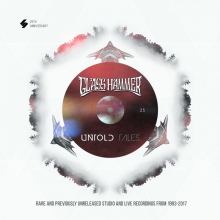 American prog-rockers Glass Hammer will be releasing a new compilation album titled Untold Tales later this week in celebration of their 25th anniversary. The album is a collection of previously unreleased studio and live tracks spanning the band's 25-year history, including two unreleased covers of Argent and Beatles tracks and a song featuring Neil Peart drum samples. From a Times Free Press interview with co-founder Steve Babb:
... Some years ago, Peart recorded some drum tracks as a sample library and made them available to a selected number of acts, including Glass Hammer. Nothing was done with the finished songs, so Babb says the band decided to include the song on "Untold Tales." Without having to be asked, he laughs and answers the obvious question: "It is not possible to use his drums and have it not sound like Rush."
Babb doesn't mention what song the samples were used on, and it's not clear what sample library they are referring too, but it's likely one of Sonic Reality's Neil Peart Drums sample libraries that have been made available in recent years.