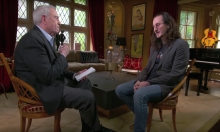 The AXS TV interview series The Big Interview with Dan Rather kicks off next month and earlier this week AXS TV announced the lineup for the upcoming fifth season, which includes an appearance by Rush's Geddy Lee on October 24th:
The X Factor UK" judge Sharon Osbourne will sit down with award-winning newsman Dan Rather to discuss her prolific career in the fifth season fall premiere of AXS TV's dynamic original series "The Big Interview" on Oct. 10. Osbourne is the first guest in an exciting lineup of nine all-new episodes which feature Rather conducting candid, up-close-and-personal interviews with some of the biggest names in the entertainment industry. ... The new season also includes iconic Grammy-winning California native rockers The Doobie Brothers, as Rather chats with band members Tom Johnston, Patrick Simmons, and John McFee on Oct. 17. Canadian rock icon and renowned Rush front man Geddy Lee is up next on Oct. 24, followed by introspective folk songstress Jewel on Oct. 31, and actor Kiefer Sutherland, who is taking a leap into country music on Nov. 7. Blues-rock legend Steve Miller follows on Nov. 14, game-changing English rocker and guitar legend Peter Frampton joins Rather on Nov. 21 and famed E Street Band axe-man/actor Steven Van Zandt appears on Dec. 5. ...
There's also a short, 30-second promo vid for the 5th season which features Geddy Lee at around the 10-second mark. Hopefully Geddy will give fans some news regarding Rush's future and any potential solo musical projects, as well as more details on his planned book on the history of bass guitars.
Speaking of upcoming Rush side projects, Dave Bidini's West End Phoenix monthly community newspaper for Toronto's West End is set to release its debut issue next month and Alex Lifeson will be contributing a "storytelling comic" to the publication. From the website:
... [The West End Phoenix] will be a home-delivered broadsheet devoted to telling the stories of a diverse, compelling and quickly evolving catchment, from the Junction Triangle to Parkdale, Christie Pits to Baby Point. Inspired by a summer working at the Yellowknifer, a vital smalltown paper in the Northwest Territories, Bidini imagined the Phoenix as a way to reflect his own community and to provide a place for the journalists, artists and storytellers who live there to work there, too. Contributors will reflect the broadest range in both experience - from legendary voices to young writers - and perspective. Their views will illuminate the catchment and transform the idea of a community newspaper. ...
It looks like the debut issue will be delivered on October 14th, and they already have well over 1000 subscribers. To learn more about the publication and sign up for a subscription, visit the website at westendphoenix.com.
Now that Fall is upon us, we should expect to hear some more details regarding the planned 40th anniversary edition of A Farewell to Kings in the next month or two, just in time for the Holidays (yes... Christmas is just 3 short months from now!). Alex Lifeson revealed plans for the box set - which would be similar to last year's 2112 40th anniversary box set - in a Sirius XM interview earlier this year.
The Journal of Musical Things posted an article this past week highlighting the jobs that several rock stars had before they became famous, including one of Neil Peart's early jobs from when he lived in London:
Rush's Neil Peart traveled to London, England when he was 18 years old, with the hopes of furthering his career as a professional musician. Although he had played in several bands and did some occasional session work, he was forced to sell jewelry at a shop called The Great Frog to support himself.
Ultimate Guitar recently interviewed guitarist Marty Friedman and asked him about several of his musical influences including Rush's Alex Lifeson (thanks John W):
He was one of the first guitar players I heard as a kid. I was big KISS fan, a Black Sabbath fan, my close friend who was also a fan of those bands was a big Rush fan so he turned me on to Rush. Immediately I wasn't as much of a Rush fan as KISS or Black Sabbath, but I liked Alex Lifeson. I think Rush was a little bit too 'Star Trek' for me. That doesn't mean it's not fantastic, I have ultimate respect for Alex and his band. He's a pioneering guitarist. I've never met him but I think he's great. I just never was a huge fan of the band myself, but that doesn't mean they aren't the best band of all time.
Pediatric Emergency Physician Amy Baxter is the inventor of the Buzzy - a gadget that reduces needle pain. The Z Review recently caught up with Dr. Baxter for a short interview where they give her the Five Questions treatment. When asked about her favorite album, here's what she had to say:
"Clockwork Angels," because my good friend, writer Kevin Anderson, worked with Neil Peart on a graphic novel to go with the album.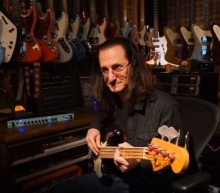 Tech 21 introduced their Geddy Lee Signature SansAmp (the GED-2112) at the NAMM show back in January, and made it available for purchase earlier this year. The GED-2112 has a list price of around $499 and you can learn more about it via the Tech 21 website which also includes this nifty quote from Geddy himself:
The GED-2112 is really a continuation of my long-time approach to bass tone. A 'deep clean' tone coupled with the 'edgy crunch' I get from the SansAmp RPM now all in one box. With selectable A/B inputs, and separate balanced and unbalanced direct outputs, this box is the foundation for great bass tone in any setup. Plus it's green!
Tech 21 sat down with Geddy in his home studio earlier this summer to discuss the GED-2112 and have posted part 1 of the interview on their YouTube channel here:
That's all for this week. Have a great weekend!