Geddy Lee continues to grow his already large collection of bass guitars. He just recently purchased a rare 1962 Fender Jazz bass from The Guitar Broker in Ft. Lauderdale, FL as seen in this Facebook photo post from last weekend:
Good Saturday morning everyone. Our good friend Geddy Lee holding one of his best basses he purchased from us in his collection, this wonderful 1962 Fender Jazz Bass in Fiesta Red with a slab rosewood neck that's museum quality. He is now enjoying it and several other great basses he has recently acquired from us. Enjoy your holiday weekend. www.guitarbroker.com
Geddy is busy working on a book on the history of the bass guitar, and has been adding several rare basses to his collection over the past year. You can see a few of these on his official Instagram page.

Little Evil is a new Netflix original horror comedy film written and directed by Eli Craig ans starring Evangeline Lilly, Adam Scott, and Owen Atlas. The film follows Gary (Scott), who has just married the woman of his dreams Samantha (Lilly), only to discover that her six-year-old son Lucas (Atlas) may be the Antichrist. At one point in the film Gary and his stepdad support group climb into a monster truck to go rescue Samantha and Lucas from an evil cult, and Rush's Tom Sawyer plays in the background as the group of stepdads is shown rocking out to the song in the truck. The scene occurs at about the 1:17 mark of the movie. Those with a Netflix subscription can watch the movie here.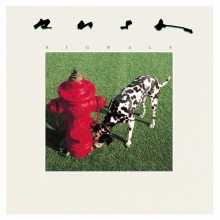 Rush's 1982 classic Signals will celebrate the 35th anniversary of its release tomorrow, September 9th and is the subject of an In The Studio with Redbeard rockumentary radio show special which is airing all this week and is now available for streaming online at this location. The program consists of interview segments with all three members of Rush from past In the Studio interviews and runs about 24 minutes long. For a list of stations and air times go here, and you can also listen to the interview segments below or online here.

It turns out that Rush's Record Store Day exclusive offer of a Cygnus X-1 12-inch Vinyl EP was not so "exclusive" after all. Back in April Rush participated in the Record Store Day festivities by offering a limited edition (limited run of 5000) Cygnus X-1 12-inch 180 Gram Audiophile Vinyl EP. The EP included Cygnus X-1 Book I: The Voyage on side A and Cygnus X-1 Book II: Hemispheres on side B, along with new artwork from Hugh Syme. Although it was listed and advertised as a Record Store Day "exclusive" limited edition, the Rush Backstage Club is now offering the very same EP for sale via their website here. While this is good news for those who missed getting one on Record Store Day, it's bad news for those who thought it was an actual "exclusive" purchase and went above and beyond (in both effort expended and financial investment) to get one. It can also be argued that this defeats the entire point of Record Store Day.
Brent Chittenden at the Journal of Musical Things blog posted the next chapter in his 52 Albums That Changed My Life series this past week. The subject matter of this latest chapter is Rush's Counterparts album:
... From beginning to end, there seems to be a drive to Counterparts that I'm not sure I've quite heard on a Rush album before or since. We get songs about love and relationships, an instrumental. It's everything you love about Rush but they were definitely keeping up with the times on this album and yet still very much doing their own thing. In other words, while I, a child of the 90's alternative scene, could definitely get into the songs and there were some definite similarities between a few songs on Counterparts and the music I was listening to, the album was definitely a Rush album. '''

This year's Rush Eucon European Rush fan convention will take place at The Box in Crewe on October 13-14. The 2-day event will feature Rush tribute bands La Villa Strangiato from Italy and Clockwork Angels from Scotland along with special guest former Rush producer Terry Brown. Other highlights for the weekend include Rush Fans Got Talent, the legendary Rush Quiz and the famous Eucon raffle and auction. Proceeds from the event will go to support Jessie's Fund. For all the details and to purchase tickets visit the Rush Eucon Facebook page and also follow them on Twitter.
Norwegian reader Ken M let me know that the bells at Oslo City Hall in Oslo, Norway will be playing Tom Sawyer at 10AM from now through December 3rd. You can see the eclectic mix of music played by the bells here.
Daniel Bukszpan at The Z Review posted his list of the The 10 Most Underrated Rush Songs this past week in no particular order. You can check them out at this location.
Today is the 30th anniversary of the 1987 release of Rush's 12th studio album Hold Your Fire. The album was recorded at The Manor in Oxfordshire, Ridge Farm Studio in Surrey, Air Studios in Montserrat and at McClear Place in Toronto. Hold Your Fire was certified Gold by the RIAA on November 9, 1987 and it peaked at #13 on Billboard's top album charts. It has yet to be certified Platinum. 2 singles from the album - Force Ten and Time Stand Still - reached #3 on the US Mainstream rock charts, Prime Mover reached #16. Videos were made for Time Stand Still and Lock and Key:
As I'd mentioned above, tomorrow is the 35th anniversary of the release of Rush's Signals album. Tomorrow also happens to be the 17th wedding anniversary of Neil Peart and his wife Carrie Nuttall, and Neil will also be celebrating his 65th birthday this coming Tuesday, September 12th. Happy anniversary Neil and Carrie and happy birthday Neil! Have a great weekend everyone.