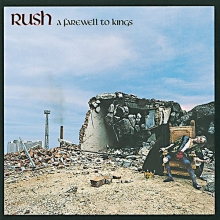 This past Tuesday, August 29th marked the 40th anniversary of the US release of Rush's 5th studio album - 1977's A Farewell to Kings (it was released on August 26th in Canada). The album was recorded at Rockfield Studios in Wales and mixed at Advision Studios in London. It was one of Rush's first albums to go Gold in the US; it along with 2112 and All the World's a Stage were all certified simultaneously on November 16, 1977. The album would later be certified Platinum on December 1st, 1993. It peaked at #33 on Billboard's top album charts. A remastered version of the album was released in 1997, and the album was remastered again for the 2011 Sector 2 box set, which also included a 5.1 surround sound DVD Audio version. It was also remastered for vinyl in 2015 as a part of Rush's 12 Months of Rush promotion (this release also included a Blu-ray Audio version). According to a recent Alex Lifeson interview with Sirius XM, a 40th anniversary box set edition of the album will be released later this year, similar to last year's 2112 40th anniversary box set.
DJ Eddie Trunk hosted a radio broadcast from the House of Blues in Houston a few weeks ago, and during a Q&A session with fans was asked about his opinion on the future of Rush. He expressed his belief that Neil Peart was definitely done with the band, and raised some eyebrows when he mentioned a potential Lee-Lifeson side project:
"... [Neil Peart]'s out. I think he's done...done...done. However Geddy is the total opposite. I talked to Geddy a couple times ... and Geddy told me he is actually reinvigorated. He told me at the time he made some changes to his diet which helped his voice ... and he had a ton of energy, and he wanted to make music and continue in some way. Alex seems to be somewhere in the middle. Alex has said publicly he absolutely wants to do some stuff again. He's doing some producing, he's doing some writing. There has been talk about a band called Lee-Lifeson, which would be the two of them going out and doing stuff together. They would never call it Rush. Those guys are too classy...they would never do that... They would call it potentially Lee-Lifeson, maybe play some Rush tunes and make new music, because they want to continue to create new music as well. I've heard rumors about that ... It's up to them..."
Although Trunk was just speculating based on prior interviews and conversations with the band, his ambiguous wording made it sound as if he might have been privy to some inside information, leading many hopeful Rush fans and the music press to begin reporting the information as if it were fact. After some pressure from both fans and Rush's management, Trunk backpedaled a bit and posted the following comments to Twitter:
Amazing that just talking as fans do on my show about what members of @rushtheband may or may not do can turn into major news headlines..

- Eddie Trunk (@EddieTrunk) August 25, 2017
again, my comments & speculation on my radio show last week on @rushtheband w/a listener was just that! It is NOT in any way fact/reality!

- Eddie Trunk (@EddieTrunk) August 25, 2017
Longtime Rush friend and confidant Donna Halper spoke with Lifeson on his birthday this past weekend and asked him about Trunk's comments:
Two quick things (by special request, just for Rush fans). Thing one: I spoke to Alex and conveyed everyone's happy birthday wishes. He told me he appreciates it, and that he's doing well. Healthier (lost some weight), very involved with some individual projects, life is good. And now... thing two. I asked him about the online rumors and he told me there's no LeeLifeson collaboration in the works. Both Geddy and Alex keep in close touch, of course, but both are very busy with their own projects. And neither has any plans for forming a band or touring or anything like that in the immediate future. As Alex just told me, the rumors are only rumors. And now you know... the rest of the story, direct from Alex himself.
Halper then elaborated on her conversation with Lifeson in a a blog post yesterday:
... I contacted Alex and asked him. (I tend to speak with him more often than I do Geddy, plus it was Alex's birthday and I wanted to get in touch anyway.) I figured if a reunion was in the offing, he might know something about it. However, as I suspected, he didn't... because there wasn't one. Nor did he think there would be one at any time in the near future, given how busy both he and Geddy are with individual projects. He and Geddy speak often, and they are often at the same events; but that doesn't mean they're auditioning drummers and preparing to go out on the road. So, with his permission, I posted to the site that first had the article, and got them to update and correct the original piece. Mr. Trunk also walked back his comments, which was greatly appreciated. I've never met him, I don't think, and I'm sure he's a good person. But he has certainly seen first-hand how easy it is for speculation to be taken as fact online. ..
So hopefully that will put this whole thing to bed once and for all. This doesn't mean that a future Lee-Lifeson project won't ever happen - it's just not as imminent as Trunk made it sound. Both Geddy and Alex have said on several occasions that the pair expect to work together in some capacity in the future. From Alex Lifeson's Sirius XM interview back in April:
... Ged and I will probably do something together. He's been really busy. He's working on his own little book project. He's become quite a bass guitar collector, and he wants to do a little thing on the history of the instrument. So that's keeping him super busy. ...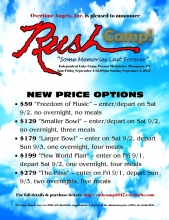 Back in 2014 a few diehard Rush fans who were inspired by Rush's many charitable donations over the years, put together the 501(c)3 charitable organization Overtime Angels with the goal of helping individuals in need that might not be able to receive help from large charitable organizations. To date, Overtime Angels has raised and paid out over $13,000 to assist cancer patients, burn victims, recovering addicts, homeless families and welfare advocates. The organization will be hosting their first RushCamp event/fundraiser this weekend at Independent Lake Camp in the northern tip of the Pocono Mountains near Scranton, PA. The camp will run from today at 5PM through Sunday, September 3rd at 12PM and include accommodations in shared cabins, buffet-style meals, swimming, boating, yoga and a ton of Rush music and activities. There will be a silent charity auction with some special Rush inspired items, fun giveaways and performances by Rush tribute bands Cygnals and Solar Federation, along with David Barrett, Michael Sadler and more. For all the details and to register for RushCamp 2017, visit the website here. Overnight ticket sales have closed, but Saturday day passes are still available and can be purchased at the door. They've also launched an associated fundraiser raffle where you can buy tickets to win some great Rush prizes including a copy of the Clockwork Angels novel "stealth signed" by Neil Peart. For all the details and to purchase raffle tickets go to overtimeangels.rallyup.com/rushcamp2017.
Rush's signature guitar sound is the subject of the latest Legends of Tone feature on the website of music store zZounds. The feature includes an overview of Alex Lifeson's many guitars he's used over the years, along with a video of Lifeson's top 5 guitar solos. Thanks to Mark S for the heads up.

Grammy-winning bluegrass musician/producer Jerry Douglas recently released a new album with his Jerry Douglas Band titled What If. In the video for the track Hey Joe there's a quick Rush Starman sighting at the 2:41 mark as seen here (thanks Mark O).
The Zac Brown Band played a show in Toronto last night and at one point in their set during a "guitar duel" portion of the show they played a snippet of Rush's The Spirit of Radio as seen in this clip (thanks Drew H).
Happy 40th anniversary A Farewell to Kings! Here's the band's in-studio performance video for the album's title track:
The next couple of weeks will mark the anniversaries of four Rush releases, including the 26th anniversary of the release of 1991's Roll the Bones on Sunday, Hold Your Fire (September 8, 1987), Signals (September 9, 1982) and Test for Echo (September 10, 1996). Also, Neil Peart and his wife Carrie Nuttall are celebrating their 17th wedding anniversary next Saturday, September 9th, and Neil will also be celebrating his 65th birthday on September 12th! Our thoughts and prayers go out to those in Texas who are victims of the flooding and devastation caused by Hurricane Harvey. Please consider donating to the Red Cross or other charitable organizations if you are able. Have a great Labor Day weekend everyone!