UPDATE - 8/27@6:42PM: From Donna Halper (via Facebook):
Two quick things (by special request, just for Rush fans). Thing one: I spoke to Alex and conveyed everyone's happy birthday wishes. He told me he appreciates it, and that he's doing well. Healthier (lost some weight), very involved with some individual projects, life is good. And now... thing two. I asked him about the online rumors and he told me there's no LeeLifeson collaboration in the works. Both Geddy and Alex keep in close touch, of course, but both are very busy with their own projects. And neither has any plans for forming a band or touring or anything like that in the immediate future. As Alex just told me, the rumors are only rumors. And now you know... the rest of the story, direct from Alex himself.
----- snip -----
UPDATE - 8/27@1:02PM: Geddy Lee wished his buddy Alex a happy birthday via Instagram:
----- snip -----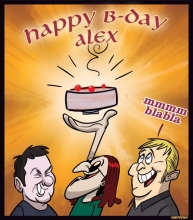 On this day back in 1953, our favorite guitarist - Alexandar Zivojinovich (aka Alex Lifeson) - was born in Fernie, British Columbia to Serbian immigrants, Nenad and Melanija Zivojinovich. He turns 64 years young today which catches him up with his bandmates; Alex is the youngest member of Rush, being born about a month after Geddy Lee and just under a year after Neil. In celebration of this occasion here's some video of a teenage Alex arguing with his parents over his future as a musician back in 1972. It's taken from the Alan King documentary Come on Children. Happy birthday Lerxst!! May you have many more, blah, blah, blah.