Music Radar ran an online poll over the past few weeks where they asked readers to vote for who they think is the best bass player of all time. They revealed the results earlier this week and topping the list was Rush's Geddy Lee:
The Rush man has inspired thousands to pick up the bass guitar, and many of the other bassists in this rundown cite him as an influence. A leading frontman, songwriter and a remarkable bass talent, it's no surprise he remains perennially popular with you guys. Given the news that Canada's premier prog exports have now retired from touring lends this result real poignancy. A worthy winner.
Geddy Lee commented on being awarded the honor via a post on the official Rush Facebook page:
"Wow...An incredible honour just to be included in a list of such profound Bass playing talent. Humbled and very appreciative. Thank you all so much"- Geddy
Speaking of Geddy, Tech 21's Andrew Barta sat down with Ged at his home in Toronto for an interview last month and they are promising to have it up on their YouTube channel sometime in the near future. They posted a short, 30-second preview clip here (thanks RushFanForever).
Some recent comments made by DJ Eddie Trunk regarding Rush's possible future plans raised some eyebrows and sparked several online conversations among Rush fans this past week, along with being the inspiration for a few inevitable clickbait headlines. Trunk recently hosted a radio broadcast from the House of Blues in Houston, and during a Q&A session with fans was asked about his opinion on the future of Rush:
"... [Neil Peart]'s out. I think he's done...done...done. However Geddy is the total opposite. I talked to Geddy a couple times ... and Geddy told me he is actually reinvigorated. He told me at the time he made some changes to his diet which helped his voice ... and he had a ton of energy, and he wanted to make music and continue in some way. Alex seems to be somewhere in the middle. Alex has said publicly he absolutely wants to do some stuff again. He's doing some producing, he's doing some writing. There has been talk about a band called Lee-Lifeson, which would be the two of them going out and doing stuff together. They would never call it Rush. Those guys are too classy...they would never do that... They would call it potentially Lee-Lifeson, maybe play some Rush tunes and make new music, because they want to continue to create new music as well. I've heard rumors about that ... It's up to them..."
It's unlikely Trunk has any credible inside information, as most of his comments were based on remarks made by Geddy and Alex in publicly available interviews from over the past couple of years. Both Geddy and Alex have said on several occasions that the pair expect to work together in some capacity in the future, so any speculation of a future Lee-Lifeson collaboration (personally, I prefer Dirxst) isn't really much of a reach. In Alex Lifeson's Sirius XM interview back in April he said the following:
... Ged and I will probably do something together. He's been really busy. He's working on his own little book project. He's become quite a bass guitar collector, and he wants to do a little thing on the history of the instrument. So that's keeping him super busy. ...
There hasn't been any official word on the status of Geddy's book, but that likely continues to keep him busy judging by all of his recent bass-centric Instagram posts. He also performed Take Off! with Bob & Doug McKenzie at a live reunion fundraiser event last month. Alex is busy with some side projects of his own, including his guest appearance on Marco Minnemann's BORREGO, which released last month. Alex will also be writing a storytelling comic for Dave Bidini's new community newspaper the West End Phoenix, with the first issue due out in October. So if it is in the cards for Geddy and Alex to get together on a musical project of some sort, it likely won't take place until sometime next year at the earliest. You can listen to Trunk's full comments on Rush below or on YouTube at this location.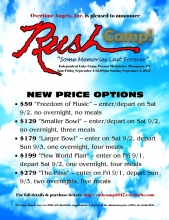 Back in 2014 a few diehard Rush fans who were inspired by Rush's many charitable donations over the years, put together the 501(c)3 charitable organization Overtime Angels with the goal of helping individuals in need that might not be able to receive help from large charitable organizations. To date, Overtime Angels has raised and paid out over $13,000 to assist cancer patients, burn victims, recovering addicts, homeless families and welfare advocates. The organization will be hosting their first RushCamp event/fundraiser next weekend at Independent Lake Camp in the northern tip of the Pocono Mountains near Scranton, PA. The camp will run from Friday, September 1st at 5PM through Sunday, September 3rd at 12PM and include accommodations in shared cabins, buffet-style meals, swimming, boating, yoga and a ton of Rush music and activities. There will be a silent charity auction with some special Rush inspired items, fun giveaways and performances by Rush tribute bands Cygnals and Solar Federation, along with David Barrett, Michael Sadler and more. For all the details and to register for RushCamp 2017, visit the website here. Overnight ticket sales have closed, but Saturday day passes are still available and can be purchased at the door. They've also launched an associated fundraiser raffle where you can buy tickets to win some great Rush prizes including a copy of the Clockwork Angels novel "stealth signed" by Neil Peart. For all the details and to purchase raffle tickets go to overtimeangels.rallyup.com/rushcamp2017.
Country singer/songwriter Maren Morris spoke with CBC Music during a recent tour stop in Toronto, and revealed her ultimate summer road trip playlist which included Rush's Tom Sawyer (thanks RushFanForever):
When we asked Morris for her Canadian connections, she said the thing she thinks of first is legendary Canadian band Rush. "My parents were rock kids so I grew up listening to a ton of Rush. The song I remember most is 'Tom Sawyer.'"
TeamRock.com posted their list of the 100 best debut albums of all time last week and Rush's debut album made the cut at #18 (thanks RushFanForever):
This album broke the Canadian band in the US when the song Working Man resonated with the blue-collar workers of Cleveland - and jocks at local station WMMS realised the song was long enough for them to take a toilet break. The album inspired Gene Simmons to dub the band 'Led Zeppelin Jr'. And, listening to the bluesy grooves of Finding My Way and In The Mood, it's not difficult to see why.
Here is the audio from Eddie Trunk's recent radio broadcast where he speculates on the future of Rush:
This coming Sunday, August 27th is Alex Lifeson's 64th birthday. Happy early birthday Lerxst! Have a great weekend everybody!!