The legendary Le Studio in Morin Heights, Quebec was tragically destroyed in a fire last Friday morning. Rush recorded several albums at Le Studio including Permanent Waves and Moving Pictures, and many of their iconic music videos from that era include footage of the band recording there. Rush reacted to the news via this post on Rush.com in which they look back at Le Studio and its role in the history of Rush. The article includes some photos and the following quote from Geddy Lee:
"What Le Studio meant to us, is really hard to put into only a few sentences. It was not only a place where we did some of our best work, but we also experienced many profound personal moments there. To say nothing of the friendships that were forged there that still endure today. Le Studio played a key role in our album recording experience at a pivotal point in our career. We were already saddened to learn of its derelict state a few years ago, but upon hearing that it has now been destroyed by fire, it truly marks the end an age for the 3 of us," remarked Geddy Lee on behalf of the band.

"We not only worked there for months at a time, but we lived and played in the home on the property, separated only by a beautiful lake and the glorious foothills of Laurentian Mountains," added Lee, "it was truly a part of the great Canadian landscape...and literally a home away from home for us. It will always have a special place in our hearts."
CBC's Tom Power spoke with Geddy Lee via phone last Friday about recording music and making memories at Le Studio for an interview that aired this past Monday on CBC Music's Q. The entire interview is available for listening below or online at this location.
Bassist Tim Commerford (Rage Against the Machine, Audioslave, Prophets of Rage) was recently interviewed for the 2 Hours with Matt Pinfield podcast (episode 130) and spoke at length about his awkward backstage meeting with Neil Peart that he had originally described in the 2010 Beyond the Lighted Stage documentary as seen here. In the Beyond the Lighted Stage interview he just glosses over the incident and makes it clear that he had no hard feelings over it:
I love Neil Peart even though he totally blacklisted me. If I was Neil Peart and I walked in the room, I would probably want to remove me too (laughs).
But in this new interview he describes the incident in much more detail. Alternative Nation transcribed some of Commerford's comments describing the encounter:
... "I was such an over the top Rush fan, I met Geddy and Alex, and they couldn't have been cooler. I spent all this time talking to Geddy, and Geddy was like, 'Do you want to meet Neil?' I was like, 'Oh my god yeah! I would love to.'

So Geddy brought the security guard in, who then brought me down the hall to go meet Neil Peart. I walk in this room, his back was to me, he was talking to Taylor Hawkins, Chad Smith, and one other drummer. It was like a drummers forum, he was talking to these three drummers and him. I walked in, and he turned and looked at me, I was like, 'Hey, I just wanted to let you know, you probably hear it all the time, but I'm a huge fan and I just really wanted to thank you for everything that you've done. You really inspired me to be a musician, and to try to be as good as I can be.'

I always used to hear that he would ride his bicycle, at that time I thought it was his bicycle, but I found out later it was his motorcycle, he would get off the bus, and ride his motorcycle to the venue. I was like, 'Hey, do you still ride your bike to the venues?' He goes, 'My motorcycle!?' Real mean. 'My motorcycle!?' I was like, 'No, your bicycle.' 'I don't ride bicycles! I ride motorcycles!' Before I could even say anything, he kind of gave the nod to the security guard, and the guy just wrapped his arm around me, and just started pulling me out of the room.

I know Taylor really well, Taylor and I ride mountain bikes together, and I was just waving to Taylor as the guy is just dragging me out of the room. It was just really an uncomfortable weird scene, luckily I was able to turn it into a joke. I went back and actually started talking to Geddy again, 'Dude, so he just [grabs] me, and took me out of the room.' I was laughing about it, but it was one of those things, he's just kind of a dick."

He added, "Without getting too into it, I watched this latest Rush documentary, and it became clear that the reason why Rush isn't going to tour anymore is because Neil Peart doesn't want to tour anymore. The other two guys clearly still want to tour, and Neil Peart is obsessed with trying to get to level 5, and play the parts better than he did before, or equally as good as he did on the recordings, and that's getting harder and harder as he's getting older and older. For me, as someone who is sort of obsessed with riding bicycles, it keeps me in shape, it makes me feel good about myself.

"I would argue that if Neil Peart rode bicycles, he'd be in better shape, he might still be in Rush, and be able to attain level 5 for a longer period of time. End of story."
You can listen to the entire interview online at this location. The part about Neil Peart begins at around the 29-minute mark.
Speaking of Peart, The Z Review published a list of what they consider to be the The Top Five Worst Lyricists In Rock History and Neil Peart made the cut. The author uses a lot of big words mixed in with some profanity, and references to Ayn Rand to describe his disdain for Peart ... lovely:
First off, I loathe Ayn Rand ... not just for her disgusting philosophy/ideology, but I also think her writing was putrid. So, the fact that Peart was merely rehashing her word salad as the prime source of their albums automatically pisses me off. But worse than ripping off her garbage, he does it in such a lunkheaded way, throwing in a slop of nerdy scifi and fantasy to make it all the more execrable. There's no worse/better example of this than Rush's 'theme' album 2112 - Peart's love letter to Rand. He even credits her 'genius' in the liner notes. His dystopian seven-part suite has all the finesse of a Dungeons and Dragons obsessed eighth grade twit on Ritalin.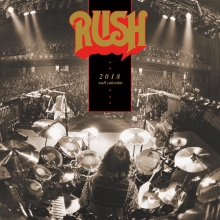 Just in time for back to school, a couple of new Rush wall calendars for 2018 are now available to order. The first is a 12"x12", 18-month calendar from BrownTrout Publishers, which celebrates the 40th anniversary of the 1978 release of Rush's Hemispheres. The calendar uses the album's rear cover image of the 2 "floating brains", and includes live photos of the band from the Hemispheres era as seen here. It was officially released on July 17th and can be ordered here although it looks to be currently out of stock. The second calendar is from Aquarius and features photos from the band's entire 40-year career as seen in this preview. It's official release date is listed as August 15th although it's already shipping from Amazon and can be ordered at this location. John at Cygnus-X1.net has scanned all the images from both calendars and made them available online. You can check out the images from the Aquarius calendar here, and the BrownTrout Hemispheres 40th anniversary calendar here.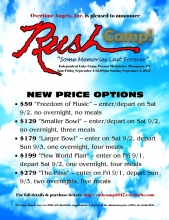 Back in 2014 a few diehard Rush fans who were inspired by Rush's many charitable donations over the years, put together the 501(c)3 charitable organization Overtime Angels with the goal of helping individuals in need that might not be able to receive help from large charitable organizations. To date, Overtime Angels has raised and paid out over $13,000 to assist cancer patients, burn victims, recovering addicts, homeless families and welfare advocates. The organization will be hosting their first RushCamp event/fundraiser this coming Labor Day weekend at Independent Lake Camp in the northern tip of the Pocono Mountains near Scranton, PA. The camp will run from Friday, September 1st at 5PM through Sunday, September 3rd at 12PM and include accommodations in shared cabins, buffet-style meals, swimming, boating, yoga and a ton of Rush music and activities. Campers can attend the entire weekend or choose from a number of available partial packages. There will be a silent charity auction with some special Rush inspired items, fun giveaways and performances by Rush tribute bands Cygnals and Solar Federation, along with David Barrett, Michael Sadler and more. For all the details and to register for RushCamp 2017, visit the website here. They've also launched an associated fundraiser raffle where you can buy tickets to win some great Rush prizes including a copy of the Clockwork Angels novel "stealth signed" by Neil Peart. For all the details and to purchase raffle tickets go to overtimeangels.rallyup.com/rushcamp2017.
Steven Wilson's drummer Craig Blundell was recently interviewed by Music Radar to talk about the 10 drumming albums that changed his life (thanks RushFanForever) and Rush's Exit ... Stage Left was #4 on his list:
I absolutely did not understand what was going on with YYZ and tracks like that. It was beyond my musicality. This was going to the next level for me with time signatures that didn't feel right, but I liked that and wanted to know more. [Neil's] part construction was very new to me with some strange phrasings and stickings. Looking back at it, Neil was an absolute pioneer of this genre. He was playing in a three-piece band who played everything live. They were prolific in their songwriting, they wrote a lot of groundbreaking albums and were a soundtrack for the drummer's drummer. Neil brought drumming forward 30 or 40 years. Outside Dave Lombardo, Neil was the first drummer I really fell in love with. He was the first poster on my wall. For me, Neil brought drumming forward 30 or 40 years. That's the sign of a great drummer to me - you listen to their music years on and it still stands the test of time.
Here's Geddy Lee's full interview with CBC's Q where he discusses Le Studio:
That's all for this week. Have a great weekend!