In a bit of sad news, the legendary Le Studio in Morin Heights, Quebec was destroyed in a fire earlier this morning. Rush recorded several albums at Le Studio including Permanent Waves and Moving Pictures, and many of their iconic music videos from that era include footage of the band recording there. The studio has been idle since 2008 and had since fallen into disrepair, despite some half-hearted efforts to revive it in recent years. Back in 2014 Neil Peart paid a visit to Le Studio and described the experience in a blog post on his website. There's also this fan-made, 2-part documentary on Le Studio that explains much of the studio's history. Although Rush recorded Moving Pictures at Le Studio, they wrote much of the album while on a rehearsal vacation at Canadian musician Ronnie Hawkins' farm outside Toronto in the summer of 1980. The Toronto Star ran an article this past week on how Hawkins is selling the famous estate - often referred to as Hawkstone Manor or Canada's Graceland. In addition to Rush, the farm has welcomed many musical superstars over the years, including John Lennon and Yoko Ono, Blue Rodeo, Gordon Lightfoot, and Ian and Sylvia Tyson. The article mistakenly claims that Rush recorded their Moving Pictures album there, while they actually only wrote and rehearsed portions of it with the recording occurring at the above-mentioned Le Studio. A couple of years ago I posted a collage of photos of Rush taken while guests at Hawkstone Manor which you can check out here.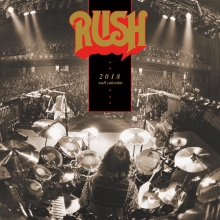 Just in time for back to school, a couple of new Rush wall calendars for 2018 are now available to order. The first is a 12"x12", 18-month calendar from BrownTrout Publishers, which celebrates the 40th anniversary of the 1978 release of Rush's Hemispheres. The calendar uses the album's rear cover image of the 2 "floating brains", and includes live photos of the band from the Hemispheres era as seen here. It was officially released on July 17th and can be ordered here although it looks to be currently out of stock. The second calendar is from Aquarius and features photos from the band's entire 40-year career as seen in this preview. It's official release date is listed as August 15th although it's already shipping from Amazon and can be ordered at this location. John at Cygnus-X1.net has scanned all the images from the Aquarius calendar and made them available online here.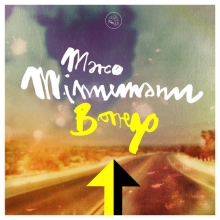 German drummer, composer and multi-instrumentalist Marco Minnemann's new album BORREGO released last week and Alex Lifeson is one of the guest musicians on the album along with Joe Satriani and others. Here's the official release announcement from the Lazy Bones Recordings Facebook page, which includes the music video for the first single featuring Satriani:
Nearly one year in the making - Lazy Bones is proud to announce the official release of the epic CD by MARCO MINNEMANN - BORREGO! The double album contains 24 tracks (+ 4 bonus tracks exclusive to the CD) and features ALEX LIFESON (on 3 songs), JOE SATRIANI (on 4 songs) & TONY LEVIN (on 1 of the bonus cuts.) There's so much incredible music on this CD it may take you one year to get through it all!
There are still a few autographed CD's available exclusively at:
Pledge Music: http://www.pledgemusic.com/projects/marcominneman and Lazy Bones: http://lazybones.com/buy-stuff
Please enjoy the music video for the first single - Horsepower (featuring Joe Satriani.)
Thanks for supporting REAL indie music!!
You can watch a video preview of the album on YouTube, and order it via Amazon.com, lazybones.com, or at Pledge Music.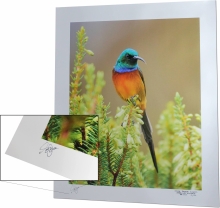 A couple of weeks ago on Geddy Lee's 64th birthday, the Canadian Wildlife Federation made available for sale a limited-edition, signed print of a Geddy Lee bird photograph, with all proceeds going to support the CWF. The print celebrates Canada's recent 150th birthday, so 150 were made available at $150 CDN a piece and quickly sold out. Although there are no more prints available for purchase, the CWF is running a contest (Canadian residents only) where the winner will get a signed, framed copy of the original Geddy Lee print (#001 of 150). The contest will end this coming Sunday, August 13th so submit your entry if you haven't already. Here's a quote from Geddy himself describing the photograph:
"I spent the month of February exploring different parts of the Western Cape. And on this day, I was treated to some bird watching with local resident and fellow birdwatcher Craig Glatthaar. Craig took me to some terrific spots along the southern coastline including the Harold Porter Botanical Gardens. So with my 500 mm lens in tow, we managed to spot some Sugarbirds and a couple of species of Sunbirds among others. While waiting under a tree in between rain showers we were able to follow and capture this fantastic Orange Breasted Sundbird who was resting amongst the beautiful and endemic Fynbos growths." GEDDY LEE

A few of the organizers of Rush RatCon - an independent Rush fan gathering that took place from 2009-2015 - will be hosting a RushCamp over Labor Day weekend. The event will take place at Independent Lake Camp in the northern tip of the Pocono Mountains near Scranton, PA and include accommodations in shared cabins, buffet-style meals, swimming, boating and a ton of Rush music and activities. There will be a silent charity auction with some special Rush inspired items, fun giveaways and performances by Rush tribute bands Cygnals and Solar Federation, along with David Barrett, Michael Sadler and more. Due to popular demand, the organizers have added several new partial ticket options for the weekend including passes for individual days and different meal plans. For all the details and to register, visit the website here.
Online satirical website The Hard Times posted an article earlier this week titled Middle-Aged Muse Fan Ready to Transition Into Rush Fan about a man who suddenly realizes he's too old to listen to Muse and therefore decides he should start listening to Rush - a more age-appropriate choice. :)
Music Radar is conducting a poll to determine the best bassist of all time and Rush's Geddy Lee is in the running. They will reveal the results on August 21st in celebration of Bass Week. So go vote for Geddy!
This coming Monday, August 14th will mark the 43rd anniversary of Neil Peart's first show playing with Rush, which took place on August 14, 1974 at the Civic Center Arena in Pittsburgh opening for Uriah Heap and Manfred Mann. Here's some audio from that show where the band plays Finding My Way:
Tomorrow, August 12th is Neil Peart's daughter Olivia's 8th birthday. Happy birthday Olivia, and have a great weekend everybody!!