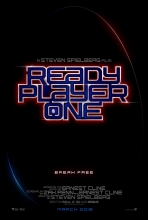 Ready Player One is the critically-acclaimed, 2011 sci-fi book from author, self-described seventies/eighties protonerd and Rush fan Ernest Cline. Ready Player One makes several references to '80s pop culture, with particular attention to cult films, classic arcade video games and music. The book contains many direct Rush references including a particularly significant reference to the band's 2112 album. Back in 2015 we learned that legendary director Steven Spielberg had been tapped to direct a film adaptation of the book, with comic book movie writer Zak Penn working with Cline on the script. The movie is currently slated for release in March of 2018 with the lead role played by 20-year-old American actor Tye Sheridan, best known for his roles in The Tree of Life (2011), Mud (2012), Joe (2013) and as a young Cyclops in last year's X-Men: Apocalypse. The first trailer for the film was released at the San Diego Comic Con this past weekend and prominently features Rush's Tom Sawyer, which plays in the trailer from the 1:40 to 2:20 marks. This bodes well for the possibility of seeing more Rush featured in the film, including the prominent role played by 2112. You can watch the trailer below or on YouTube at this location.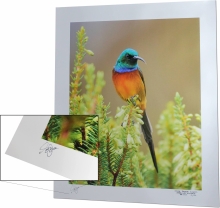 In addition to music, collecting baseball memorabilia and his many other pursuits, Geddy Lee is an avid bird watcher and photographer; last year Geddy donated one of his bird photos (this photo of a rookery of King Penguins that was taken in the Falkland Islands) to the Canadian Wildlife Federation, who then made it available as a limited edition print that Geddy also signed, with all the proceeds going to support the organization. The CWF announced earlier this week that Geddy has donated another photograph to the organization that they will also be making available as a limited edition, signed print. The print will celebrate Canada's recent 150th birthday and will be made available for purchase via the CWF website tomorrow, July 29th at 12AM EST on Geddy Lee's birthday. In keeping with the Canada150 theme, only 150 prints will be made available and each will sell for $150 CDN. From the CWF website:
As an avid photographer Geddy often travels the world to capture startling images of nature. His latest piece is a spectacular photo of an orange breasted sunbird taken in Western Cape, South Africa in February 2017. Geddy has graciously donated 150 prints, each personally numbered and autographed for authenticity - and CWF is making them available to you now while supplies last. It's a wonderful way to join Geddy in support of Canadian wildlife while securing a rare piece of memorabilia from one of Canada's most accomplished musicians and humanitarians.
They will also be running a contest where the winner will get a signed, framed copy of the original Geddy Lee print (#001 of 150). Here's a quote from Geddy himself describing the photograph:
"I spent the month of February exploring different parts of the Western Cape. And on this day, I was treated to some bird watching with local resident and fellow birdwatcher Craig Glatthaar. Craig took me to some terrific spots along the southern coastline including the Harold Porter Botanical Gardens. So with my 500 mm lens in tow, we managed to spot some Sugarbirds and a couple of species of Sunbirds among others. While waiting under a tree in between rain showers we were able to follow and capture this fantastic Orange Breasted Sundbird who was resting amongst the beautiful and endemic Fynbos growths." GEDDY LEE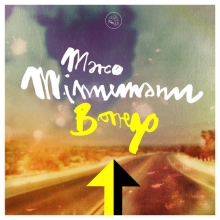 German drummer, composer and multi-instrumentalist Marco Minnemann's new album BOREGO will be released this coming Monday, July 31st. Rush's Alex Lifeson is one of the guest musicians on the album along with Joe Satriani and others. From the original announcement posted on Minnemann's Facebook page:
It is my utmost pleasure to announce my new album, BORREGO. An album inspired by the hauntingly beautiful Anza Borrego desert landscape and its stories. The album also features ALEX LIFESON from RUSH on guitar, who also co-wrote one of the center pieces of the album and delivered amazing and beautiful guitar arrangements on 3 of the tracks. And then, JOE SATRIANI, who performed stunning guitars on 4 of the songs. I feel very honored and grateful for having these legendary artists with me on this release. Other fantastic contributors are Elizabeth Carlson on violin, Brigitte Roka and Donna Zed on vocals. And Tony Levin on bass for one of the CD bonus cuts. ...
You can watch a video preview of the album on YouTube, and pre-order it via Amazon.com, lazybones.com, or at Pledge Music (the first 1000 CDs sold via Lazybones or Pledge Music will be autographed by Marco).
Indian singer, songwriter Kiran Ahluwalia was a recent guest on CBC Music's My Playlist and Rush's Tom Sawyer was one of the songs she discussed. You can listen to the program online at this location (thanks RushFanForever).
Donna Halper wrote an article for her blog a couple of weeks ago about how she finds inspiration in the lyrics of Rush. You can check that out online here (thanks RushFanForever).
Drummer extraordinaire Gene Hoglan was a recent guest on Full Metal Jackie's weekend radio program to speak about his latest instructional DVD along with a number of other topics including Rush and Neil Peart:
... Peart came up with so many great drum parts that were so memorable yet they were understandable from a drum standpoint. You'd have guys like Terry Bozzio playing with UK or Frank Zappa where a lot of his drum parts were amazing too and they were so amazing that it would just get you kind of depressed. Like, "Gah, I could never figure that out." But Neil Peart was a guy that - like, this is pushing the realms. This isn't just plain old rock drumming, but it's understandable. I could grasp every single thing that Peart was doing and I loved their - remember, I'm like eight, nine,10, 11 when super getting into Rush. Their lyrics really appealed to me, like, "Wow, they aren't just singing about partying or getting chicks on the weekend. There's something of merit, there's some heady stuff happening with their lyrics." So, I guess that was just my big influence, their whole approach. Then shortly after being a Rush fan, that's when I started getting really into all the super duper heavy metal stuff like that. So it was just a natural progression for me, for myself. ...
Here's the trailer for Steven Spielberg and Ernest Cline's Ready Player One, featuring Rush's Tom Sawyer:
Don't forget that tomorrow, July 29th, is Geddy Lee's 64th birthday! Happy early birthday Dirk!!! That's all for this week. Have a great weekend!