UPDATE - 4/14@10:16AM: Note that these have now SOLD OUT.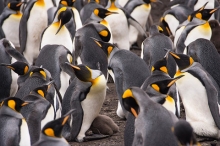 During his recent Rolling Stone interview last month, Alex Lifeson mysteriously mentioned that his bandmate Geddy was, "in the Falkland Islands or something, penguin watching". It turns out that Geddy was not only watching those penguins, but he was also taking photos, one of which is being offered as a print by the Canadian Wildlife Federation:
As an artist, Geddy Lee's greatest works have been created with Canadian rock legends and Rock'n'Roll Hall of Fame members, RUSH. As an avid photographer, Geddy's developed an eye for wildlife. This original photo of a rookery of King Penguins was taken by Geddy on a recent photography expedition to the Falklands. A limited number of 100 prints were made available by Geddy for the exclusive use of CWF. Each print comes autographed by this acclaimed Order of Canada member and winner of the prestigious Governor General's Performing Arts Award. Get yours NOW before they all sell out!
The 18"x12" print can be purchased for $100 at this location.