UPDATE - 7/29@8:31AM: The prints went on sale at 12AM last night and are already SOLD OUT! But you can still enter the contest.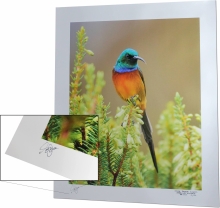 UPDATE - 7/26@10:09AM: Here are some more details from the CWF website, including a contest where you could win a framed version of the print (contest also opens on Sat., July 29), and this quote from Geddy himself describing the photograph (thanks RushFanForever):
"I spent the month of February exploring different parts of the Western Cape. And on this day, I was treated to some bird watching with local resident and fellow birdwatcher Craig Glatthaar. Craig took me to some terrific spots along the southern coastline including the Harold Porter Botanical Gardens. So with my 500 mm lens in tow, we managed to spot some Sugarbirds and a couple of species of Sunbirds among others. While waiting under a tree in between rain showers we were able to follow and capture this fantastic Orange Breasted Sundbird who was resting amongst the beautiful and endemic Fynbos growths." GEDDY LEE
----- snip -----
In addition to music, collecting baseball memorabilia and his many other pursuits, Geddy Lee is an avid wildlife photographer; last year Geddy donated one of his wildlife photos (this photo of a rookery of King Penguins that was taken in the Falkland Islands) to the Canadian Wildlife Federation, who then made it available as a limited edition print that Geddy also signed, with all the proceeds going to support the organization. The CWF recently announced that Geddy has donated another photograph to the organization that they will also be making available as a limited edition, signed print. The print will celebrate Canada's recent 150th birthday and will release this coming Saturday, July 29th on Geddy Lee's birthday. In keeping with the Canada150 theme, only 150 prints will be made available and each will sell for $150 CDN. For all the details visit shopcwf.ca.