The annual Canadian Music & Broadcast Industry Awards Gala Dinner took place back in April at the Sheraton Centre in Toronto as part of Canadian Music Week. Geddy Lee and Alex Lifeson were in attendance and accepted the 2017 Allan Slaight Humanitarian Spirit Award, which was awarded to Rush for their achievements and longstanding career in the music industry, social activism and support of humanitarian causes. Allan Slaight's son Gary took the stage to introduce the Award and then brought out Toronto Mayor John Tory who was sporting a Rush Moving Pictures t-shirt. A tribute video highlighting the band's success and charity initiatives was then shown and then Geddy and Alex took the stage to accept the Award with Lifeson doing the bulk of the talking. Earlier this week Canadian Music Week released the video of the entire Rush presentation which you can watch below or on YouTube at this location. Recipients of the award are also given $40,000 to be donated to their charity of choice, and Rush donated their prize to the Gord Downie Fund for Brain Cancer Research. Samaritan Magazine sat down with Geddy and Alex after the ceremony for an exclusive interview to discuss the Award and all of their charitable endeavors. Here's what Geddy said when asked about their choice of the Gord Downie Fund for their $40000 donation:
I lost a friend to brain cancer and it's close to my heart and we've all been touched in our families by somebody that has that illness. And we're all still heartbroken over Gord. So it was an opportunity, and it's sort of in the air what Gord is doing, so it just seemed like the right timing to try to help.
You can read the entire interview online here. The Canadian Music Scene has also posted a great batch of photos from the Canadian Music and Broadcast Industry Awards ceremony, including several of Alex and Geddy which you can check out here.
The Virtual and Augmented Reality World Conference and Expo (VRTO) 2017 took place at the Rogers Communication Centre in Toronto a few weeks ago and Alex Lifeson was in attendance. Musician/actor Keram Malicki-Sanchez is the founder of VRTO and also happens to know Lifeson - the pair met while working on the film Ecstasy, where Lifeson played the role of Dr. Figg. Lifeson also played on Keram's 2014 album Come to Life. While at the conference, Lifeson was given the opportunity to try out some of the latest VR technology as seen on the VRToronto and Captive Camera Instagram pages (thanks RushFanForever).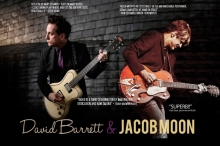 A few weeks ago Jacob Moon and David Barrett achieved their initial fundraising goal in an effort to organize a FREE concert of Rush and Rush-inspired music at the Lee Lifeson Art Park this coming Wednesday, July 19th. The pair launched a GoFundMe page last month and after surpassing their original goal of $2112 and ensuring that the concert will happen, are now attempting to raise some more funds in order to enhance the experience. As part of the project they are also recording a version of Rush's Time Stand Still and hope to get former Rush producer Terry Brown to mix it. So far they've raised nearly $2300 and you can help them reach their new goal of $3000 at this location. Canadian singer-songwriter Jacob Moon garnered the attention of Rush and their fans when he posted a YouTube video of himself performing an impressive rooftop solo rendition of Rush's Subdivisions several years ago. The video quickly went viral, and Rush later asked Jacob to perform the song at their Canadian Songwriters Hall of Fame induction ceremony back in March of 2010. Since then Moon has covered some other Rush songs including a rendition of Something for Nothing that was on the recent 2112 40th anniversary reissue, and also performed at the opening of the Lee Lifeson Art Park in Willowdale last fall. Musician David Barret of the David Barrett Trio is friends with Alex Lifeson, who helped produce the band's first 2 albums and the Trio often covers Rush and are a regular act at Lifeson's Toronto club The Orbit Room.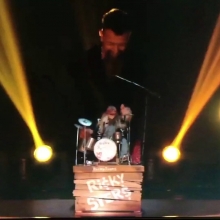 A couple of years ago puppeteer and musician Ricky Syers posted a video titled Chops Sawyer to YouTube and other social media sites. In the video Syers pulls the strings on a puppet drummer named Chops playing along to Rush's Tom Sawyer on tiny drum set constructed of tin cans. The video quickly went viral, garnering over one million views on YouTube to date and being picked up by The A.V. Club, Ultimate Classic Rock, Funny or Die and a number of other sites. You can check out the video on YouTube here. Syers along with his puppet Chops made an appearance on last week's episode of ABC's The Gong Show (Season 1, Episode 3), playing Tom Sawyer on a tiny drum kit (an upgrade from his original made of tin cans) for judges Dana Carvey, Tracee Ellis Ross, and Anthony Anderson. The judges went with it for a little while, but eventually Anderson gave them the gong. You can watch a video of Chops' performance on YouTube at this location, and catch the entire episode online here.
In the run-up to Canada Day and Canada's 150th birthday a couple of weeks ago, the BBC asked readers to tell them what they thought were some of the biggest contributions Canada has made to the world. Number one on their list was entertainment, and Rush gets a mention (thanks Tony R):
... Many BBC readers are apparent fans of Canadian rock band Rush. "For the arts, Canada produced no finer contribution than Rush, true artists whose eloquence, inventiveness and commitment to musicianship earned them generations of fiercely loyal fans, and inspired generations of musicians," Bill Mamer wrote from Chicago. ...

Mages of Mystralia is an action-adventure video game developed and published by Borealys Games back on May 18th. The game includes a town guard character named Templesa Geddy as seen in this screenshot. The game is set in the land of Mystralia and follows Zia, a mage who had recently discovered her powers. You can learn more about the game online here. Thanks to Eric at Power Windows for the heads up and screenshot.

Canadian skateboard maker Control Skateboards has created an officially licensed Rush skateboard according to this Facebook post. It's not clear when/where they will be available for purchase yet:
We are proud to make boards for one of the most iconic Canadian rock bands @rush @showtechmerch #madeincanada #skateboard #hardrockmaple #skatelife
Business Insider compiled a list this past week of the 30 best-selling music artists of all time based on the artists' Platinum album awards, including live albums and compilations (thanks Charlie A). Rush came in at #29 on the list with 14 Platinum albums (3 Multi-platinum: 2112, Moving Pictures, Chronicles). Although they did not include concert videos in their results, they for some reason mistakenly list Rush in Rio as the band's best-selling album, indicating it sold 7 million copies. In actuality, Rush in Rio sold 700,000 units, which makes it a 7X Platinum seller for concert videos (concert videos only require 100,000 units rather than 1 million for Platinum status).
Ghost frontman Tobias Forge was recently interviewed for the Dallas Observer and mentions Rush at one point (thanks Will C):
... "MAIDEN was one of the big movers when it came to '80s heavy metal merchandise," Forge added. "All of our merchandise has always been inspired by bands like MAIDEN and the good ol' days of faithful RUSH t-shirts in parking lots outside of high school, with people smoking joints. That's the sort of idea I had about rock and roll merchandise. We didn't want to be worse. We wanted to look like those old, cool shirts, and that was the same with the logo." ...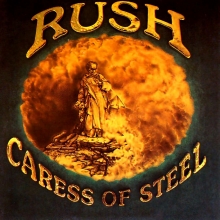 Happy Bastille Day everybody! On this day 228 years ago back in 1789, Parisians stormed the Bastille, freeing its inmates and taking the prison's large quantities of arms and ammunition, thereby setting in motion the French Revolution. More importantly, back in 1975 Rush decided to write a song about it. There's no bread, let them eat cake!
There's no bread, let them eat cake
There's no end to what they'll take
Flaunt the fruits of noble birth
Wash the salt into the earth
But they're marching to Bastille Day
La guillotine will claim her bloody prize
Free the dungeons of the innocent
The king will kneel, and let his kingdom rise

Bloodstained velvet, dirty lace
Naked fear on every face
See them bow their heads to die
As we would bow as they rode by

And we're marching to Bastille Day
La guillotine will claim her bloody prize
Sing, o choirs of cacophony
The king has kneeled, to let his kingdom rise.

Lessons taught but never learned
All around us anger burns
Guide the future by the past
Long ago the mould was cast

For they marched up to Bastille Day
La guillotine - claimed her bloody prize
Hear the echoes of the centuries
Power isn't all that money buys

- Rush, Bastille Day from Caress of Steel
Here's the full video of Rush's Allan Slaight Humanitarian Spirit Award from back in April:

I'd like to take a moment to thank everyone who has donated to the site, purchased items through my Amazon links, or clicked on any of my sponsor ads in the past few weeks. Every bit helps and I really appreciate it. If you'd like to make a donation yourself, you can do so at this link. Any donation of 3 bucks or more will get you a free RUSH IS A BAND bumper sticker. Also don't forget to follow RIAB on Facebook and Twitter, and keep sending in any Rush news tidbits you might come across. That's all for this week. Have a great weekend!!