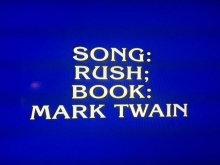 There was yet another (there was just one back in April, and numerous others in recent years) Rush reference on the popular American quiz show Jeopardy! Tuesday evening. The category was Song/Book where the idea was to identify the name of a work that was both a song by the given band and a book by the given author. For the $1200 question, the band was Rush and the author Mark Twain, so the question was, What is Tom Sawyer?. Unfortunately none of the three contestants even attempted to answer. As recently noted in this article from WRDU's Dave Besnar celebrating the show's 53rd birthday back on March 30th, Jeopardy! seems to have a love affair with Rush, and have used the band in several clues over the last decade.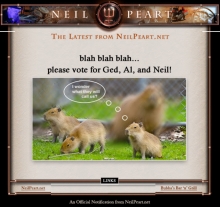 Toronto's High Park Zoo celebrated the birth of a trio of capybara pups earlier this year and the Friends of the High Park Zoo have opened up an online poll to enlist the public's help in naming them. One of the possible name combinations given in the poll is "Alex, Geddy, Neil". After a flurry of voting over the past couple of weeks, Alex, Geddy, Neil is currently in a tight race with Snap, Crackle, Pop for the top spot. Things got so contentious that the poll organizers decided to stop showing the results, so we currently don't even know who's in the lead. Neil Peart's official website even sent out a newsletter update to subscribers urging folks to vote as seen here. It looks like the poll is limited to one vote per device, so crank up all of your various devices and go vote for Rush! The voting period closes on June 19th. The zoo is also accepting donations to shore up the living conditions of the capybaras, which you can find out more about here.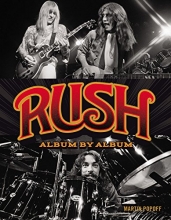 Prolific author and rock journalist Martin Popoff's latest book is titled Rush: Album by Album - a beautifully illustrated and detailed discography of all 20 of Rush's studio albums. The book was released last month and is now available to order. Paul Gleason recently reviewed the book for Stereo Embers magazine and had a lot of good thinks to say about it:
... As in many of his other books, Popoff is sure to include an amazing array of color pictures of the band, memorabilia, 45 sleeves, album covers, etc. But the best thing about Rush: Album by Album, in addition to its seminar approach, is that it can be read in many ways: for example, straight through as a narrative history of Rush by way of their recorded output, or as a reference book when one wants to learn more about a particular Rush album. Perhaps the best way to read Rush: Album by Album is the way that I did. Get started by dropping the needle on your favorite Rush album-Vapor Trails (2002) in my case-opening Popoff's book, and reading the chapter on the album as it plays. This method of reading/listening entertains and enlightens, just as Rush: Album by Album does in its entirety.
Rush: Album by Album is the third Rush book from Popoff who also authored the 2004 Rush biography Contents Under Pressure, along with Rush: The Unauthorized Illustrated History back in 2013 (an updated edition was released last year). You can order your copy of Rush: Album by Album at this location, and preview several chapters of the book here. The latest episode (episode #285) of the Decibel Geek podcast focuses on the Heavier Side of Rush and they also spend some time talking about Popoff's book:
In this long-form RUSH-themed episode, the guys share their personal take on RUSH's history, their influence, their legacy, and more. They also spin some of their favorite heavier RUSH tunes. Using it as a helpful guide, they also discuss the awesome new RUSH: Album by Album book penned by Martin Popoff and also share how YOU can win a copy!

The Rush Backstage Club is currently running a Facebook contest where you could win an 8.5"x11" Clockwork Angels Airship print signed by artist Hugh Syme. To enter all you need to do is like their Facebook page and then email the word Airship in the subject line of an email to facebook@showtech.com. The contest closes today at 5PM and five winners will be drawn and notified by email.
Canada is celebrating its 150th birthday this year and Sirius XM Canada is commemorating the occasion by compiling a list of the 150 Greatest Canadian Songs of All Time. You can cast your vote by going to 150.siriusxm.ca and voting for your three favorite Canadian songs - all of which should obviously be Rush songs! :) Sirius XM Canada will then reveal the top 150 songs on Canada Day this coming July 1st. Also in celebration of Canada's 150th birthday, a new satirical book titled 150 Years of Stats Canada!: A Guide to Canada's Greatest Country released earlier this week. Co-authors Julia Davidovich and Eric Taylor run the satirical Twitter feed Stats Canada which is known for its Canada-focused joke stats, one-liners, graphs and more. On page 23 there's a chart titled Find Out Which Canadian Music You Should Listen To which may or may not direct you to Rush depending on your relationship status and how it makes you feel (see here). On page 79 they give some suggestions for a ZED talk, one of which is Neil Peart: Drum Solos inspired by Highways. On page 125 they list off several varieties of Poutine including the 2112 Poutine: Named after a Rush song because just when you think this poutine buffet must be over, there's even more. And on page 209 they suggest that everyone listen to one Rush song:
Rush is one of Canada's most beloved rock bands. Their songs are also very, very long. As of this writing, approximately 18% of Rush songs haven't yet ended. Here's a list of things you could do before one Rush song finishes ....
They then list off a number of time-consuming activities that you could partake in while listening to a Rush song. Thanks to RushFanForever for the heads up.
Nickelback drummer Daniel Adair recently spoke with MusicRadar.com and revealed the 10 records that changed his life, one of which was Rush's Hemispheres (thanks RushFanForever):
When I was 11 I had an elder brother called Steven who passed away and I loved him dearly. He had a box full of cassettes and I pulled Hemispheres out of the box. I had been playing drums for a month or two at the time and I put this album on and was like, 'Jesus Christ!' All of that hi-hat work, I didn't know that stuff was possible. I put this album on and was like, 'Jesus Christ!' All of that hi-hat work, I didn't know that stuff was possible. I had a special connection to that album because it was like my brother was in the cassette. I would sit in my room and air drum to it, I learnt every part by air drumming and then put it on the kit. Obviously it took me a year or two before I could play it all but it gave me something to work with. Later on I think that album really helped me become comfortable with odd time. That record is full of odd time and when I first started playing it I had no idea it was odd time, I was just playing it.
Ulimate Guitar recently posted an article with their list of the 9 Best High-Pitched Metal Singers and Geddy Lee made the cut at #6:
Although not a heavy metal band, Rush is in a category of bands such as Black Sabbath, Led Zeppelin, The Beatles and The Rolling Stones. The band might have a cult following, but these Canadians are celebrating 40 years, as a rock band with all original members, and at the front center, is the voice of Geddy Lee. As the band's bassist, singer and keyboard player, Lee is instrumental in the unique sound of Rush, and his higher toned voice is, to many either love or hate it.

The charity cycling group Heavy Metal Truants is currently running an online auction featuring a number of rare and valuable items donated by several rock acts including Rush. Rush's contribution is a 2112 40th anniversary custom Geddy Lee Fender Jazz bass signed by both Geddy Lee and Alex Lifeson. The auction is open until July 3rd and you can learn more about the item and place your bid here. The Heavy Metal Truants were co-founded by Metal Hammer's former editor-in-chief Alexander Milas and Iron Maiden manager Rod Smallwood to equally benefit three charities: Childline, Nordoff Robbins, and Teenage Cancer Trust. You can learn more about the charity at heavymetaltruants.com.
This coming Monday, June 12th will mark the 5th anniversary of the release of Rush's last album - Clockwork Angels. Since Rush's first album was released back in 1974, Rush has never gone longer than 5 or so years between album releases, with their longest hiatus occurring between the release of 1996's Test for Echo and 2002's Vapor Trails, which lasted 5 years, 8 months and 4 days. So unless Rush releases a new album in the next 8 months, they'll exceed this milestone on February 16th of next year. :( Here's the band playing Caravan - the album's first single - from the Time Machine tour:
That's all for this week. Have a great weekend!!