UPDATE - 5/9@9:43AM: Here's a truncated version of the all-star jam from the 2017 Rock Hall induction ceremony (thanks RushFanForever).
UPDATE - 5/5@12:14PM: Geddy posted the following to his Instagram this morning, explaining why he didn't play a Ricky during his performance with YES at the Rock Hall induction (thanks cpb):
----- snip -----
Back on April 7th, Geddy Lee and Alex Lifeson had the honor of inducting legendary progressive rock band YES into the Rock and Roll Hall of Fame. Geddy Lee also sat in with the band on bass guitar for Roundabout - filling the rather large shoes of the late Chris Squire, and both Geddy and Alex took part in the Rocking in the Free World all-star jam at the end of the show. For a complete rundown of the ceremony including photos, videos and more, check out this post. This past Saturday night, HBO aired an abridged version of the ceremony and portions of the broadcast have inevitably found there way onto YouTube. You can watch high-quality versions of both Geddy and Alex's induction speech with YES's acceptance speeches, and YES's performance of Roundabout featuring Geddy on bass. There's no telling how long these will be available online, so watch them while you can.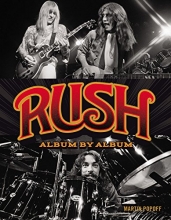 Prolific author and rock journalist Martin Popoff's latest book is titled Rush: Album by Album - a beautifully illustrated and detailed discography of all 20 of Rush's studio albums. The book was released a couple of weeks ago and is now available to order. From the press release:
... [Rush] may be the definition of an "album band," and this new book from prolific rock journalist and acknowledged Rush authority Martin Popoff pays tribute to the band's discography by moderating in-depth, frank, and entertaining conversations about all 20 of Rush's studio albums. Inside, the author gathers 20 rock musicians, journalists and authors who offer insights, opinions, and anecdotes about every release.

The likes of musicians Kirk Hammet (Metallica), Paul Gilbert (Mr. Big), Mike Portnoy (Dream Theater, Winery Dogs), Rush historians and uber fans such as Eddy Maxwell (founder of RushCon) and Douglas Maher along with journalists and authors such as Jeff Wagner and Robert Telleria weigh in with Popoff and the views and opinions will enlighten all Rush fans. From the self-titled debut, Rush to the band's most recent studio album Clockwork Angels, every album is covered in-depth. The conversations cover everything about every Rush album - music, lyrics, performances, cover artwork, critical and fan reception and so much more.

The thoughtful text is generously illustrated with carefully curated live and offstage photography and selected Rush memorabilia. In addition to a full discography, Popoff also includes loads of sidebars that provide complete track listings, details on album personnel, information on where and when the albums were recorded, and sidebar facts about the albums, their songs, and the band. Together, the conversations and visual presentation are a unique historical overview of this ground-breaking band. ...
Popoff was recently interviewed by Classic Rock Revisited's Jeb White to discuss the book and his career as a music journalist and author. Here's what he had to say about Metallica guitarist Kirk Hammett's involvement:
... a cool thing about Kirk is that he's very appreciative of being given so much, almost incredulously, by playing pretty uncompromising and nasty music, that he likes to give back, and in a way that is really cool, which is talking about music with people, and music that inspired him. And he's just a huge Rush fan, so it didn't really didn't seem like there was any hesitation when I asked him to join into the discussion. And he did an amazing job. See, one of the funny things is with a guy like that, there was no way I was going to slam my fist down and say you gotta do your homework. And fortunately he nailed it, although probably, cool guy that he is, he might have done some homework. But no, he did a great job. With a few guys, and fortunately not really any of the rock stars, in either the Rush or the AC/DC, but some other guys, there was that awkward thing where I sort of started doing the interview, and we both realized that the guy didn't really have much to say. But to be fair, again, the higher up the food chain I went, the less likely I was going to tell them to do their homework, and I tried to curate the questions a little less onerous and nerdy and specific....
Popoff and the new book were also profiled in this Spill Magazine article/interview. Rushisaband.com has one FREE copy of the book to give away! The contest closes this Sunday at midnight, so if you haven't entered yet be sure to follow the instructions in this post regarding how you can enter. Rush: Album by Album is the third Rush book from Popoff who also authored the 2004 Rush biography Contents Under Pressure, along with Rush: The Unauthorized Illustrated History back in 2013 (an updated edition was released last year). You can order your copy of Rush: Album by Album at this location, and preview several chapters of the book here.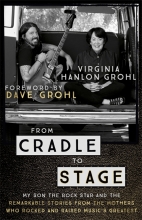 Speaking of books, the new book from Foo Fighters frontman Dave Grohl's mother Virginia Hanlon Grohl released a few weeks ago. It's titled From Cradle to Stage: Stories from the Mothers Who Rocked and Raised Rock Stars and contains a chapter on Geddy Lee's mother Mary Weinrib. Rushisaband.com also has one FREE copy of this book to give away to one lucky UK resident! For all the details on how to enter for your chance to win, and to read a few excerpts from the book, just check out this post. The contest closes this Sunday at midnight, so be sure to enter if you haven't yet. You can order your copy at this location (this location for UK readers).
UK music store Anderton's Music Company has a very active YouTube channel, and in one of their recent videos, employees Rabea Massaad and Matt Hornby attempt to sound like Rush on a budget using the most accurate but affordable gear they can find from their store. You can check it out on YouTube here (thanks Brett L).
Both TeamRock.com and PopMatters recently compiled lists of the 100 Greatest/Best Progressive Rock Songs/Anthems, and - not surprisingly - several Rush tracks made the cut on each list. Popmatters' list of the 100 Best Classic Progressive Rock songs includes Xanadu at #89, Cygnus X-1 Book One: The Voyage at #60, La Villa Strangiato at #27, Cygnus X-1 Book Two: Hemispheres at #14, and 2112 at #6 (thanks RushFanForever):
... Of course, plenty of pundits (then, now) find Rush in general and prog rock in particular pretentious, but the sentiment informing this particular album has more in common with the much-celebrated punk rock ethos, with the added bonus that the band are actually quite capable musicians. "2112" remains the album that made possible what Rush would become, and it inspired both peers and pretenders to emulate their purpose and passion, if not their scarves and kimonos.
TeamRock.com's list includes Subdivisions at #86, Natural Science at #62, La Villa Strangiato at #33, Xanadu at #24, Cygnus X-1 Book Two: Hemispheres at #19, and 2112 was also the top Rush track on their list - coming in at #10 (thanks RushFanForever):
From the other worldly ARP sounds that usher it in to the Solar Federation losing control to the Elders (spoiler!), rock doesn't come much proggier than the conceptual seven-piece suite that takes us to the dystopian land of Megadon. This dramatic piece of music resonates deeply with a whole generation - just sit in an auditorium and watch Rush's audience punch the air and 'Hey!' along to the Overture (then try to sing along to helium-high The Temples of Syrinx). A timeless sci-fi story celebrating music and humanity, with supernatural performances from Lee, Lifeson and Peart - there's nothing not to like.

You say: Perhaps the type of subject matter that earned prog its lyrical scorn, but a chill still runs down my spine when we get to the 'Attention All Planets Of The Solar Federation' climax.
Here's Geddy and Alex inducting YES, and YES's performance of Roundabout featuring Geddy on bass from the HBO broadcast of the Rock Hall induction ceremony:
This past Monday, May 1st, Rush's Snakes & Arrows album celebrated its 10th anniversary (can you believe it!?) and to commemorate the occasion the Rush Backstage Club is offering a 10-15% discount on all S&A merchandise. You can check out all the items for sale here. That's all for this week. Have a great weekend!!