Geddy Lee and Alex Lifeson had the honor of inducting YES into the Rock and Roll Hall of Fame at the 2017 induction ceremony at the Barclays Center in Brooklyn this past Friday evening. The ceremony kicked off with a tribute to the late Chuck Berry, who passed away last month. ELO performed Roll over Beethoven and a couple of their hits and were then inducted by George Harrison's son Dhani Harrison. Jackson Browne then inducted Joan Baez, who also performed. On a side note, Geddy and Alex were seated at a table with Baez and Geddy posed for a photo with the legendary folk artist. Then it was YES's turn and Geddy and Alex came out to induct the band. Alex Lifeson was the first to speak:
We're honored to be here tonight doing this. It's really, really great. We all start somewhere. For me, my journey with Yes began when I was a teenager gently fishing out the Yes album out of its sleeve being just a bit freaked by the disembodied head on its cover, placing the needle on the groove, sitting back, letting the music wash over me. I may have smoked a cigarette or something, but Yes were my gateway band in so many ways. There's nothing so fleeting yet enduring about the way music when you're 17-years-old. ...
Then when it was Geddy's turn, Alex turned to Ged and said, "blah?" as a nod to Alex's now infamous 2013 induction acceptance blah speech. Ged then started his speech off with, "blah, blah, blah" before hitting a more serious tone:
... It was a crisp night in 1972 when Oscar and myself and this guy, Alex Lifeson, wind up over night, around the block in what was Toronto's Maple Leaf Gardens to finally see this Yes live for ourselves. The sky was a high dome of stars, and as I recall, Alex kept us going by skipping to the store and bringing back honeydew drinks. I could close my eyes now and I'm back there. Intellectually, visually, viscerally sitting in row 10. It was like nothing I'd ever seen or experienced before. It was actually profound. It's not overstating things to say it changed the way I played and listened to music forever. So here we are, decades later, and the music of Yes is still showing me that music truly is a continuum. On behalf of Oscar, my good friend and Alex's Leo, who is not here tonight, Alex and myself, I say thank you, Yes. It's our great, great privilege and our great honor to right a total wrong and to finally welcome Yes into the Rock and Roll Hall of Fame.
You can read a full transcript of both of their speeches here and watch it on YouTube here. The members of YES then came up to receive their awards and give their acceptance speeches. The members of Yes that were inducted were Jon Anderson, Trevor Rabin, Alan White, Steve Howe, Rick Wakeman, Bill Bruford, Tony Kaye, and Chris Squire - whose wife Scottie will be accepting on her late husband's behalf. All of them gave speeches except for Bruford, Kaye and Scottie Squire. Wakeman gave a particularly memorable speech proving that he might have a second career as a standup comedian. You can watch all of the speeches on YouTube here. The band then formed up and played Roundabout with Geddy Lee on bass guitar, followed by Owner of a Lonely Heart. Geddy was interviewed after the ceremony by Rolling Stone and talked about playing with his heroes:
... "As I said during my speech, I was turned on to them through their second album Time and a Word," Lee told Rolling Stone after exiting the stage. "I've been a huge fan ever since, just an over-the-top fan of them for years." As a bassist, Lee was thrilled to be able to perform "Roundabout," a song he considers to be "one of the great bass songs ever written, in the history of recorded music." After already agreeing to induct Yes, Lee had been asked to join them for a performance by the late and influential bass player Chris Squire's widow and the remaining members of the band. "Seeing as I was going to be here anyway, why not?" ...
The performance was also included in Billboard's 11 Unforgettable Moments From the Rock and Roll Hall of Fame 2017 Ceremony:
After Geddy Lee helped "right a wrong" by inducting Yes into the Rock and Roll Hall of Fame, the Rush bassist joined his prog-rock heroes onstage for a crushingly loud run-through of "Roundabout." Speaking to Billboard backstage about it, Lee said, "I just wanted to make sure I didn't fuck it up. They are without question my favorite band." He did, however, point out it was "bittersweet" to take over for late Yes bassist Chris Squire, who passed away in 2015 and didn't live to see his band recognized. He did Squire justice, though: Lee and Yes (with Jon Anderson back on vocals for the first time since 2004) rocked with more precision than any other performer that night.
You can watch the band's performance of Roundabout below or on YouTube. After YES it was Tupac's turn, who was inducted by Snoop Dogg who then performed a tribute to the late rap star with the help of some others. One of the best photos from the night was this one of Geddy, Alex and Snoop (By-tor and the Snoop Dogg?). After that was a Prince tribute led by Lenny Kravitz, Pharrell Williams inducting Nile Rodgers, and then Pat Monahan of Train inducting Journey. Although Steve Perry was there and accepted his award, he disappointed a lot of Journey fans and did not perform with the band. Capping off the night was Pearl Jam who were inducted by David Letterman, a late hour replacement for Neil Young who had been scheduled to induct that band. Pearl Jam performed a few of their hits before leading the all-star jam of Rocking in the Free World to close out the show. Both Geddy and Alex joined in the fun and the entire performance of the song can be seen on YouTube here. Geddy and Alex (mostly Geddy) participated in a short press conference after the show which you can watch on YouTube here. Geddy was asked about his choice of bass on his performance of Roundabout, and whether playing YES songs was difficult or easy:
At first - difficult. After a while - difficult (chuckles). They're a very precise band. Chris Squire was one of the most inventive and original sounding bass players ever. So to play his parts ... I mean it's one thing to mimic the parts. You can mimic anything if you practice it enough. But to write those parts is sheer brilliance. It was a great honor for me to step in. ...
The day after the ceremony YES posted the following thank you message to their fans and to Rush regarding their induction:
A Huge THANK YOU to all our fans from YES
To all our incredible fans,

Last night was truly a special evening for us. We can't thank you enough for all the continued support you've shown us throughout the decades and for helping to get YES into the Rock & Roll Hall of Fame.

Thank you, as well, to Alex Lifeson and Geddy Lee from RUSH for the wonderful induction, and to Geddy for the amazing bass playing on "Roundabout". What a tribute to Chris!

We're looking forward to seeing everyone this summer on the YESTIVAL tour. And contrary to what you may have heard, YES has no plans to tour with the guys from ARW next year.

We do, however, have our own exciting plans to celebrate YES's 50th Anniversary in 2018, which we will announce this summer during our 2017 YESTIVAL Tour. For more details, go to yesworld.com

- YES - Steve, Alan, Geoff, Jon and Billy
Alex Lifeson was interviewed for Sirius XM's Debatable program on the Volume channel just prior to the induction ceremony, and yesterday Blabbermouth.net posted a detailed recap. Here's what Lifeson had to say about the future of Rush:
... "I would say that it's unlikely that we'll tour again as RUSH. Really, we toured for forty-one years, and I have to say that first year off, I felt like I was grieving for my career and the band, but truly, forty-one years of touring the way we toured, I shouldn't feel badly about that." ... Even though there are no plans for RUSH to regroup in the foreseeable future, Lifeson revealed that "Ged and I will probably do something together. He's been really busy. He's working on his own little book project. He's become quite a bass guitar collector, and he wants to do a little thing on the history of the instrument. So that's keeping him super busy." As for Peart, Lifeson said: "I'm not sure what Neil's doing these days. He's on the West Coast. He's always got something going on." ...
Alex also spoke about some of his own upcoming musical projects:
... "I'm writing a lot of music lately, and I'd like to do some stuff," he said. "I'm gonna play on a couple of other records over the next couple of months, just guesting and things like that. "I'll always play music, I'll always love music," he continued. "I've been playing a lot more guitar lately than I have in a long time and writing a lot of stuff on the acoustic [guitar]. I'm having fun writing trippy kind of atmospheric stuff, a lot of acoustic, some electric stuff, of course. But it's really kind of fun being sort of not the guy that I was, writing at that time with the band. It's all solo stuff. I'll get friends to play on it and things like that." While admitting that he didn't feel a "driving need" to release a solo record, Lifeson said that he had a more relaxed approach about making music these days. "It's funny. One day, it's, like, 'Yeah, this is exactly what I wanna do.' And then the next day it's, like, 'This sucks. Forget it. I'm not doing this,'" he said. "I love those songs, then I hate them, and then I love 'em again. So it's pretty typical, I think. It's a much more focused thing when it's the band. I just need to be more focused and a little more disciplined, I think. But it's something I would like to do."
He also mentioned that there's an A Farewell to Kings 40th anniversary box set in the works - similar to what was done with 2112 last year:
... "right now there's some work being done on a similar thing with [1977's] 'A Farewell To Kings'." ... "We're not really involved in that so much; it's a record-company thing, or a publisher thing. We like to be slightly involved, in just giving approvals and make sure that everything's done in a way that we would like to see it." ...
You can read the entire interview recap at Blabbermouth.net here.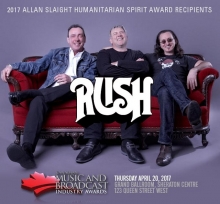 Back in November Rush was announced as the 2017 recipient of the Allan Slaight Humanitarian Spirit Award. The band will be honored for their achievements and longstanding career in the music industry, social activism and support of humanitarian causes at the annual Canadian Music & Broadcast Industry Awards Gala Dinner at the Sheraton Centre this coming Thursday, April 20th. Billboard posted an article earlier this wek highlighting the Award and Rush's many charitable endeavors over the years titled Why Rush Might Be the Most Generous Band In the World. The article includes these comments from Geddy Lee:
"They're giving us an award for doing what everyone should do," Geddy Lee tells Billboard. "It should be a part of everyone's upbringing and routine of life: You share when you've been blessed with good fortune. The world needs a lot of work, and there are not enough workers. We try to help where we can."
Recipients of the award are also given $40,000 to be donated to their charity of choice, and Rush will be donating their prize to the Gord Downie Fund for Brain Cancer Research. The article goes on to highlight some of the band's more high profile charitable actions of the past several years including their 2008 donation of $100,000 to the Make It Right Foundation to help New Orleans rebuild after Hurricane Katrina, their $100,000 contribution from a Winnipeg concert to the Canadian Museum for Human Rights, the $575,000 they raised for southern Alberta flood relief in 2013, and the estimated $2 million the band has raised since 2010 by donating $1 from every concert ticket sold to various organizations, including Doctors Without Borders.
A few of the organizers of Rush RatCon - an independent Rush fan gathering that took place from 2009-2015 - will be hosting a RushCamp over Labor Day weekend. The event will take place at Independent Lake Camp in the northern tip of the Pocono Mountains near Scranton, PA, and include 2 nights accommodations in a shared cabin, buffet-style meals, swimming, boating and a ton of Rush music and activities. There will be a silent charity auction with some special Rush inspired items, fun giveaways and performances by Rush tribute bands Cygnals and Solar Federation. For all the details and to register, visit the website here.

The USA Today crossword puzzle from April 9th contained a Rush-related clue. The clue for 26 down is Rock music's Rush, e.g. with the answer being trio (thanks Eric at Power Windows).
I'm still not 100% convinced if this is real, but it's listed on Amazon and it looks like you can actually buy it. It's a book titled Bands Better than Rush which is filled with nothing but blank pages... because there ARE no bands better than Rush. Get it!? Anyways, you can check it out on Amazon here.
Rush's management company SRO is auctioning off a framed, signed (by Geddy Lee and Alex Lifeson) 1976 Gold Record of Rush's debut album to benefit SRO legacy artist Ian Thomas' son Jake who was in an accident earlier this year that fractured his spine, leaving him a paraplegic.
Here's Geddy Lee performing Roundabout with YES as last week's Rock Hall induction ceremony:
That's all for this week. Have a great weekend and a happy Easter!!