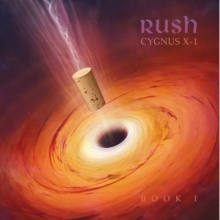 We learned earlier this week that Rush will be releasing a Cygnus X-1 12-inch 180 Gram Audiophile Vinyl EP for Record Store Day this year, which will include Cygnus X-1 Book I: The Voyage on side A and Cygnus X-1 Book II: Hemispheres on side B. Here are all the details as listed on the Record Store Day website:
2017 marks the 40th anniversary of A Farewell To Kings and to kickstart the celebration, Books I & II of "Cygnus X-1" are newly compiled together for the first time ever as an audiophile 180g vinyl EP with brand new artwork by longtime Rush artwork creative director Hugh Syme. ...
The release will be limited to 5000 copies and will be available at select independent record store locations for Record Store Day on April 22nd. To find participating store locations and to learn more about Record Store Day, visit the website at recordstoreday.com.
Alex Lifeson has a long history of involvement with the Canadian comedic team The Trailer Park Boys, having appeared on their TV show, in their movies and at their live shows. Just last week he was the guest on episode 84 of their podcast. The Boys just finished up filming for their upcoming Netflix series Out of the Park: USA, and according to a recent tweet from Mike Smith (aka Bubbles), it sounds like Alex will be making an appearance on the show. In response to a tweet from a fan suggesting that Alex Lifeson should consider a second career as a comic actor, Mike replied with the following:
He is. Out Of The Park: USA coming this fall. https://t.co/qhOs9ppZ2A

- Bubbles (@MSmithBubbles) March 23, 2017
He also revealed that he recorded a new song with Alex:
Recorded a new song called "Who's Got Yer Belly!?" with Alex a couple weeks ago in Memphis. Coming soon! https://t.co/1lQjpKf3H6

- Bubbles (@MSmithBubbles) March 23, 2017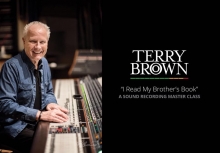 Former Rush producer Terry Brown will be hosting a full-day Sound Recording Master Class Workshop at Phase One Studio in Toronto tomorrow, March 25th with the David Barrett Trio (aka DB3) and Michael Sadler (Saga), whom Terry began working with last year. DB3 is a Toronto-based instrumental trio that had their first two albums produced by Alex Lifeson, and recently recruited Sadler to provide some vocals. From the Facebook event details:
This is a full day master class with legendary record producer Terry Brown. Terry will go through the entire recording process at Phase One studios in Toronto, with David Barrett Trio featuring Michael Sadler (Saga). The day will start with a meet and greet at 11am followed by microphone placement, bed tracks, overdubs, and finally the mixing process. All attendees will be in the control room with Terry and have a hands on experience as we finish a song from front to back. An informal Q&A session with Terry entitled "I Read My Brother's Book" will take place followed by a nightime reception with an in studio performance by David Barrett Trio and Michael Sadler. This event will be fully catered.
The book Terry will be reading from is titled Are We Still Rolling? Studios, Drugs and Rock 'n' Roll - One Man's Journey Recording Classic Albums and was written by his brother Phil back in 2011. Terry posted a 4-minute video preview of the workshop to Facebook a few weeks ago where he explains how the idea for the workshop came to fruition, along with what he hopes to accomplish with it. The workshop will be limited to 18 participants and tickets can be obtained via ticketscene.ca.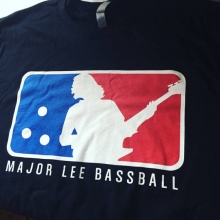 Baseball season kicks off in less than two weeks, and the folks at FANTOONS have released a new Rush, officially-licensed, baseball-themed t-shirt. The shirt plays off of Geddy Lee's well-known baseball obsession, showing a caricature of the MLB logo with a silhouette of Geddy Lee holding a bass in lieu of a bat and the Major League Baseball caption replaced with Major Lee Bassball as seen here. The t-shirt is now available for purchase at this location for just $25. You can check out the t-shirt along with a bunch of other cool, officially-licensed Rush FANTOONS merchandise at their Etsy store here. FANTOONS announced this past week that they will have a booth at WonderCon in Anaheim next weekend (Booth 2210) and promised that they'll have some new Rush goodies to debut.
Speaking of baseball, CBC Music recently grabbed Marcus Stroman and Ryan Goins of the Toronto Blue Jays to play a quick game of Jam or Not a Jam!, where they play song snippets for celebrities and get their reaction. The two were played Rush's Tom Sawyer riff and neither of them liked it, or were even aware of who Rush was. You can watch the clip on YouTube here at about the 30-second mark (thanks RushFanForever).
In a bit of sad news, the Hutchinson News reported a story this past week about a dog named Geddy that had been killed in an apparent hit-and-run incident. The story came up on some news feeds with the headline geddy lee is gone, which caused some alarm among Rush fans until they read the story.
... Geddy was named after Geddy Lee, the lead vocalist with the Canadian rock band Rush. He was a pedigree. His official name on the American Kennel Club certificate was "Geddy Lee Rush Roll The Bones." ...
Celebrity Access's Larry LeBlanc recently profiled Blackbird Presents CEO Keith Wortman for his In the Hot Seat with Larry LeBlanc feature (thanks RushFanForever). At one point Wortman mentions having worked with Rounder Records (who has put out all of Rush's videos in recent years) head John Virant, and LeBlanc brings up Rush and the Rush: Beyond the Lighted Stage documentary:
... I'm [a pretty big Rush fan] too. There's a lot of big Rush fans out there. One of my favorite bands of all time. I remember sneaking out of my house as a kid... I grew up 15 minutes from the Nassau Coliseum...and I remember sneaking out of my house to take a bus to go and see Rush at the Nassau Coliseum. They have a special place in my heart. I am a huge Rush fan. So yes, I expect that we will continue to do more releases with the Concord family on the one hand; and that John Virant and I have talked about a Rush show. I said to John that the big question will be around if artists feel like they can do it or not. Whether artists can handle it or not. Whether artists feel intimidated by playing those songs or not. It certainly is not easy ... There are days that I am thankful for-and you saw that in Beyond the Lighted Stage - it was looking pretty bleak for them. That they may not make it through. That they might not make it. Thank goodness they did because it's been such a special ride being a fan of the band. ...
Planet Rock DJ (and Rush fan) Darren Redick and his friend Tom Giddings have launched a crowdfunding campaign to help them start a BBQ smokehouse food truck for festivals and events across the UK with the Rush-inspired name Hold Your Fire BBQ. To learn more about the project, visit the crowdfunding page here and follow them on Facebook and Twitter.
Steel Panther drummer Stix Zadinia recently spoke with Rhythm magazine to list out his 10 essential drum albums, and Rush's Moving Pictures made the cut (thanks RushFanForever):
I'm just going to say this because it has to be said, if you don't have Moving Pictures, as a drummer, then you lose. You lose right away. You have to have the Professor in your collection. "Moving Pictures would be the definitive album and then you can branch out into the crazier shit. It's a toss up actually between Moving Pictures and Fly By Night. "I don't play like Neil Peart. I'm more straight-ahead with a couple of flash moments. He is insane. If you want to hear impressive technicality drumming then you go to Neil Peart. More than anything I first connected with the first note on the song Tom Sawyer. "For whatever reason they had some magic for that very first hit of that song. I heard that and went, 'Yes please. Can I get a large? Can you Supersize that and I will eat it all day.' Neil Peart is a freak in the best possible way."
Geddy Lee continued his tour of rare bass guitars this past week, when he paid a visit to Norm's Rare Guitars in Los Angeles with his bass tech Scully. Norm's posted a 2.5-minute video of Geddy's visit to YouTube as seen here. In the video they talk about how Ged had purchased guitars from Norm in the past, including one used on the last tour - a bass originally owned by Jimmy Bryant's bass player Rue Barclay as pictured in this Instagram post. Last week Geddy posted a photo of himself to Instagram holding John Entwistle's legendary Frankenstein Fender Precision Bass. Prior to this, Ged visited UK-based vintage guitar shop Guncotton Guitars to purchase a mint 1960 Hofner 500/1 bass guitar as seen in this photo. Back in January Geddy purchased a 1961 Hofner 191 double-neck which he showed off in this Instagram post.
That's all for this week. Have a great weekend!