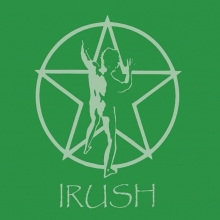 Let me start off by wishing everyone a Happy St. Patrick's Day! Alex Lifeson was the featured guest on episode 84 of the Trailer Park Boys Podcast last week, and the episode was made available for streaming online earlier this week. The show was recorded at the Gibson Guitar Factory in Memphis, Tennessee, so the guys chat with Alex about guitars, Al's best gig ever, deep-fried goats, his Rock Hall "blah" speech, erect nipples, and plenty of other zaniness. You can listen to the episode below or online at this location. It's also available on iTunes and other podcast apps. There's also this photo that Gibson Memphis posted to their Facebook Page. You may remember that Gibson Memphis debuted their new limited edition, Alex Lifeson Signature ES Les Paul Custom guitar at the NAMM 2017 trade show in Anaheim, CA back in January.
Geddy Lee had a busy week checking out some vintage bass guitars, one of which belonged to the legendary John Entwistle; the other one Geddy added to his already extensive bass collection. Earlier this week Geddy posted a photo of himself to Instagram holding John Entwistle's legendary Frankenstein Fender Precision Bass:
Had a blast visiting the current home of John Entwistle's "Frankenstein" Fender Precision Bass...Wow! ...what tone! And what a privilege to spend some time playing that legendary instrument.... #theOx #FenderPbass
#Frankenstein #thewho
#Tommy #liveatleeds #wontgetfooledagain
Prior to this, Ged visited UK-based vintage guitar shop Guncotton Guitars to purchase a mint 1960 Hofner 500/1 bass guitar as seen in this photo:
Another happy customer!!
Rock god and bass legend Geddy Lee from Rush is enjoying his mint 1960 Hofner 500/1 bass.
A real honour.
Back in January Geddy purchased a 1961 Hofner 191 double-neck which he showed off in this Instagram post. Now we just need Geddy to start playing all of these cool guitars he's been buying! :)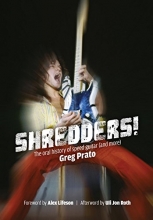 Veteran music writer/journalist Greg Prato's new book Shredders!: The Oral History Of Speed Guitar (And More) released earlier this week and features a foreword from Rush's Alex Lifeson. The book focuses on the fast, virtuoso guitar soloing style known as shredding, which was popularized in the 1980s by musicians like Steve Vai, Eddie Van Halen, Joe Satriani, Yngwie Malmsteen, Randy Rhoads and Dimebag Darrell. The book is currently available for purchase via Jawbone Press at this location. Here's Lifeson's foreword:
On these pages, Greg Prato has delivered a fascinating presentation of not only the history but the personal observations of all things rock guitar from many of the great guitarists of the past half-century, in their own words.

A clear, in-depth chronicle told honestly from the perspective of the players who have learned and showcased their skills from a long line of talented predecessors and providing an insight that frankly could not come from a casual observer.

In these chapters, the reader will glean a bounty of information regarding individual players and their impact on the music scene of the time - opinions on technique and gear, the value and differing forms of practice, support from the industry, and many other points of interest.

For anyone with a deep interest in the role rock guitar and its diverse myriad of players hae played, Shredders! will satisfy completely. - ALEX LIFESON, NOVEMBER 2016
Legendary FM rock radio station KSHE 95 out of St. Louis is celebrating its 50th anniversary this year, and to commemorate the occasion they launched an online virtual museum earlier this year at kshe95.com as detailed in this post. The KSHE 50th Anniversary Real Rock Museum launched on January 9th and Rush is the featured artist in the Hall of Fame wing. Rush's Hall of Fame section contains a photo gallery, some history of the band's relationship with the city of St. Louis, and a 4-minute video interview with Geddy Lee and Alex Lifeson as seen here. This past week KSHE added a gallery of 50 new photos to the museum, including one of Geddy (#3/50) and one of Alex (#15/50) (thanks Jeff D). You can check out Rush and all the other artists in the KSHE 50th Anniversary Real Rock Museum at this location.

Detroit's Joe Louis Arena is slated for demolition later this year. Rush was the first band to play a concert at the Arena, which opened back in 1979; they played a show on February 17, 1980 with Max Webster. They most recently played a show there back in 2008 on the Snakes & Arrows tour. Leading up to the demolition, the Arena put a number of commemorative floor plaques on display throughout the venue, including this Rush plaque (thanks Greg F).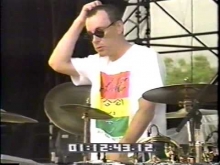 25 years ago this June, Neil Peart put on a very rare drum workshop/clinic in Irvine Meadows for a select group of Percussion Institute of Technology students during the Roll the Bones tour. Back in 2006 a short clip from the workshop was posted to YouTube, but that video has long since been removed. Then earlier this week someone posted a near-complete, 45-minute video from the workshop. Shortly after that, yet another, even longer clip was posted which you can check out below or on YouTube. The longer clip includes Neil's drum solo and Q&A session towards the end. Neil Peart has only given two drum clinics like this in the past; the other was in 1986 as described in The Quest for New Drums. However, he did make a couple of appearances at other workshops/camps in more recent years. He made a surprise appearance at the 16th Annual KoSA International Percussion Workshop, Camp & Festival at Castleton State College in Vermont back in 2011, and he also appeared at the LA Music Academy's Drummer Reality Camp back in 2012. Although he did do some drumming at the KoSA workshop, the 2012 camp appearance was just as a panelist.
That's all for this week. Have a great weekend and a Happy St. Patrick's Day!