UPDATE - 3/17@9:42AM: Here's another version of the clip that has the audio sync issues fixed:
----- snip -----
UPDATE - 3/13@9:12PM: Here's an even longer version of the workshop that was just uploaded today by YouTuber Jeff Wald, which includes Neil's drum solo and Q&A session (thanks Art for the heads up).
UPDATE - 3/11@5:05PM: Reader RushFanForever points out in the comments that - although Neil never gave any more workshops like this one after 1992 - he did make a couple of appearances at other workshops/camps in more recent years. He made a surprise appearance at the 16th Annual KoSA International Percussion Workshop, Camp & Festival at Castleton State College in Vermont back in 2011, and he also appeared at the LA Music Academy's Drummer Reality Camp back in 2012. Although he did do some drumming at the KoSA workshop, the 2012 camp appearance was just as a panelist.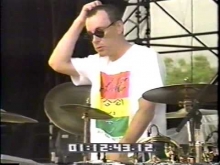 25 years ago this June, Neil Peart put on a very rare drum workshop/clinic in Irvine Meadows, CA, during the Roll the Bones tour. From what I know, this clinic was given to Percussion Institute of Technology students. Back in 2006 someone had posted a short clip from the workshop to YouTube, but that video has long since been removed. But earlier today someone posted a much longer, 45-minute clip of the workshop which you can check out below or on YouTube here. Neil Peart has only given two drum clinics that I'm aware of; the other was in 1986 as described in The Quest for New Drums.