Geddy Lee and Alex Lifeson will have the honor of inducting Yes into the Rock and Roll Hall of Fame at the April 7th induction ceremony at the Barclays Center in New York next month. The members of Yes that will be inducted are Jon Anderson, Bill Bruford, Rick Wakeman, Steve Howe, Alan White, Tony Kaye, Trevor Rabin and Chris Squire - whose wife Scottie will be accepting on her late husband's behalf. Yes founding member and original vocalist Jon Anderson caused a bit of confusion earlier this week when he stated in an interview with Billboard.com that Geddy Lee would be sitting in on bass guitar for Yes's performance of Roundabout at the induction ceremony. This garnered a great deal of excitement from Rush and Yes fans alike, but unfortunately a few hours after publishing the story Billboard posted the following update/retraction:
UPDATE: The Rock and Roll Hall of Fame Foundation sent a statement to Billboard after this story was published denying that Lee would perform at the ceremony. "Geddy Lee and Alex Lifeson were only confirmed to do the induction speech for one of their favorite bands and not perform. They, like all the other Yes fans, look forward to honoring them and watching them perform at the induction ceremony on April 7 and the HBO broadcast on April 29."
It's still not clear exactly what was the cause of all the confusion, but it looks like some kind of miscommunication between Anderson, Geddy and the current Yes lineup. Hopefully the possibility of Geddy and/or Alex performing with the band in some capacity hasn't been completely ruled out. At the very least, we can hope to see them participate in the all-star jam at the end of the ceremony. One thing that the interview did seem to confirm was that Anderson will be reuniting with Yes on at least one song in place of current Yes singer Jon Davison. Tickets for the 32nd Annual Rock & Roll Hall of Fame Induction Ceremony went on sale last month and quickly sold out. There are still plenty of overpriced tickets available on Ticket Broker websites though. The other inductees for 2017 are ELO, Joan Baez, Journey, Nile Rogers, Pearl Jam, and Tupac Shakur. Neil Young and Jackson Browne will be inducting Pearl Jam and Joan Baez respectively.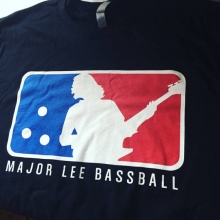 Just in time for the kick-off of baseball season next month, the folks at FANTOONS have released a new Rush, officially-licensed, baseball-themed t-shirt. The shirt plays off of Geddy Lee's well-known baseball obsession, showing a caricature of the MLB logo with a silhouette of Geddy Lee holding a bass in lieu of a bat and the Major League Baseball caption replaced with Major Lee Bassball as seen here. The t-shirt is now available for purchase at this location for just $25. You can check out the t-shirt along with a bunch of other cool, officially-licensed Rush FANTOONS merchandise at their Etsy store here. For those of you who don't know, FANTOONS is an ongoing comic strip based on Rush and some other great bands that was created by David Calcano back in 2012. If you follow rushisaband on Facebook and/or Twitter, you've likely run across some of the amazing Rush-themed comic art from FANTOONS that I've shared over the last few years. You can check out some samples of their work on Facebook and at fantoons.tv. back in 2015 they released a 170-page Rush Toons book filled with comics and artwork featuring our favorite band. I had the honor of writing the book's foreword and highly recommend it; it's a definite must have for any Rush fan.

Reader Will C recently watched the 2014 rockumentary Inside Metal: The Pioneers Of Los Angeles Rock And Metal - 1975-1981 on AXS TV and noted that a couple of interesting Rush-related still photos were shown in the film, despite them barely mentioning the band itself. One is a live shot of mid-70s Rush at some unnamed LA venue - possibly the Whisky a Go Go. The other is of a huge Hemispheres billboard on the Sunset Strip as seen here .
Classic Rock magazine released their special issue on The REAL Greatest Albums of the 80s earlier this year, and Signals was the only Rush album to make the cut, coming in at #25 (thanks RushFanForever).
Kayla McKinney recently penned an academic article on Rush for AmericanPopularCulture.com titled In the Fullness of Time: The Lee Lifeson Art Park and the Rush Legacy. In the article McKinney talks about Geddy and Alex's hometown of Willowdale and its importance in the history of Rush, with particular focus on the recently-opened Lee Lifeson Art Park in Willowdale:
... In almost every large park, statues, plaques, and memorials point to the great deeds done in the past. Rush has finished their touring life, but spaces like the art park add new chapters to the band's story. It is to be hoped that spaces like these will ensure continued interest in the band, celebrate those aspects of Rush that fans have long applauded, and, perhaps, inspire new interest in the band's vast catalogue of work. Though small, the Art Park may be seen as "one little victory" for the members of Rush.
The 2010 Rush documentary Rush: Beyond the Lighted Stage first began streaming on NetFlix back in 2014. It then dropped off the service at some point but recently reappeared. If you're a NetFlix subscriber you can watch it right now at this location. In celebration of its reappearance, Decider.com's Benjamin H. Smith wrote this glowing review of the film earlier this week.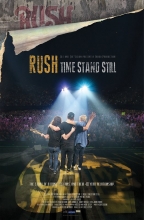 Speaking of Rush documentaries, the Rush R40 Live tour documentary Rush: Time Stand Still released back in November on DVD and Blu-ray after a very successful limited theatrical release, and was just recently also made available for purchase via iTunes. The documentary ended up debuting at #2 on the Billboard Music Video chart, and maintained that position for an impressive 6 weeks. Trailers and clips from the documentary are available online at the Rush YouTube channel, and John over at Cygnus-X1.net has transcribed/scanned the artwork and liner notes and made them available online (liner notes, scans). You can also check out a comprehensive list of reviews of the film in this post, and order your copy of Rush: Time Stand Still on DVD, Blu-ray, and now also on iTunes.
That's all folks! Have a great weekend!!