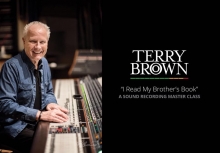 Former Rush producer Terry Brown will be hosting a full-day Sound Recording Master Class Workshop at Phase One Studio in Toronto on Saturday March 25th with the David Barrett Trio (aka DB3) and Michael Sadler (Saga), whom Terry began working with last year. DB3 is a Toronto-based instrumental trio that had their first two albums produced by Alex Lifeson, and recently recruited Sadler to provide some vocals. From the Facebook event details:
This is a full day master class with legendary record producer Terry Brown. Terry will go through the entire recording process at Phase One studios in Toronto, with David Barrett Trio featuring Michael Sadler (Saga). The day will start with a meet and greet at 11am followed by microphone placement, bed tracks, overdubs, and finally the mixing process. All attendees will be in the control room with Terry and have a hands on experience as we finish a song from front to back. An informal Q&A session with Terry entitled "I Read My Brother's Book" will take place followed by a nightime reception with an in studio performance by David Barrett Trio and Michael Sadler. This event will be fully catered.
The book Terry will be reading from is titled Are We Still Rolling? Studios, Drugs and Rock 'n' Roll - One Man's Journey Recording Classic Albums and was written by his brother Phil back in 2011. Terry posted a 4-minute video preview of the workshop to Facebook a couple of weeks ago where he explains how the idea for the workshop came to fruition, along with what he hopes to accomplish with it. The workshop will be limited to 18 participants and tickets can be obtained via ticketscene.ca.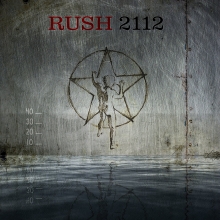 Rush's 2112 40th anniversary edition box set released back in December and is available in several different packages. The standard edition of the 2112 40th anniversary reissue is a 2CD+DVD set which includes a CD of 2112 remastered (the version from last year's 2112 vinyl reissue), another CD of some rock celebrity covers of a few of the various songs on the album along with some live outtakes, and a DVD of the newly-restored Live at Capitol Theatre 1976 show along with some other bonus videos. There's also a 3 LP version with the same content as the CDs along with a few bonus goodies. The Super Deluxe edition contains both the 2CD+DVD and 3 LP sets along with some additional bonus content. The cover songs included on the set are 2112: Overture from members of the Foo Fighters (audio here at the 46 minute mark), A Passage to Bangkok from Billy Talent (audio), The Twilight Zone by Steven Wilson (audio), Something for Nothing by Jacob Moon (audio) and Tears by Alice In Chains (audio). Billy Talent's Ben Kowalewicz recently spoke with the Montreal Gazette for an interview and addressed their cover of Rush's A Passage to Bangkok:
... we got asked to do that, which was kind of crazy. I just got a letter in the mail from Rush thanking me for it. I'm going, (acts confused) "I think I just got a card from Rush!" But yeah, there are some songs this year that have definitely challenged me as a singer. And I'm now getting a little more confidence in trying different things. It might not always work, but at least you try it so you keep knowing where you're pushing your boundaries to. ... all the guys in the band are huge Rush fans, because they're musos, and for me it's like, "I've got to try to sing like Geddy Lee? How? How am I going to do that?" And then it was like, "No, just be you." Oh! OK. ... you know what's funny about that - total side plot - is my wife's mom is dating Terry Brown, who produced all of those records. So he and I have become really good friends. I was talking to him about doing the cover and how we recorded it, and then I played it for him and he was quite impressed by it as well. ...
One of the live outtakes on the bonus CD is a 1976 Massey Hall recording of Something for Nothing which is available for streaming online here. Rob Bowman wrote the very extensive liner notes included with the set, and Eric at Power Windows has transcribed them and made them available online here, and John at Cygnus-X1.net has all the artwork/scans available on his site here. You can get all the details regarding the contents of the 2112 40th anniversary edition via the official Rush.com press release and also watch a 1-and-a-half minute promotional unboxing video which highlights the contents of the box set here. Bass Player magazine recently profiled the box set for their BP Recommends feature (thanks RushFanForever):
It's no secret that Rush aficionados are more hardcore than most: Many of us have bought every Rush album and seen them live dozens of times, relishing our membership in a geeky, worldwide family of fanatics. So the announcement last year that Geddy Lee, Alex Lifeson, and Neil Peart were getting off the road was more than just the end of an era-it was a devastating setback, and another reminder that even for the gods, time does not stand still. Fortunately, this two-hour documentary tells the story of the trio's final shows and momentous decision with grace, humor, and sensitivity, perfectly capturing the complex emotions of fans (including sadness, shock, and nostalgia) and the band (reluctant acceptance from Geddy and relief from Alex and Neil, whose bodies were more than ready to retire). Along the way, there's great live and backstage footage, as well as cool interviews and a handful of bonus goodies. A truly moving, bittersweet picture that captures the essence of what Rush and its fans mean to each other.-E.E. BRADMAN
Assuming you don't already have it, you can order the 2112 40th anniversary edition on Amazon (2CD+DVD, 3 LP, Super Deluxe), or pick it up at your local retailer.
Canada's 100 Best Restaurants Guide recently released their list of the 100 best Canadian restaurants for 2017. This is the third year for the listing, which is compiled by a panel of around 100 Canadian chefs, restaurateurs, journalists, celebrity gourmets and industry leaders including Rush's Geddy Lee.
Kathleen Tarrant featured Rush in part 8 of her Bands I Pretended to Like for Boys series in the Portland Mercury a couple of weeks ago:
... He was a good bass player and he, like all good high-school jazz-band bass players who play World of Warcraft on the side, loved Rush and Geddy Lee with all of his beating heart. "Do you know how many bass players are also iconic frontmen, Kathleen?" I was like, "Paul McCartney? Lemmy? Gene Simmons? Sting? Roger Waters?" His prog-loving brain grudgingly gave me Roger Waters before he turned up "Tom Sawyer" and drummed along on his steering wheel, struggling to keep up with the one-handed sixteenths, his teeth gritted, his eyes fiery. When he asked if I thought it was cool, I fiddled with the hole in my hoodie sleeves where I stuck my thumbs out like the skater kid I longed to be and said, "Yeah, it's great," because I could tell the music was played well. Dream Theater fooled me with the same line of thinking. ...
10 years ago this past Monday, Geddy Lee and his daughter Kyla made a guest appearance on an episode of The Gilmore Girls as guests of cast member (and Rush fan) Sebastian Bach. You can read all about the appearance and how it came about in this post.
The Order of Canada is the highest civilian honor that can be presented by the Canadian Government. 20 years ago this past Sunday on February 26, 1997, Geddy Lee, Alex Lifeson and Neil Peart were given this prestigious honor at Rideau Hall in Ottawa (the official residence of the Governor General of Canada). It marked the first time that the award was given to a group rather than an individual. Here is a transcription of what was said about the band when they were presented with the award. You can watch the video of this presentation on YouTube here, and also this CBC news story which covered the event.
Members of the progressive rock trio Rush. These veterans of the stage have raised over a million dollars for charities such as food banks and The United Way. Their efforts have enhanced an awareness of the plight faced by society's less fortunate, inspiring and awakening the social consciousness of an entire generation. Musicians far and wide have been influenced by the band's accomplishments - a testament to their contribution to popular music.
That's all for this week. Have a great weekend!