Rush and Yes fans were treated to some big news this morning when the Rock and Roll Hall of Fame announced that Geddy Lee and Alex Lifeson will have the honor of inducting Yes into the Rock Hall at the April 7th ceremony at the Barclays Center in New York. The members of Yes that will be inducted are Jon Anderson, Bill Bruford, Rick Wakeman, Steve Howe, Alan White, Tony Kaye, Trevor Rabin and Chris Squire - whose wife Scottie will be accepting on her late husband's behalf. Speaking of the late bass legend, Squire actually mentioned wanting Rush to induct the band during an interview a few years ago:
I haven't given it much thought, maybe those Rush guys who got in last year! I'm pretty good friends with Dave Grohl and Taylor Hawkins (of the Foo Fighters) and they did a great speech for Rush... so probably not them, since they just did one. But if you know Geddy (Lee), let him know that that would be fine by me. I don't know how these things work, though, I don't know how much control we have, how much control the voting committee has, and of course we're still kind of wondering how many members of Yes would be inducted.
Tickets for the 32nd Annual Rock & Roll Hall of Fame Induction Ceremony will go on sale to the public next Friday, February 3 at 10AM EST. A pre-sale for Rock Hall members kicked off this morning at 10AM but quickly sold out, with many of those tickets already finding their way to Ticket Broker websites. There will also be a CITI card pre-sale beginning this coming Monday at 10AM. You can get all the details regarding tickets at this location. The other inductees for 2017 are ELO, Joan Baez, Journey, Nile Rogers, Pearl Jam, and Tupac Shakur. Neil Young and Jackson Browne will be inducting Pearl Jam and Joan Baez respectively.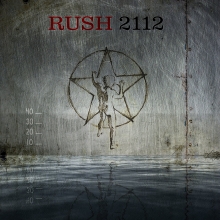 Rush and Spotify have teamed up for a contest where the winner will get a Rush 2112 40th anniversary prize package consisting of the 2112 40th Anniversary Super Deluxe Box Set, a DW Starman snare drum, a custom Fender Signature Model Geddy Lee Jazz bass guitar, and a copy of the Rush: Time Stand Still documentary. The contest runs through February 19th and all you need to do to enter is to be a Spotify member and follow the Rush Best Of playlist as detailed at this link. Rush's 2112 40th anniversary edition box set released last month and sales from the reissue ended up propelling 2112 back into the Billboard 200 album charts at #121 in its initial week of release (it has since dropped back out). The standard edition of the 2112 40th anniversary reissue is a 2CD+DVD set which includes a CD of 2112 remastered (the version from last year's 2112 vinyl reissue), another CD of some rock celebrity covers of a few of the various songs on the album along with some live outtakes, and a DVD of the newly-restored Live at Capitol Theatre 1976 show along with some other bonus videos. There's also a 3 LP version with the same content as the CDs along with a few bonus goodies. The Super Deluxe edition contains both the 2CD+DVD and 3 LP sets along with some additional bonus content. The cover songs included on the set are 2112: Overture from members of the Foo Fighters (audio here at the 46 minute mark), A Passage to Bangkok from Billy Talent (audio), The Twilight Zone by Steven Wilson (audio), Something for Nothing by Jacob Moon (audio) and Tears by Alice In Chains (audio). One of the live outtakes on the bonus CD is a 1976 Massey Hall recording of Something for Nothing which is available for streaming online here. Rob Bowman wrote the very extensive liner notes included with the set, and Eric at Power Windows has transcribed them and made them available online here, and John at Cygnus-X1.net has all the artwork/scans available on his site here. You can get all the details regarding the contents of the 2112 40th anniversary edition via the official Rush.com press release and also watch a 1-and-a-half minute promotional unboxing video which highlights the contents of the box set here. Assuming you don't already have it, you can order the 2112 40th anniversary edition on Amazon (2CD+DVD, 3 LP, Super Deluxe), or pick it up at your local retailer.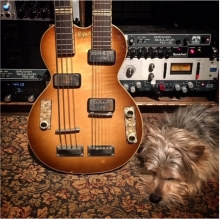 Geddy Lee has added another guitar to his already large collection - a 1961 Hofner 191 double-neck. On Wednesday Geddy posted a photo of the guitar accompanied by one of his dogs to his official Instagram page:
Here you can see my fierce and trusty attack dog, Dr. Lucy Wasserman, caught in the act of protecting the latest awesomeness....a supercool 1961 Hofner 191 #woofwoofstandback #Hofner #HofnerBass #vintagebassguitar #doubleneckguitar #bassporn #dogsofinsta #canwegoforawalknowplease

Back in their June, 2016 issue this past summer DRUM! Magazine posted a feature written by David Brensilver titled 10 Ways to Sound Like Neil Peart, which gives some pointers to drummers on how to emulate Peart's approach to drumming. John over at Cygnus-X1.net has transcribed the entire article and made it available online here:
... For many, his words and ideas, as conveyed through the lyrics and stories he's penned, are equally inspiring. And it's impossible to separate the two. He's a master storyteller, an artist who expresses himself beautifully in different mediums. To understand his approach to drumming, one needs first to understand his approach to creating a narrative and his relentless pursuit of excellence. ...

Banjo virtuoso Béla Fleck (Bela Fleck & the Flecktones, etc.) will be releasing his new album Juno Concerto on March 3rd. Earlier this week Fleck posted a humorous promotional video for the album which shows him at an undisclosed location putting together a banjo audition reel for symphonies around the world in order to "combat banjo discrimination" (thanks Adam J). At about the 40-second mark he puts together a reel for the Toronto Symphony Orchestra which is titled Toronto Symphony Orchestra Take 2112 - Juno Award, Please!, and shows Fleck wearing a Toronto Blue Jays hat and a Rush t-shirt as seen here.
The A.V. Club posted an article on the animated internet series Homestar Runner earlier this week and Geddy Lee gets a mention due to his Strong Bad (one of the main characters in the animated internet cartoon series) hat:
... the overarching emotion is one of youthful exuberance, as the brothers' shared efforts to learn Flash turned into a cultural phenomenon that even ended up on the head of Rush's Geddy Lee. "We have no idea if he knew what Strong Bad was," Matt notes, "But our dumb animal character was on his head while he probably shredded 'Working Man,' so I'll take it!" ...
The website 22 Words decided it would be a fun idea to add "googly eyes" to several hard rock and heavy metal album covers in this post from last week. One of the album covers that got the googly treatment was Rush's Fly By Night.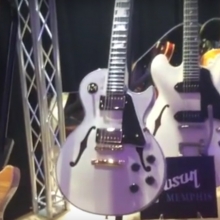 Gibson Memphis debuted their new limited edition, Alex Lifeson Signature ES Les Paul Custom guitar this past weekend at the NAMM 2017 trade show in Anaheim, CA. Mike from Gibson Memphis gave Harmony Central a detailed video breakdown of the guitar and its construction which you can check out below or on YouTube at this location. There's no word yet as to when it will be available for purchase or for how much. Geddy Lee also had a new product debut at NAMM over the weekend - Tech 21's Geddy Lee Signature SansAmp as seen in this post.
That's all for this week. Have a great weekend!!