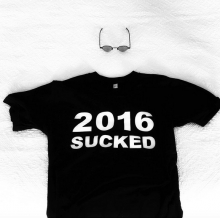 Happy New Year Rush fans! 2016 was definitely a tumultuous year, with a contentious US election and a deluge of beloved musicians/celebrities passing away. Geddy Lee made it very clear what he thought of 2016 with the following photo that he posted to his official Instagram page New Year's Eve:
Just picked out my NYE outfit for tonite....good riddance... #2016sucked #toomanylostheroes #endlesslyrocking
#2017betterbebetter
#HNY2017
#feh

Geddy also sent out some Holiday greetings to everyone on Christmas with the help of his two dogs:
Happy Holidays from Lucy and Stanley Wasserman...who have graciously agreed to pose for this photo, provided I open a fine bottle of burgundy for them....oh...alright...
#HappyHolidays
#HappyHanukah
#HappyXmas
#TheWassermansrock!
#dogsofinsta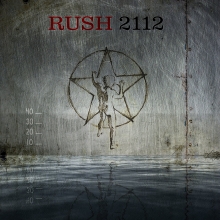 Rush's new 2112 40th anniversary edition box set released last month and sales from the reissue ended up propelling 2112 back into the Billboard 200 album charts at #121 in its first week of release, but it has since dropped back out. This isn't the first time a 2112 reissue has pushed the album back onto the charts. It also happened back in 2012 with the release of the 2112 Deluxe Edition and also last year with the 2112 Vinyl Hologram Edition release. The standard edition of the 2112 40th anniversary reissue is a 2CD+DVD set which includes a CD of 2112 remastered (the version from last year's 2112 vinyl reissue), another CD of some rock celebrity covers of a few of the various songs on the album along with some live outtakes, and a DVD of the newly-restored Live at Capitol Theatre 1976 show along with some other bonus videos. There's also a 3 LP version with the same content as the CDs along with a few bonus goodies. The Super Deluxe edition contains both the 2CD+DVD and 3 LP sets along with some additional bonus content. The cover songs included on the set are 2112: Overture from members of the Foo Fighters (audio here at the 46 minute mark), A Passage to Bangkok from Billy Talent (audio), The Twilight Zone by Steven Wilson (audio), Something for Nothing by Jacob Moon (audio) and Tears by Alice In Chains (audio). One of the live outtakes on the bonus CD is a 1976 Massey Hall recording of Something for Nothing which is available for streaming online here. Rob Bowman wrote the very extensive liner notes included with the set, and Eric at Power Windows has transcribed them and made them available online here. He's also updated his Desktop Wallpaper page with a dozen new images taken from the set, and John at Cygnus-X1.net has all the artwork/scans available on his site here. You can get all the details regarding the contents of the 2112 40th anniversary edition via the official Rush.com press release and also watch a 1-and-a-half minute promotional unboxing video which highlights the contents of the box set here. Ultimate Classic Rock opened up voting for their annual Ultimate Classic Rock Awards last month and the 2112 box set is in the running in the Archival Live Album / Video of the Year category. It's currently in 2nd place so help them out and go vote for Rush at this location. Assuming you didn't already get it for Christmas, you can order the 2112 40th anniversary edition on Amazon (2CD+DVD, 3 LP, Super Deluxe), or pick it up at your local retailer.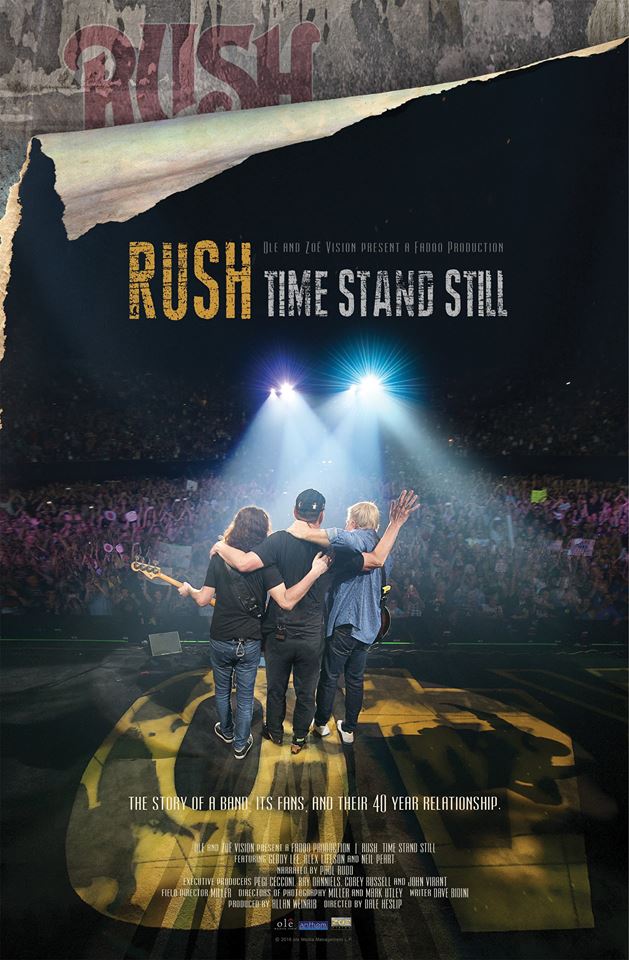 The Rush R40 Live tour documentary Rush: Time Stand Still released back in Novmember on DVD/Blu-ray. The documentary ended up debuting at #2 on the Billboard Music Video chart, and has maintained that position into its 6th week on the charts, just behind The Beatles' Eight Days a Week. Trailers and clips from the documentary are available online at the Rush YouTube channel, and you can check out several reviews of the film in this post. Empress Eve at Geeks of Doom included the film in her Top 10 Favorite Movies Of 2016 list and had this to say about it:
When I speak about the band Rush, I have to preface it by revealing that Rush is my favorite band of all time. With that, it's no surprise that their new documentary Time Stand Still made it on my list of favorite movies of 2016, especially since it chronicles the legendary group's final large-scale tour and includes performances, interviews, and a look at the fans. That's right, this was a farewell, and it was a heartbreaking one. With two-thirds of the Canadian rock trio's line-up suffering from the physical effects of aging, the members decided to call it quits and go out on top, and on top they did after a successful, storied 40-plus-year career. I was in tears watching some of this documentary, especially the parts where the band members talk about how in their hearts and minds they don't want it to end. But much like a professional athlete must retire due to physical constraints, they say, so must the hard-rock road dogs of Rush. Freeze this moment a little bit longer....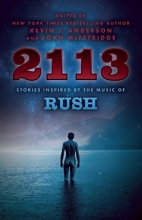 Clockwork Angels/Clockwork Lives and 2113 author Kevin J. Anderson will be doing an AMA (Ask Me Anything) on the Rush subreddit later today at 2PM EST. You can submit questions for Anderson on this post.
Legendary FM rock radio station KSHE 95 out of St. Louis is celebrating its 50th anniversary this year with the launch of the KSHE 50th Anniversary Real Rock Museum on January 9th at kshe95.com. The virtual online museum will contain eight wings filled with KSHE audio histories, photo galleries, interviews and listener favorite audio clips. From the press release:
... The KSHE 95 Hall of Fame is made up of videos that each focus in on an artist or band that has had a very special long-standing relationship with the station. In each video, these rock stars share KSHE and ST. LOUIS memories like ... "The very first radio interview I ever did was at KSHE. In '74 when we came here they were already playing our music. ST. LOUIS will always be a special place for us," states GEDDY LEE, lead vocalist, bassist and keyboardist of RUSH. ...
They also launched a video trailer for the Museum which features the above-mentioned interview snippet with Geddy Lee at about the 30-second mark.
On New Year's Day blogger Bitter Gertrude posted a story about how her Rush-fan husband's beloved Rush hoodie was stolen out of his car last year, and how some very cool people in the Rush organization helped her replace it:
... I sighed and went online immediately to the Rush website to replace the hoodie. It was nowhere to be found. I then checked every website and did every google search I could think of. I checked eBay. I was willing to pay double by this point. All I wanted was to replace this hoodie my husband loved so much. I had no luck.

My husband is a very humble man who hates to cause trouble, so I knew my next step would have to be behind his back. Believing that someone within the Rush organization must have some of these hoodies in a box in a warehouse somewhere and would be willing to sell one to me, I tracked down several people within the Rush organization I believed might be connected to merchandising, and told them our story, asking them if there was any way I could still purchase this hoodie. One of the people I contacted was a man named Brandon Schott.

Within a few days I had received an email from a woman named Pegi Cecconi. I did not know who she was and did not think to google her. Brandon Schott had forwarded the email to her, commenting that I seemed "sincere." Pegi Cecconi, as it turns out, is the Vice President of SRO Management. Her .sig does not give her title, and I was too much of a Rush neophyte to understand how far up the chain she was until I told my husband, who promptly freaked out.

Pegi had forwarded our email to Showtech, the merchandisers, and personally asked them to help us.

Soon, a man named Alex Mahood contacted me. They didn't have the Clockwork Angels hoodie, but they had one like it, and they would send it right over, free of charge. Soon, we received a box with this hoodie in it.

I had offered to purchase the hoodie in every email I sent them, yet they sent this to us as a gift.

They could have easily ignored my emails. They could have easily just said, "Sorry, sold out." They could have turned to more important things- they all have far, far more important things to do. Yet they chose kindness and generosity.

It is impressive. ...

Reader Al R alerted me to a 2112 reference in the latest Walking Dead video game (The Walking Dead: The Telltale Series - A New Frontier). In one of the video scenes from the game there is an address sign shown where the street number is - you guessed it - 2112. You can watch a short video clip of the reference on YouTube at this location.
Brian Ives posted an article this past week for KEarth 101 on how the Rock and Roll Hall of Fame has finally started to recognize more classic rock bands in recent years, with the inductions of Rush, Heart, KISS, Deep Purple, Steve Miller, Cheap Trick, Chicago, and this coming year's inclusion of Yes, Journey and ELO. Ives argues that this newfound attention from the Rock Hall has come about due to the continuous pressure being applied by the looud, engaged and passionate fan bases of these bands. He uses Rush's induction to illustrate his point:
... Alex Lifeson later told Radio.com, "[When] He said, 'And from Toronto, Canada...,' and the place blew up. It was unbelievable. And that wasn't lost on Jann either. We were holding back tears. It was incredible, I'll never, ever, ever forget that moment."

Geddy Lee added, "We all teared up at that moment, it was quite something to see. It became apparent pretty quickly that a large portion of the audience was there for us; it was a Rush crowd that night. But that moment took us as much by surprise as it did Jann."

The Foo Fighters' Dave Grohl and Taylor Hawkins were on hand to present Rush, and Grohl joked about Rush's relationship with RS. "They did it from the ground up: no hype, no bulls-, without any help from the mainstream press - COUGH! Rolling Stone!" That line that got huge cheers.

Lifeson pointed out, "It's not lost on us that they used to have the induction ceremony at the Waldorf Astoria, and our year it was at an arena packed with Rush fans paying a ridiculous amount of money for tickets. We had to smirk a little bit at that."

Lee and Lifeson are right: if you were in-or even around-the Nokia Theater that night, you could have been excused for thinking it was a Rush concert. There were some Heart fans, and some Public Enemy fans. But from a ticketing perspective, it was a Rush concert with a lot of big name opening acts. ...
Green Bay Packers quarterback Aaron Rodgers was a guest on TSN Sportcentre's Cabbie Presents last week. Comedian and Canadian sports personality Cabral Richards (aka "Cabbie") spoke with Rodgers about his spectacular football career, complete with a few comedic jibes - including a fictional "Breaking News" bit where Rodgers gets "traded to Canada" for Michael Buble, Shawn Mendes, Jonathan Toews and a comedian to be named later. After becoming an official Canadian, Cabbie then presents Rodgers with a Rush t-shirt as seen here, spurring Rodgers to bring up the movie I Love You Man - which famously included a cameo from Rush themselves. You can watch the video of the Rodgers trade to Canada below or at this location at about the 2:15 mark. The Packers will be taking on the New York Giants this coming Sunday in the opening round of the NFL playoffs.
That's all for this week. Have an awesome weekend and a great 2017 everyone!