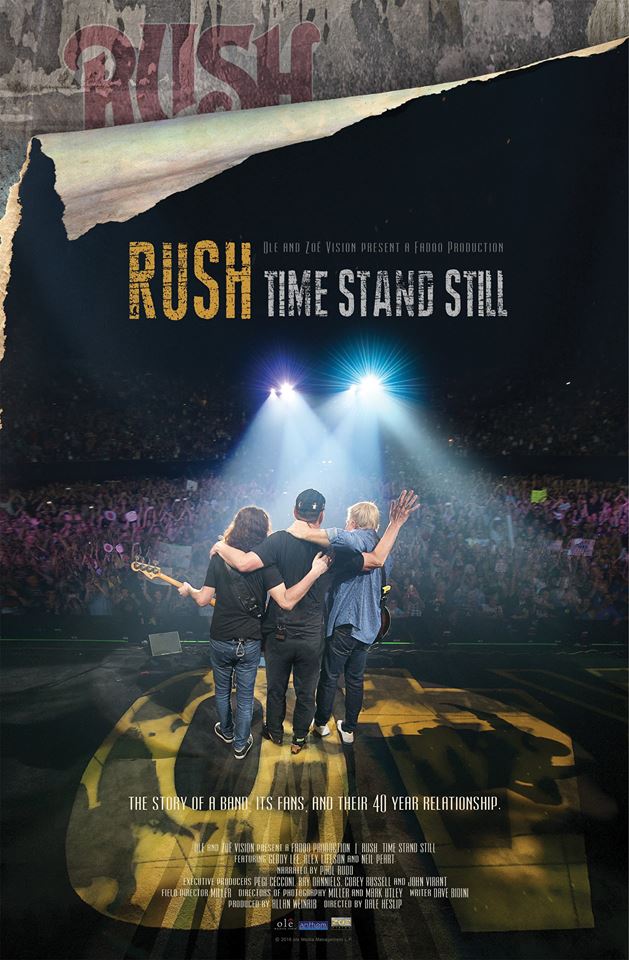 I hope that everyone who celebrates the holiday had a merry Christmas/Rushmas this past weekend, and that Santa left you all a bunch of cool Rush swag under the Christmas tree Saturday night. My guess is that many lucky Rush fans received the Rush: Time Stand Still documentary and/or the 2112 40th anniversary edition. So what did Santa bring you? Let us know in the comments. The final days of a tumultuous 2016 are now upon us, and Rush fans are just as uncertain about the future of the band as they were at this time last year. While Geddy Lee and Alex Lifeson have kept themselves busy with various side projects, Neil Peart hasn't been heard from since this past May when he published the last update to his news blog. He didn't even give any new interviews or do any publicity for the release of his latest book Far and Wide this past September. Hopefully he's doing well and we'll be hearing some kind of update from him regarding his future plans in the New Year. Without any new music or tour to focus on, the big Rush news of the past year was the November release of the Rush: Time Stand Still R40 tour documentary. The film was a bittersweet mix of the extended Rush family reminiscing about past tours, and fans saying their farewells to the band that had changed their lives - all under the backdrop of behind-the-scenes footage from the 2015 R40 Live tour. Neil Peart's interview segments from the documentary, along with his comments in Far and Wide made it quite clear that he was indeed done with touring, just as he'd said in his Drumhead Magazine article last year. So - if anything - fans are now even more certain that there will be no further Rush tours, although we can still cling to the hope that we'll get some new music from the band at some point. One of the fans featured in the Time Stand Still documentary was Ray Wawrzyniak - who has one of the most impressive collections of Rush memorabilia in existence. Jeff Miers of the Buffalo News profiled Wawrzyniak for an article that will appear in Sunday's edition of the newspaper and is now available online here.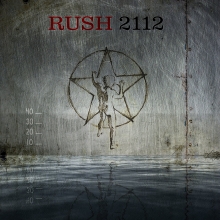 Rush's new 2112 40th anniversary edition box set released 2 weeks ago and was likely a very common sight under the Christmas trees of many a Rush fan last weekend. The standard edition is a 2CD+DVD set which includes a CD of 2112 remastered (the version from last year's 2112 vinyl reissue), another CD of some rock celebrity covers of a few of the various songs on the album along with some live outtakes, and a DVD of the newly-restored Live at Capitol Theatre 1976 show along with some other bonus videos. There's also a 3 LP version with the same content as the CDs along with a few bonus goodies. The Super Deluxe edition contains both the 2CD+DVD and 3 LP sets along with some additional bonus content. The cover songs included on the set are 2112: Overture from members of the Foo Fighters (audio here at the 46 minute mark), A Passage to Bangkok from Billy Talent (audio), The Twilight Zone by Steven Wilson (audio), Something for Nothing by Jacob Moon (audio) and Tears by Alice In Chains (audio). One of the live outtakes on the bonus CD is a 1976 Massey Hall recording of Something for Nothing which is available for streaming online here. Rob Bowman wrote the very extensive liner notes included with the set, and Eric at Power Windows has transcribed them and made them available online here. You can get all the details regarding the contents of the 2112 40th anniversary edition via the official Rush.com press release and also watch a 1-and-a-half minute promotional unboxing video which highlights the contents of the box set here. Ultimate Classic Rock has opened up voting for their annual Ultimate Classic Rock Awards and the 2112 box set is in the running in the Archival Live Album / Video of the Year category, so go vote for Rush at this location. You can order the 2112 40th anniversary edition on Amazon (2CD+DVD, 3 LP, Super Deluxe), or pick it up at your local retailer.
CBC Radio broadcaster George Stroumboulopoulos (aka Strombo) has spent the past year working on a four-hour special celebrating the 30-year legacy of The Tragically Hip titled HIP30. The special will air on CBC Radio 2's The Strombo Show this coming Sunday, New Year's Day from 8PM to midnight, and both Geddy Lee and Alex Lifeson will participate. From Now Toronto:
... Stroumboulopoulos started reaching out to artists to participate in late 2015, and recording was well underway when the Tragically Hip announced in May that frontman Gord Downie had been diagnosed with terminal brain cancer. After that, more artists signed on and the project took on a different weight. "We started way before, but the announcement certainly added a gravitas to it," Stroumboulopoulos tells NOW. "If you talk to any of the singers, a lot of them will tell you that Gord's phrasing is very unique. You can't just sit down and play three chords and do a cover. With the Hip, you have to put a lot of thought into it." The project was inspired by The Strombo Show's Neil Young 70 special, but features a much more extensive list of contributors. In all, around 50 songs were recorded. Blue Rodeo, Barenaked Ladies, the Sadies, By Divine Right, Cowboy Junkies, Sarah Harmer and Julie Doiron are among the Hip's friends and peers who participated, while Harrison, SATE, Stars, Tanika Charles, Weaves, Woodpigeon, the Dears, D-Sisive, Death from Above 1979, Born Ruffians and Greys are among the artists representing the generations of musicians that came after. ... The New Year's Day broadcast will be divided up by eras of the band's creative output, with participating artists and guests like Daniel Lanois, Geddy Lee and Alex Lifeson of Rush, filmmaker Atom Egoyan and the Hip's longtime technical director Dave 'Billy Ray' Koster offering added insight. Although Downie's illness weighed on many acts throughout the creative process, Stroumboulopoulos says the emphasis is on celebrating the Hip and their influence. "A lot of people don't realize how big an impact the Hip have had on so many bands," he says. "There's a lot of talk about Gord, but we were clear from the start that this is not a eulogy. It's a celebration. It's about hearing the songs and hearing people talk about what the band means to them." ...
Rush continued building their reputation in 2016 as one of Canada's more generous rock acts, with involvement in a number of diverse charities, and also continuing to help and inspire others in the artistic community. They received the key to the city of Toronto at the dedication of the new Lee Lifeson Art Park in Willowdale, and also were announced as the 2017 recipient of the Allan Slaight Humanitarian Spirit Award. The band was the subject of this Post City Toronto article by Andy Kim last week as part of their multi-part series on the most inspiring Torontonians of 2016 (thanks RushFanForever):
... As a child of immigrants, I often think about how that affected my Canadianism. As I travelled the world, I came to understand the division between artist and citizen. I look back to only realize that the child in all of us is still either a weapon or healer. I remember, when I would bring a school chum home for dinner, my father would always ask me, "Whose son is he?" ... Rush, "Whose sons are you?" You are the sons of compassion and the sons of human welfare. It's so easy to understand why Rush is the 2017 recipient of the Allan Slaight Humanitarian Spirit Award, why there is a Willowdale park honouring their legacy and why they will always be remembered for their contributions to life in Toronto and beyond.
CNN compiled a list of the all-time, top selling rock bands in the US this past week and Rush made the cut at #31 (thanks David H):
From Ontario, Canada, these three wise men invaded the US and built their cult audience by working hard, defying record executives and playing their special brand of music. Along the way, listeners bought 25 million Rush recordings in the US, according to the RIAA. Rush hinted that their 2015 40th anniversary tour may have been their last major tour. Left to right: guitarist Alex Lifeson, drummer Neil Peart and singer/bassist Geddy Lee were inducted into the Rock and Roll Hall of Fame in 2013.
Dutch guitarist Jan Akkerman celebrated his 70th birthday this past Saturday, December 24th. Akkerman is best known as the co-founder of Dutch progressive rock band Focus. A number of rock musicians including Alex Lifeson and Geddy Lee sent a compilation of video birthday greetings to Akkerman and the video has been posted online. It is available for viewing below or on YouTube here. Alex appears right at the beginning of the video and Geddy comes in at around the 3:15 mark.
That's all for this week, AND for 2016. Have a great weekend and a happy New Year everyone!!