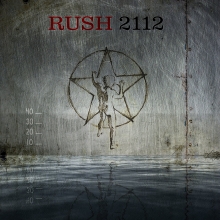 Rush will be releasing a 2112 40th anniversary Super Deluxe box set in 2 weeks on December 16th, just in time for the Holidays. The standard edition is a 2CD+DVD set which includes a CD of 2112 remastered (the version from last year's 2112 vinyl reissue), another CD of some rock celebrity covers of the various songs on the album along with some live Massey Hall outtakes, and a DVD of the Live at Capitol Theatre 1976 show along with some other bonus videos. There's also a 3 LP version with the same content as the CDs along with a few bonus goodies. The Super Deluxe edition contains both the 2CD+DVD and 3 LP sets along with some additional bonus content. One of the songs on the bonus CD is a live 1976 Massey Hall outtake of Something for Nothing which Rush made available for streaming online late yesterday. The cover songs included on the set are 2112: Overture from members of the Foo Fighters, A Passage to Bangkok from Billy Talent, The Twilight Zone by Steven Wilson, Something for Nothing by Jacob Moon and Tears by Alice In Chains, the latter of which is available for streaming online via YouTube and other streaming channels. Geddy Lee and Alex Lifeson appeared on The Strombo Show on CBC Radio 2 a few weeks ago to discuss the new box set and spin a couple of the included cover songs. You can listen to the entire, extended, 25-minute interview at this location, and listen to the entire 3-hour Strombo episode, including the complete Foo Fighters cover of 2112: Overture and a sample of Billy Talent's take on A Passage to Bangkok, here (at the 46 and 57:30 minute marks respectively). You can get all the details regarding the contents of the 2112 40th anniversary edition via the official Rush.com press release and also watch a 1-and-a-half minute promotional unboxing video which highlights the contents of the box set here. Joe Bosso raised the question of which side of 2112 is better in his review of the set for Music Aficionado last week. There's also this review from TeamRock.com. You can pre-order the 2112 40th anniversary edtion on Amazon (2CD+DVD, 3 LP, Super Deluxe).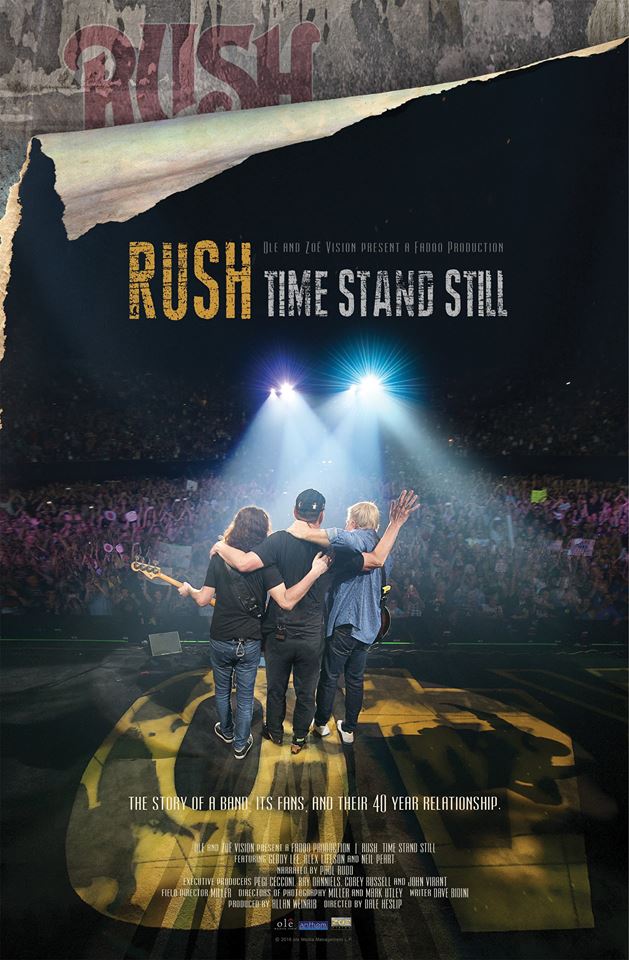 The new Rush R40 Live tour documentary Rush: Time Stand Still officially released last month on DVD/Blu-ray and is now available to order online (DVD, Blu-ray) or purchase in stores. Several retailers are offering in-store promotions with the purchase of the DVD/Blu-ray including Best Buy, FYE and others as outlined in this promotional video. The DVD/Blu-ray includes 67 minutes of unreleased footage from the band's Presto tour, but it does not include any of the pre-film content shown during the documentary's screening in theaters last month. The film runs for just over an hour-and-a-half and is primarily a documentary about the band's R40 Live tour, with particular focus on it likely being the band's final tour, along with a good deal of attention paid to Rush's rabid and loyal fan base. Trailers and clips from the documentary are available online at the Rush YouTube channel, and you can check out several reviews of the film in this post, including this recent review from Geeks of Doom. John over at Cygnus-X1.net has transcribed/scanned the artwork and liner notes and made them available online (liner notes, scans). Last week Rush and Rounder Records launched a #ThankYouRush Ultimate Fan Package Giveaway contest via social media where 5 lucky winners will receive a Rush: Time Stand Still prize package with the Grand Prize package including a Rush R40 commemorative guitar. Contestants had to submit a photo or video (45 seconds max, in landscape) via Facebook, Twitter or Instagram using the hashtag #ThankYouRush where they pledge their allegiance to Rush. The entry period concluded earlier this week and the 10 finalists have been chosen out of the over 1000 entries received. It's now up to the fans to decide who will win by voting for their favorite entry at this location. The winners will be announced this coming Monday, December 5th.

Last month Rush was announced as the 2017 recipient of the Allan Slaight Humanitarian Spirit Award. The band will be honored for their achievements and longstanding career in the music industry, social activism and support of humanitarian causes at the annual Canadian Music & Broadcast Industry Awards Gala Dinner at the Sheraton Centre on Thursday, April 20th, 2017. Here's what the band had to say about the award:
"We are so incredibly honoured to receive the Allan Slaight Humanitarian Spirit Award. The depth of Allan and Gary Slaight's generosity, consideration and benevolence has no measure. We will strive to carry forward their spirit of charity and goodwill."
- RUSH
Recipients of the award are also given $40,000 to be donated to their charity of choice, and earlier this week Rush announced that they'll be donating their prize to the Gord Downie Fund for Brain Cancer Research. From the Rush.com announcement:
"We are pleased to direct this generous donation from the Allan Slaight Humanitarian award to the Gord Downie Fund for Brain Cancer Research at Sunnybrook. Many Canadian families have been affected either directly or indirectly by this terrible disease. Through Gord's courageous efforts this cause is now getting the attention it desperately deserves. As a fellow musician and friend it's our turn to help support his efforts to fight Brain Cancer now." - RUSH ...
Lu Hanessian wrote a piece for the Courier-Post this past week titled How do you protect your drive? (thanks RushFanForever). The article was inspired by something Neil Peart said at a workshop Hanessian attended with her son a few years back - presumably Peart's appearance at KoSA back in 2011.
... At this summer percussion camp five years ago, Peart was asked how he might explain his resilience, his success, his endurance. It was a standard question. His answer stunned me, and has stayed with me ever since. He paused, and said quietly, "You have to protect your drive." In my whole life, I had never thought my drive needed protection. I always thought of myself as motivated, curious, open-minded, ready and willing to engage in creative pursuits, projects and collaborations. I actually had never even questioned my drive. I never thought I had to. Those words resonated and rang in my head for awhile. "Protect your drive ..." Years later, I felt my drive eroding. It got me thinking and wondering about drive - what it is, why it matters and what to do when it begins to seize. ...
TeamRock.com is asking for their readers' help in determining the greatest prog track of all time. Rush fans already know of some good candidates - 2112, Hemispheres, La Vill Strangiato, Xanadu, Natural Science, etc. Here's how you can let Team Rock know which Rush songs should be considered:
... now is the chance for you to let us know as we compile the ultimate list of the 100 Greatest Prog Tracks of all time.All we need you to do is list you Top 5 prog tracks. Tell us why you've made each choice (as we like to include readers' thoughts on the tracks that make the over-all list when we print it in an upcoming issue of Prog). And e-mail it to us here. We'll be printing the whole 100 in a future issue of Prog. Closing date for entries is Thursday December 8.
The Rock and Roll Hall of Fame will soon be making their selection for the 2017 class of inductees, so PrettyFamous.com decided to put together a list of the most famous current Rock Hall inductees based on a predetermined set of criteria. They used a band/artist score determined by a weighted average of a band's Wikipedia page views over the last 30 days, the 30-day Wikipedia page views of the bands they were/are in, the Wikipedia page views of their releases and the number of followers they have on Spotify. Rush ended up making the cut at #59 with a band score of 87.58 (thanks Duane R).
For some unknown reason, this mashup video of R&B singer Kelis's 2003 chart smash Milkshake and Rush's YYZ - cleverly titled YYMilk - received a lot of attention in the rock music press this past week. Ouch. Watch it if you dare.
Here's the live 1976 Massey Hall outtake of Something for Nothing from the upcoming 2112 40th anniversary box set:
That's all for this week. Have a great weekend everyone!!