UPDATE - 10/14@4:51PM: Note: the Rush Backstage Club has a number of different collector and merchandise bundles of the DVD/Blu-ray available here.
UPDATE - 10/13@10:25AM: Note: judging by the title of the bonus content (Live from the Rabbit Hole) and the setlist, this is likely some pro-shot live footage from the Presto tour - possibly their March 8th, 1990 show at the Palace in Auburn Hills, for which there are several pro-shot/pro-edited bootlegs floating around.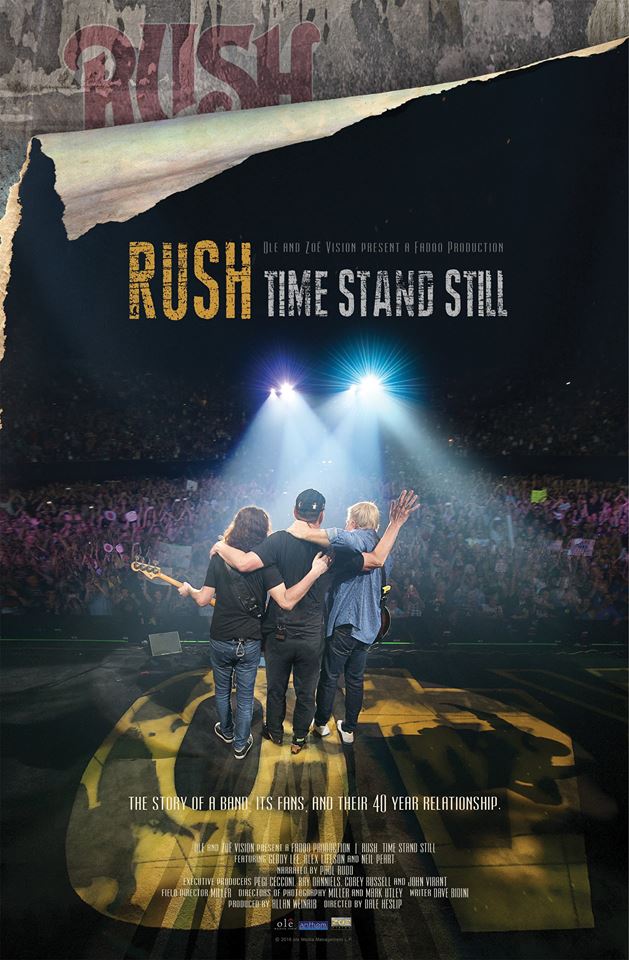 The long-anticipated Rush R40 Live tour documentary is titled Rush: Time Stand Still and will premiere in a special, one-night screening in theaters across North America on November 3rd. The DVD/Blu-ray of the film will release on November 18th and is now available for pre-order (DVD, Blu-ray). Here is the product description along with a tracklisting, including bonus content:
'Rush built their following the right way. No hype, no b@llsh!t, they did it from the ground up. Their legacy is incredible and their influence undeniable.' - Dave Grohl

This feature-length documentary film chronicles the final major tour for legendary rock band Rush. It is an intimate view 'under the hood' of a historic moment from the perspective of the band, their fans, crew, and management. Featuring interviews with the band throughout their sold-out 2015 40th Anniversary tour, the film also shows rarely seen backstage footage capturing the final moments of life on the road. Highlighted as well is the impact on the band's fans and the world that has been built around the beloved Canadian trio. This is the final touring chapter of a band that has meant so much to so many fans around the world. With narration by Paul Rudd. Running time: 1 hour 37 minutes of documentary footage with an additional 67 minutes of never-before-released bonus content.

'It's true that Rush doesn't mean today what it did in '76 or even '96. It may mean more.' - Rolling Stone

Track Listing:
When I Was a Kid
It's a Really Hard Life
A Huge Accomplishment
Building R40
Fan-Tastic
Hello Toronto
'Ride On' Neil
Your Weakest Point
Marathon Not a Sprint
At Road's End

BONUS CONTENT: (NEVER BEFORE RELEASED)

'Live from the Rabbit Hole'
-Subdivisions
-Superconductor
-Show Don't Tell
-The Pass
-Closer to the Heart
-Manhattan Project
-Scars
-War Paint
-Tom Sawyer
-2112: Overture / La Villa Strangiato / In The Mood

The Professor's Warmup
Thanks to Robert H for the heads up. You can pre-order your copy of Rush: Time Stand Still on DVD or Blu-ray, and here are all the details on the November 3rd screening and how to get your tickets:
US THEATRE EVENT TICKETS: In partnership with Concord Music Group and ole, Fathom Events are set to bring an epic one-night premiere event Rush | Time Stand Still to over 430 theaters nationwide on Thursday, November 3, 2016 at 7:30 p.m. local time. Tickets for "Rush | Time Stand Still" can be purchased beginning Friday, October 7, online by visiting www.FathomEvents.com or at participating theater box offices. Fans throughout the U.S. will be able to enjoy the event in more than 430 select movie theaters through Fathom's Digital Broadcast Network. For a complete list of theater locations visit the Fathom Events website (theaters and participants are subject to change).

CANADA THEATRE EVENT TICKETS: In partnership with Anthem, ole and Univerasl Music Canada, the documentary will run at select Cineplex theatres starting November 3rd for the entire week. The general on-sale will begin this Friday, October 7 with more details to follow.
You can watch a 30-second trailer for the film below or on YouTube. Rush also released this short clip from the film where Geddy, Alex and Howard Ungerleider reminisce about touring with KISS back in the '70s and tell the story of The Bag. The screening will include first viewing of exclusive extras including a 20-minute mini-documentary titled Rush: A Salute to Kings where Gene Simmons (KISS), Chad Smith (Red Hot Chili Peppers), Taylor Hawkins (Foo Fighters), Ann & Nancy Wilson (Heart), Scott Gorham (Thin Lizzy), and the band's producer Nick Raskulinecz share their unique stories about Rush over the last 40 years. You can watch a trailer for the mini-doc at this location.
Related Posts:
[Rush: Time Stand Still R40 tour documentary screening details and DVD/Blu-ray release]
[Rush: Time Stand Still R40 tour documentary screening coming November 3rd]