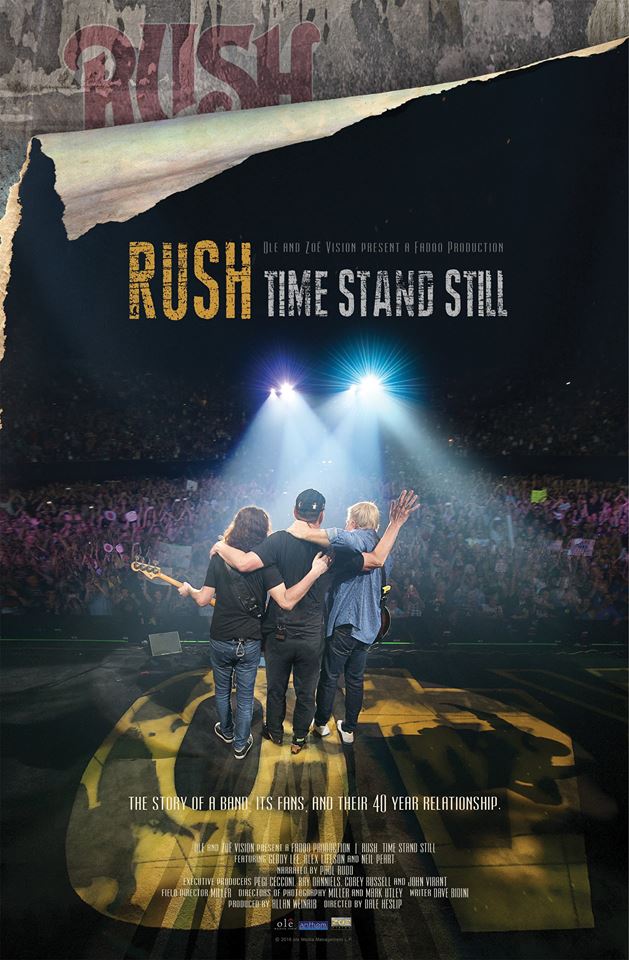 The new Rush R40 Live tour documentary Rush: Time Stand Still premiered last night in theaters across North America. The screening was prefaced by a short animated film produced by FANTOONS called The Early Days of Neil Peart which you can preview here. They then showed a 20-minute mini-documentary titled Rush: A Salute to Kings where Gene Simmons (KISS), Chad Smith (Red Hot Chili Peppers), Taylor Hawkins (Foo Fighters), Ann & Nancy Wilson (Heart), Scott Gorham (Thin Lizzy), and the band's producer Nick Raskulinecz shared their unique stories about Rush over the last 40 years. You can watch a 2-minute clip from this mini-doc where Chad Smith talks about how Rush's 2112 changed his life on YouTube at this location, and watch the trailer here. The film itself ran for just over an hour-and-a-half and was primarily a documentary about the band's R40 Live tour, with particular focus on it likely being the band's final tour, along with a good deal of attention paid to Rush's rabid and loyal fan base. RushCon is featured prominently in the film, which included a number of clips from last year's conventions in Toronto and Los Angeles. The film also profiled Jillian Maryonovich - one of the fabulous group of women who run and organize RushCon as seen in this 3-minute clip, and featured in this CBC news story. This year's RushCon kicked off last night with the official Canadian premiere of the documentary in Toronto at the Cineplex in Dundas Square, Toronto. The premiere party included an after-show Q&A with the filmmakers, and several photos from the event can be seen on the RushCon Facebook page. Several trailers and clips from the film are available online including this 45-second trailer featuring several Rush fans; the official theatrical trailer; this clip where Geddy, Alex and Howard Ungerleider reminisce about touring with KISS back in the '70s and tell the story of The Bag; and this clip where Geddy, Alex and the road crew discuss their Dodge Funcraft that the band traveled around in back in the early days. Geddy Lee's brother and one of the film's producers - Allan Weinrib - hit the interview circuit to promote the film this past week. He appeared on Breakfast Television (video here), and also spoke with London's FM96 (audio here). Both Allan and director Dale Heslip also appeared on Q107 yesterday to discuss the film. Some reviews of the film have also been posted this past week including this one from Rolling Stone where they list off ten things that they learned from watching the film. There's also this 4-star review from the Toronto Sun, this short review from Now Toronto, and another 4-star review from the Montreal Gazette. The DVD/Blu-ray of the film will release on November 18th and is now available for pre-order (DVD, Blu-ray). The DVD/Blu-ray will not include any of the pre-film content shown in theaters, but it will include 67 minutes of unreleased footage from the band's March 8th, 1990 show at the Palace in Auburn Hills on the Presto tour. You can pre-order your copy of Rush: Time Stand Still on DVD or Blu-ray.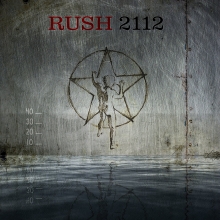 Rush announced yesterday that they'll be releasing a 2112 40th anniversary set this coming December 16th. The standard edition is a 2CD+DVD set which includes a CD of 2112 remastered (again), another CD of some rock celebrity covers of the various songs on the album along with some live Massey Hall outtakes, and a DVD of the Live at Capitol Theatre 1976 show along with some other bonus videos. There's also a 3 LP version with the same content as the CDs along with a few bonus goodies. The Super Deluxe edition contains both the 2CD+DVD and 3 LP sets along with some additional bonus content:
2CD and 3LP highlights:

* Original Album Remastered at Abbey Road Studios - First Time on CD
* 5 Newly Recorded Covers from Dave Grohl, Taylor Hawkins, Nick Raskulinecz, Billy Talent, Steven Wilson, Alice In Chains, Jacob Moon
* Live Archive Outtakes from MASSEY HALL 1976

DVD Features:

* Newly Restored Video & Audio of CAPITOL THEATRE 1976 Concert
* In Studio Performances by BILLY TALENT and
* Dave Grohl, Taylor Hawkins, Nick Raskulinecz
* 25+ Minute New Interview with ALEX LIFESON and TERRY BROWN

Vinyl Extras:

* 2015 Red Star Vinyl Hologram
* Red Star + Circuit Board Vinyl Image Etching on Side Six
* Starman Turntable Mat

Super Deluxe Extras (includes 2CD/DVD and 3LP sets)

* Hugh Syme's Original Starman Pencil Sketch Litho
* Massey Hall June 1976 Ticket Stub Litho
* Massey Hall June 1976 Handbill
* Three Collector Buttons
* First 1,000 fans will get an exclusive THE TWILIGHT ZONE (b/w "Lessons") 7-inch + Custom Red Star 45 Adapter

Here are some photos of the packages (2CD+DVD, 3LP, Super Deluxe) and cover artwork. You can pre-order the 40th anniversary 2112 edition on Amazon (2CD+DVD, 3 LP, Super Deluxe).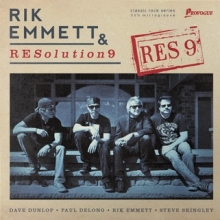 Alex Lifeson makes a guest appearance on Triumph guitarist Rik Emmett's upcoming new solo project RESolution9 (Rik Emmett Resolution 9). The band's new album is titled RES9 and will release in multiple formats next Friday, November 11th via Mascot Label Group. Lifeson plays the 12-string guitar on the track Human Race and also appears alongside Dream Theater's James LaBrie on End of the Line, which you can now listen to in the official lyric video which was released earlier this week. You can also check out the official lyric video for Human Race on YouTube at this location, and listen to samples of all of the album's eleven tracks here. The members of RESolution9 are from Rik's touring quartet and include Dave Dunlop on guitar, Steve Skingley on bass, and Paul DeLong on drums, with Dave and Steve co-producing the project. In addition to guest spots from Lifeson and LaBrie, Emmett's former Triumph bandmates bassist Mike Levine and drummer Gil Moore also appear on the album. Here's what Lifeson had to say about the project:
... [Lifeson] found it quite an honor to play with and for his lifelong friend. "When Rik asked me to play on his new album, I didn't hesitate for a second," Lifeson reports. "He's the consummate musician, a wonderful guitarist, and a terrific person, and it's always my pleasure to work with him any chance I can get. There is a rock purity in his songwriting and performance, and it's just so much fun to get together and throw ideas around. He's always so up and open for anything - even a notoriously uncooperative Rickenbacker 12-string!" Dunlop points out the way RESOLUTION9 meshed with Lifeson "stands as a great example of the collective efforts of the brotherhood." ...
A video trailer for the new album is also available and features several clips of Alex Lifeson in studio with Emmett. You can watch the video trailer on YouTube here, and pre-order RES9 via Amazon.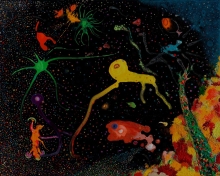 The Kidney Foundation of Canada's annual A Brush of Hope charity auction fundraiser kicked off earlier this week and Alex Lifeson is once again one of the many Canadian celebrities participating by donating their original paintings. Alex's painting for this year is titled Aquarium, and is now listed on the auction's ebay.ca site here, with the current bid at $7100 as of this post. Alex has participated in the auction nearly every year since 2006, including last year with his painting Blind Date Picnic which ended up selling for nearly $4800! The Brush of Hope online charity will run through this coming Tuesday, November 8th at Noon. You can check out and place your bid on Alex's painting along with all the others at this location. For all the latest news and information be sure to follow A Brush of Hope on Facebook.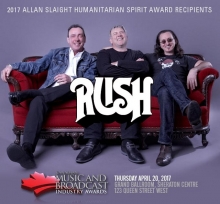 Canadian Music Week announced earlier this week that Rush will be the 2017 recipient of the Allan Slaight Humanitarian Spirit Award. The band will be honored for their achievements and longstanding career in the music industry, social activism and support of humanitarian causes at the annual Canadian Music & Broadcast Industry Awards Gala Dinner at the Sheraton Centre on Thursday, April 20th, 2017. Here's what the band had to say about the award:
"We are so incredibly honoured to receive the Allan Slaight Humanitarian Spirit Award. The depth of Allan and Gary Slaight's generosity, consideration and benevolence has no measure. We will strive to carry forward their spirit of charity and goodwill."
- RUSH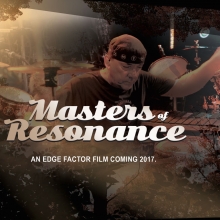 Edge Factor is a media company that produces inspiring and educational documentaries that tell the stories of innovative teams who design and build cutting-edge products. Yesterday they posted a press release and video trailer announcing the upcoming 2017 release of their new documentary Masters of Resonance which features Neil Peart and the R40 drum kit. From the press release:
... something happened last year that sparked a story we never expected: we became part of the DW Drums family. Masters of Resonance is a music film that takes the audience on a journey from the forest to the stadium and tells the story of how a fallen tree rises and lives again, in the music it creates.

I will never forget sitting with Neil Peart and hearing him record voice over for this film, "The entire history of a tree, year by year, can be read in the circular grooves that mark its annual cycle - its growth rings... Like those growth rings, popular music also reflects the 'weather' of its times: evokes and embodies the moods and movements that gave it context." These thoughts have echoed in my mind and marked my awakening: Our lives have all been marked by the Masters of Resonance. ...
Legendary Canadian singer David Clayton-Thomas of Blood, Sweat and Tears released his new album Canadiana last month. One of the tracks on the album is a Calypso version of Rush's Closer to the Heart which Clayton-Thomas discusses at length in this 4-part YouTube interview. You can learn more about the album at DavidClaytonThomas.com and check out the album's electronic press kit here (thanks RushFanForever).
Megadeth guitarist David Ellefson recently sat down with TeamRock.com to list off the 10 records that changed his life, one of which was Rush's All the World's a Stage (thanks RushFanForever):
Live albums were all the rave when I was a teenager. In fact, they were often the album that brought forth huge commercial appeal because the formula was for an artist to do three studio albums, and then put out a live album. So, they often contained some of the best "cult classic" material just before their big commercial mainstream success was heard on the radio. This album made me feel like I was in the front row. It just felt live, like there was a stage in my living room. Musically, Neil Peart was the most progressive drummer I had ever heard in my life. I couldn't even fathom that Geddy Lee could sing and play bass like that and Alex Lifeson was a flat out rock god. Like so many live albums, the triple gate-fold cover kept me deep in trance looking at the photos (especially the stage covered with carpet!) and reading the credits while all four sides blasted through my speakers. A stand out track for sure is By-Tor and The Snow Dog.
105.9 The Brew posted a video last week showing an obviously intoxicated man sitting outside of his crashed car and rocking out to Rush's Limelight while waiting for the police to arrive. You just can't make this stuff up! And speaking of Limelight, TeamRock.com's Jerry Ewing posted his list of the Top 10 Best Rush Songs Of The 80s this past week and coming out on top was - you guessed it - Limelight. You can check out the full list at this link.
Dream Theater guitarist John Petrucci was featured in Cosmo Music's Rockstars in Cars web series last week, and talks about his favourite chord - the Alex Lifeson Chord, and more. You can watch the interview on YouTube here (thanks RushFanForever).
TeamRock.com posted their list of 10 of the best rock bands from Canada, and - not surprisingly - Rush made the cut:
The Toronto band who could be said to have created progressive metal as we know it, Rush have never stood still. From their sword & sorcery roots through to a more electronic approach, the band have constantly evolved, successfully taking up the challenge of remaining on the cutting edge of rock. True visionaries.
Russell Hall posted an article at BestClassicBands.com this past week titled Great Classic Rock Trios: 10 Powerful Threesomes:
Rush - No other band has merged hard rock and prog as effectively as Rush has. Especially on their breakthrough 1976 album, 2112, the Canadian trio fused Geddy Lee's banshee wail, Neil Peart's propulsive drum work and Alex Lifeson's guitar versatility into a distinctive style that's served them well for decades. The band's progressive talents are on full display on 2112's epic title track, while shorter pieces such as "Tom Sawyer" and "Limelight" (both from the 1981 LP Moving Pictures) have become staples of classic rock radio. Critical assessments of Rush's catalog have been on an upward trajectory in recent years.
TeamRock.com recently interviewed the Trailer Park Boys to ask them about their favorite music. Rush is - of course - one of the bands mentioned:
Bubbles: "Rush - 2112, Rush - Moving Pictures, A Farewell To Kings has to be on there also. I'd probably have to pick Moving Pictures just because it's got so many good riffs on it. If the Green Bastard needed wrestling entrance music I'd probably use YYZ; that's a good f**kin' knockout song."
Ricky: "Alex (Lifeson, Rush guitarist) did get over being kidnapped by us. He's actually a pretty cool guy. We've hung out a little bit since."
Here's the trailer for the Rush: Time Stand Still documentary.
That's all for this week. Have a great weekend everybody!!