UPDATE - 12/10@8:51PM: Note: Alex's painting ended up selling for $4733.
UPDATE - 11/4@5:47PM: The Rush Facebook page posted the following message from Alex Lifeson yesterday regarding the painting:
Greetings, all!

I wanted to reach out to all of you to ask for your support of the Kidney Foundation's Brush Of Hope auction to raise funds or kidney research.

This year's installment is titled, "Blind Date Picnic" and you can find it at the eBay link below. It's a rather strange painting that has been described in some early circles as: "weird, horrid, ugly, familiar, hilarious, terrifying and ridiculous", all the same thoughts I had when I painted it. When my wife saw it just as I completed it, her helpful comment was, "Oh my God!"...then she started crying.

Now, who can resist such an exciting conversation piece? Imagine your friends dropping by to view your latest art acquisition and leaving immediately in tears and a queasy stomach.

If that one doesn't spark emotion, you can also get signed prints of previous paintings "Self Portrait #1" and "Greek Salad". Each print is numbered and signed personally by me.

I've supported this special programme for many years and my paintings have done well, thanks to the kind generosity of friends and good citizens so please consider helping out with this latest installment or a signed print.

Every penny counts and your support is truly appreciated.

Thank you!

Alex
----- snip -----
UPDATE - 11/3@5:12PM: Here's the eBay listing.
UPDATE - 10/30@4:25PM: Here's a CBC News video clip about the event which features Alex Lifeson's painting (thanks RushFanForever).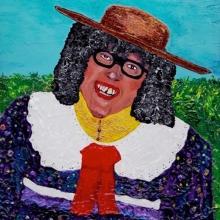 Alex Lifeson will once again be participating in The Kidney Foundation of Canada's annual A Brush of Hope charity auction this year. As they have for several years running, Alex Lifeson along with dozens of other Canadian celebrities have donated paintings to be auctioned off to raise money for the charity. Alex has participated in the fundraiser nearly every year since 2006, including last year with his photorealistic rendering of himself enjoying some wine with Geddy Lee which ended up selling for a whopping $10,100! Alex's painting for this year is titled Blind Date Picnic and you can check it out here. The 2015 "Charmed" A Brush of Hope Launch Party and silent auction takes place this evening at the Quartermain House B&B in Fredericton, NB. The live eBay auction then kicks off Saturday at 12PM and runs through Monday, November 9th. For all the latest news and information be sure to follow A Brush of Hope on Facebook. Thanks to J.R. for the heads up.