UPDATE - 10/28@1:11PM: Here's one late-breaking update regarding FANTOONS (mentioned below) and the new Rush documentary. One of the additional extras that will be shown in the theaters for the documentary screening is a short animated film produced by FANTOONS called The Early Days of Neil Peart. FANTOONS has just posted a short preview to YouTube here.
----- snip -----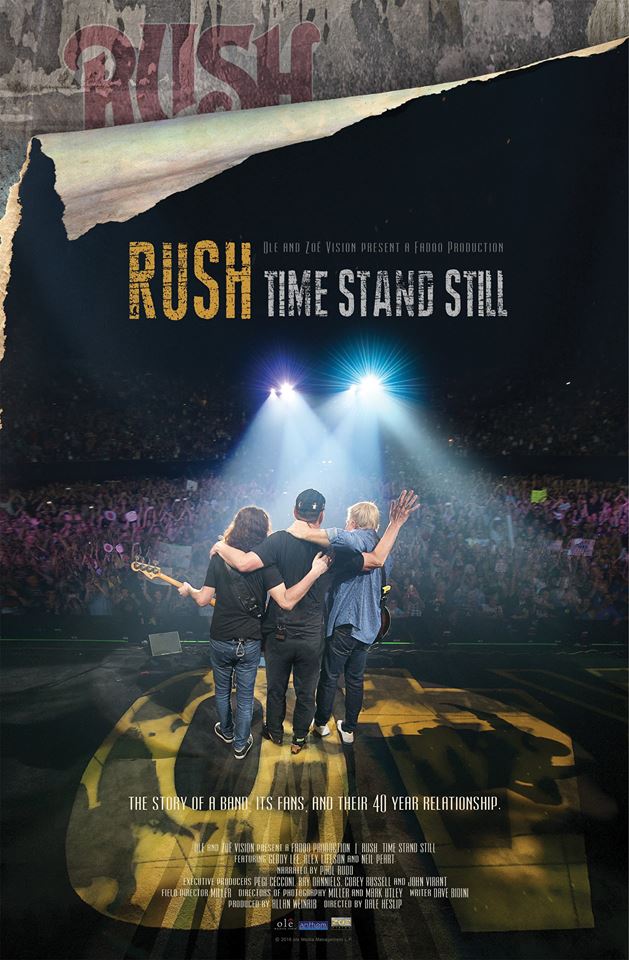 The long-awaited Rush R40 Live tour documentary is titled Rush: Time Stand Still and will premiere in a special, one-night screening in theaters across North America this coming Thursday, November 3rd. US fans can get their tickets via Fathom Events or at participating theater box offices, and Canadian fans can get their tickets via Cineplex theatres or Landmark Cinemas. RushIsABand.com also teamed up with Rounder Records to offer up a Time Stand Still ticket sweepstakes to win 2 tickets to see the documentary. The contest ended yesterday at midnight and the winner has been chosen and notified via email. So if you entered the contest, be sure to check your email to see if you won! The screening will include first viewing of exclusive extras including a 20-minute mini-documentary titled Rush: A Salute to Kings where Gene Simmons (KISS), Chad Smith (Red Hot Chili Peppers), Taylor Hawkins (Foo Fighters), Ann & Nancy Wilson (Heart), Scott Gorham (Thin Lizzy), and the band's producer Nick Raskulinecz share their unique stories about Rush over the last 40 years. Yesterday Rush released a new, 2-minute clip from Rush: A Salute to Kings where Chad Smith talks about how Rush's 2112 changed his life. You can watch the clip below or on YouTube at this location, and watch a trailer for the mini-doc here. The DVD/Blu-ray of the film will release on November 18th and is now available for pre-order (DVD, Blu-ray). Here is the product description along with a tracklisting, including bonus content:
'Rush built their following the right way. No hype, no b@llsh!t, they did it from the ground up. Their legacy is incredible and their influence undeniable.' - Dave Grohl

This feature-length documentary film chronicles the final major tour for legendary rock band Rush. It is an intimate view 'under the hood' of a historic moment from the perspective of the band, their fans, crew, and management. Featuring interviews with the band throughout their sold-out 2015 40th Anniversary tour, the film also shows rarely seen backstage footage capturing the final moments of life on the road. Highlighted as well is the impact on the band's fans and the world that has been built around the beloved Canadian trio. This is the final touring chapter of a band that has meant so much to so many fans around the world. With narration by Paul Rudd. Running time: 1 hour 37 minutes of documentary footage with an additional 67 minutes of never-before-released bonus content.

'It's true that Rush doesn't mean today what it did in '76 or even '96. It may mean more.' - Rolling Stone

Track Listing:
When I Was a Kid
It's a Really Hard Life
A Huge Accomplishment
Building R40
Fan-Tastic
Hello Toronto
'Ride On' Neil
Your Weakest Point
Marathon Not a Sprint
At Road's End

BONUS CONTENT: (NEVER BEFORE RELEASED)

'Live from the Rabbit Hole'
-Subdivisions
-Superconductor
-Show Don't Tell
-The Pass
-Closer to the Heart
-Manhattan Project
-Scars
-War Paint
-Tom Sawyer
-2112: Overture / La Villa Strangiato / In The Mood

The Professor's Warmup
Judging by the title of the bonus content (Live from the Rabbit Hole) and the setlist, this is likely some pro-shot live footage from the Presto tour - possibly their March 8th, 1990 show at the Palace in Auburn Hills, for which there are several pro-shot/pro-edited bootlegs floating around. You can watch the long version of the film's trailer on YouTube at this location (the original 30-second trailer can be seen here). Rush also released a couple of clips from the film including this one where Geddy, Alex and Howard Ungerleider reminisce about touring with KISS back in the '70s and tell the story of The Bag. There's also this 3-minute clip where we meet "Rush-Fan-In-Chief" Jillian Maryonovich - one of the fabulous group of women behind the long-running RushCon Rush fan convention. Reviews of the film are slowly starting to trickle in, including this 3.5/4-star review from the Toronto Star and this one from Straight.com. You can pre-order your copy of Rush: Time Stand Still on DVD or Blu-ray.
The winners of the 2nd annual Slaight Family Polaris Heritage Prize were announced earlier this week and Rush's Moving Pictures was one of the eight Canadian albums to make the final cut. Ten albums were selected from each of the time periods between 1960-1975, 1976-1985, 1986-1995, and 1996-2005. Two of these albums were then selected as the prize winners from each of the four time periods; one by a public fan vote, and the other selected by a jury of music critics, journalists, broadcasters and programmers. Moving Pictures won the fan vote for the 1976-1985 time period. The album had also been nominated last year but lost to The Trinity Session by the Cowboy Junkies. For a complete list of the 2016 winners visit the Polaris Heritage Prize website here.
Back in May of 2014, rights management company Ole announced that they had purchased Core Music, the 40-year home of Rush's music publishing, and that they would be managing the music publishing affairs of the band for the foreseeable future. Last November they took things one step further and also acquired Rush's record label and home for over 40 years - Anthem Entertainment Group. Yesterday Ole hosted a private event titled Mission:Possible to celebrate the company's recent head office move to the top of 120 Bremner Tower, an ultra-modern 26,000 sq. ft. space in Toronto's vibrant tech and media district. The event also celebrated twelve consecutive years of growth and success in the music publishing and rights management industry. Several Ole artists were on hand at the event including members of Big Wreck, Lawrence Gowan and Alex Lifeson, as seen in this photo from Lawrence Gowan's Facebook page, and this photo from Ian Thornley's Instagram feed. You can read more about the event via the press release here.
Last month Slaight Music along with the JUNO Awards announced the winners of the Allan Slaight JUNO Master Class - Neon Dreams, The Lytics, and Youngblood. The award was created to promote new and emerging Canadian artists and support music education. This past week the winners were invited to Toronto for an intensive mentorship program hosted by Canada's Music Incubator at Coalition Music. Several Canadian artists were involved in the mentorship week, including Rush's Alex Lifeson, who took some time out to offer encouragement to the artists and pose for a photo as seen in this FYI Music News story. The winners also receive several other prizes, including a trip to the 2017 JUNO Awards in Ottawa, and a performance slot at JUNOfest along with a chance to perform at the JUNO Gala Dinner & Awards.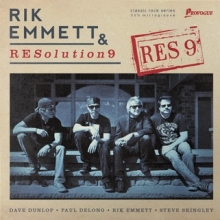 Alex Lifeson makes a guest appearance on Triumph guitarist Rik Emmett's upcoming new solo project RESolution9 (Rik Emmett Resolution 9). The band's new album is titled RES9 and will release in multiple formats in 2 weeks on November 11th via Mascot Label Group. Lifeson plays the 12-string guitar on the track Human Race and also appears alongside Dream Theater's James LaBrie on End of the Line. You can check out the official lyric video for Human Race on YouTube at this location, and listen to samples of all of the album's eleven tracks here. The members of RESolution9 are from Rik's touring quartet and include Dave Dunlop on guitar, Steve Skingley on bass, and Paul DeLong on drums, with Dave and Steve co-producing the project. In addition to guest spots from Lifeson and LaBrie, Emmett's former Triumph bandmates bassist Mike Levine and drummer Gil Moore also appear on the album. Here's what Lifeson had to say about the project:
... [Lifeson] found it quite an honor to play with and for his lifelong friend. "When Rik asked me to play on his new album, I didn't hesitate for a second," Lifeson reports. "He's the consummate musician, a wonderful guitarist, and a terrific person, and it's always my pleasure to work with him any chance I can get. There is a rock purity in his songwriting and performance, and it's just so much fun to get together and throw ideas around. He's always so up and open for anything - even a notoriously uncooperative Rickenbacker 12-string!" Dunlop points out the way RESOLUTION9 meshed with Lifeson "stands as a great example of the collective efforts of the brotherhood." ...
A video trailer for the new album is also available and features several clips of Alex Lifeson in studio with Emmett. You can watch the video trailer on YouTube here, and pre-order RES9 via Amazon.

Record Store Day's annual Black Friday event will take place next month on Friday, November 25th. One of the exclusive featured items is a 7-inch, red vinyl single celebrating the 35th anniversary of Bob and Doug McKenzie's 12 Days of Christmas with their classic song Take Off featuring Geddy Lee on the b-side of the record. Only three thousand of the records will be made available. For a list of participating stores and to learn more about Record Store Day check out their website at RecordStoreDay.com.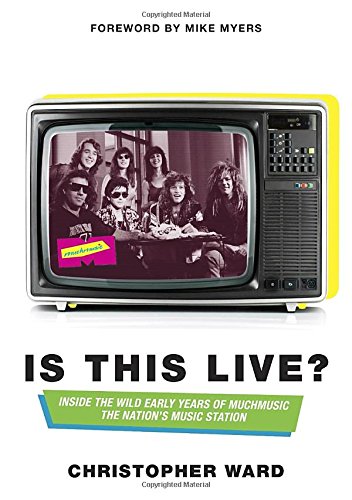 A new book from former Much Music VJ Christopher Ward was released this past week titled Is This Live?: Inside the Wild Early Years of MuchMusic: The Nation's Music Station. In the book, Ward reflects on the launch of Canada's first music station back in 1984, and reminisces with several of the artists that helped make it happen, including Rush's Geddy Lee. Rush's music video for The Enemy Within was the first video ever played on the station back on August 31, 1984. Here's Geddy talking about music videos in the context of Rush from page 314-15 of the book:
Videos are a very difficult subject for us. It's obviously not a very pleasurable experience to do videos. Surprisingly, we've kept an open mind and we've worked with a lot of different directors ... we keep hoping for that masterpiece. The making of the video for "Time Stand Still" was such a long, involved process - those things are hard to justify, looking at it from a musician's point of view. Neil [Peart], especially. He just wants to play; he doesn't want to be an actor; he doesn't want to be a model. He wants the guy to film us playing; that's a severe limitation to put on a video director. They're going, "I have all these ideas for you guys to be running here and doing this." ... [The] Subdivisions [video] is not so bad, but the other night I was sitting in front of the tube watching Much and [the] "Vital Signs" [video] came on and it was like, "Oh my God," it was like looking at a picture of yourself from high school. It's very difficult to take some of those early videos.
You can learn more about Is This Live? by visiting the website at this location, and read an interview where Ward talks about the book here. You can also order a copy of Is This Live? here.

FANTOONS - creators of the Rush Toons book - have been selling official Rush merchandise based on all of their amazing Rush-themed comic art since this past summer. They've recently made a new Geddy Leesa 17"x22" print available which depicts Geddy Lee in the style of Leonardo Da Vinci's Mona Lisa. You can purchase the print at their Etsy store and also check out all of their other prints along with some neat election-themed t-shirts and buttons. For those of you who don't know, FANTOONS is an ongoing comic strip based on Rush and some other great bands that was created by David Calcano back in 2012. If you follow rushisaband on Facebook and/or Twitter, you've likely run across some of the amazing Rush-themed comic art from FANTOONS that I've shared over the last few years. You can check out some samples of their work on Facebook and at fantoons.tv. Last year they released a 170-page Rush Toons book filled with comics and artwork featuring our favorite band Rush. I had the honor of writing the book's foreword and highly recommend it; it's a definite must have for any Rush fan.
Tech 21 revealed their new Geddy Lee Signature SansAmp this past weekend at Bass Player Live in Los Angeles, as seen in this Facebook photo (thanks David L).
TeamRock.com posted their list of the Top 10 Greatest Prog Album Covers Ever this past week and Rush's Hemispheres made the cut at #6 (thanks RushFanForever):
Masterminded by long-term Rush collaborator Hugh Syme, we see opposing figures going head to head, mirroring the music's archetypal power-play. Polar opposites, the Magritte-inspired figure of logic and analysis confronts a Dionysian variation upon Rush's Starman, here standing up for unfettered creativity - two characteristic qualities often associated with the band.

Neil Peart's 1974 Chrome Slingerland drum kit (aka "Chromey") will be on display at this year's PASIC in Indianapolis from November 10-12. Fans will have the opportunity to sit at the kit, have their photo taken with it, and even play it! They are also running a raffle contest to win a Neil Peart Time Machine drum head signed by all 3 members of Rush. For all the details and to purchase tickets, visit this location. All proceeds will benefit the Percussive Arts Society and cancer survivorship through DRUMSTRONG.org. For more details on PASIC16 visit pasic.org.
Scott Hough wrote a piece for the Inquisitr this past week titled Close Encounters, Xanadu Similarities: Geddy Lee, Alex Lifeson, John Williams, Who, If Anyone, Influenced Who?. In the article Hough describes some apparent similarities between Rush's Xanadu and the Close Encounters theme, and then speculates as to whether one was influenced by the other, or if they both drew influence from a piece titled Time Passage on Bernard Herrmann's 1944 Jane Eyre soundtrack.
Here are the 2 latest clips from the upcoming Rush: Time Stand Still documentary:
October was another big month for Rush releases, 2 of which celebrated anniversaries last week. Rush's 15th studio album Counterparts celebrated its 23rd anniversary on October 19th, and the band's 5th live album and 1st live concert DVD Rush in Rio celebrated its 13th anniversary last Friday. Tomorrow on October 29th Power Windows, Exit ... Stage Left and Hemisperes all celebrate anniversaries as well. That's it for this week. Have a wonderful weekend!