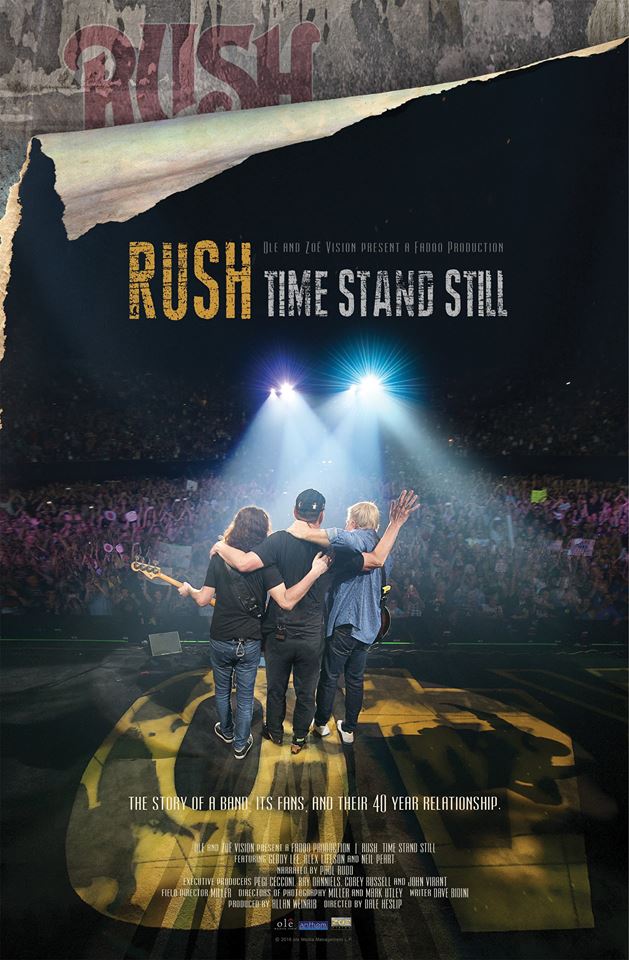 The long-anticipated Rush R40 Live tour documentary is titled Rush: Time Stand Still and will premiere in a special, one-night screening in theaters across North America on November 3rd. US fans can get their tickets via Fathom Events or at participating theater box offices, and Canadian fans can get their tickets via Cineplex theatres or Landmark Cinemas. RushIsABand.com has also teamed up with Rounder Records to offer up a Time Stand Still ticket sweepstakes where fans can win 2 tickets to see the documentary. You can submit your entry to the sweepstakes at this location. The contest will end at midnight EST on October 28th, and the winner will be notified that Friday. Once notified they'll just need the winner to send them their personal info, and preferred theater of choice. The DVD/Blu-ray of the film will release on November 18th and is now available for pre-order (DVD, Blu-ray). Here is the product description along with a tracklisting, including bonus content:
'Rush built their following the right way. No hype, no b@llsh!t, they did it from the ground up. Their legacy is incredible and their influence undeniable.' - Dave Grohl

This feature-length documentary film chronicles the final major tour for legendary rock band Rush. It is an intimate view 'under the hood' of a historic moment from the perspective of the band, their fans, crew, and management. Featuring interviews with the band throughout their sold-out 2015 40th Anniversary tour, the film also shows rarely seen backstage footage capturing the final moments of life on the road. Highlighted as well is the impact on the band's fans and the world that has been built around the beloved Canadian trio. This is the final touring chapter of a band that has meant so much to so many fans around the world. With narration by Paul Rudd. Running time: 1 hour 37 minutes of documentary footage with an additional 67 minutes of never-before-released bonus content.

'It's true that Rush doesn't mean today what it did in '76 or even '96. It may mean more.' - Rolling Stone

Track Listing:
When I Was a Kid
It's a Really Hard Life
A Huge Accomplishment
Building R40
Fan-Tastic
Hello Toronto
'Ride On' Neil
Your Weakest Point
Marathon Not a Sprint
At Road's End

BONUS CONTENT: (NEVER BEFORE RELEASED)

'Live from the Rabbit Hole'
-Subdivisions
-Superconductor
-Show Don't Tell
-The Pass
-Closer to the Heart
-Manhattan Project
-Scars
-War Paint
-Tom Sawyer
-2112: Overture / La Villa Strangiato / In The Mood

The Professor's Warmup
Judging by the title of the bonus content (Live from the Rabbit Hole) and the setlist, this is likely some pro-shot live footage from the Presto tour - possibly their March 8th, 1990 show at the Palace in Auburn Hills, for which there are several pro-shot/pro-edited bootlegs floating around. Earlier this week, Rush released a new, longer, one and a half minute long trailer which you can watch below or on YouTube at this location (the original 30-second trailer can be seen here). Rush has also released this short clip from the film where Geddy, Alex and Howard Ungerleider reminisce about touring with KISS back in the '70s and tell the story of The Bag. The screening will include first viewing of exclusive extras including a 20-minute mini-documentary titled Rush: A Salute to Kings where Gene Simmons (KISS), Chad Smith (Red Hot Chili Peppers), Taylor Hawkins (Foo Fighters), Ann & Nancy Wilson (Heart), Scott Gorham (Thin Lizzy), and the band's producer Nick Raskulinecz share their unique stories about Rush over the last 40 years. You can watch a trailer for the mini-doc at this location, and pre-order your copy of Rush: Time Stand Still on DVD or Blu-ray.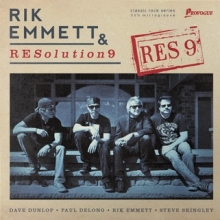 Alex Lifeson makes a guest appearance on Triumph guitarist Rik Emmett's upcoming new solo project RESolution9 (Rik Emmett Resolution 9). The band's new album is titled RES9 and will release in multiple formats on November 11th via Mascot Label Group. Lifeson plays the 12-string guitar on the track Human Race and also appears alongside Dream Theater's James LaBrie on End of the Line. You can check out the official lyric video for Human Race on YouTube at this location. The members of RESolution9 are from Rik's touring quartet and include Dave Dunlop on guitar, Steve Skingley on bass, and Paul DeLong on drums, with Dave and Steve co-producing the project. In addition to guest spots from Lifeson and LaBrie, Emmett's former Triumph bandmates bassist Mike Levine and drummer Gil Moore also appear on the album. Emmett's been hitting the interview circuit this past week to promote the album and spoke with Jeff Woods for his latest podcast which you can listen to at this location. Rik talks about Alex's contribution to the album at around the 14-minute mark (thanks RushFanForever). He also spoke about Lifeson's contribution to Human Race in this Sound and Vision interview from earlier this week:
... When we first played "Human Race" for Alex Lifeson to see if he would like to play on it, I'm pretty sure he goes, "Hey, it's like an old Who song from the '60s or early '70s. This'll be fun to do. How about I play a 12-string Rickenbacker?" For sure, there's Pete Townshend in that song. There's no doubt about it! We were rehearsing the track with the band on the studio floor, and when we were breaking down the bridge, I'd go to Paul [DeLong, the drummer], "No, it's got to be more like Keith Moon! Get really busy and roll around on all the toms!" And he made it happen. ...
Here's what Lifeson had to say about the project:
... [Lifeson] found it quite an honor to play with and for his lifelong friend. "When Rik asked me to play on his new album, I didn't hesitate for a second," Lifeson reports. "He's the consummate musician, a wonderful guitarist, and a terrific person, and it's always my pleasure to work with him any chance I can get. There is a rock purity in his songwriting and performance, and it's just so much fun to get together and throw ideas around. He's always so up and open for anything - even a notoriously uncooperative Rickenbacker 12-string!" Dunlop points out the way RESOLUTION9 meshed with Lifeson "stands as a great example of the collective efforts of the brotherhood." ...
A video trailer for the new album is also available and features several clips of Alex Lifeson in studio with Emmett. You can watch the video trailer on YouTube here, and pre-order RES9 via Amazon or the Mascot Label Group website.
Alex Lifeson will once again be participating in The Kidney Foundation of Canada's annual A Brush of Hope charity auction this year according to this Facebook post from last week. As they have for several years running, Alex Lifeson along with dozens of other Canadian celebrities have donated paintings to be auctioned off to raise money for the charity. Alex has participated in the fundraiser nearly every year since 2006, including last year with his painting Blind Date Picnic which ended up selling for nearly $4800! Alex's painting for this year is titled Aquarium (no preview available yet). The Brush of Hope online charity auction kicks off on October 29th at Noon and will run through November 8th at Noon on www.ebay.ca. For all the latest news and information be sure to follow A Brush of Hope on Facebook.

Speaking of Alex, the Twelfth Fret Guitar Shop in Toronto is auctioning off one of Alex Lifeson's old Hughes & Kettner Combo Amplifiers. The Amp is signed by Alex and includes two spare motherboards with some of Alex's settings. To learn more about the amp and to place your bid, check it out on eBay here
.
Gretsch Guitars posted a photo to their Facebook page of a custom "Geddy-Up" bass guitar they recently made for Geddy Lee. You can check out the photo here (thanks Erik B).
Roxy Myzal of HardDrive Radio recently conducted an interview with Godsmack frontman Sully Erna to discuss his new solo album. When asked about some of the highlights of his twenty years as a touring musician he had this to say (thanks Eric at Power Windows):
"Well, certainly for my musician side of me, I think it's meeting some of the people that were my childhood heroes. Being able to meet Neil Peart [RUSH] a couple of times, that was, for me... I didn't need to meet anyone else after that. As much as I love the Steven Tylers and the Joe Perrys and the James Hetfields, Neil Peart... that guy changed my life as a musician. I quit school because of RUSH... Other than that, it was, like, really, that's all I did - I studied RUSH. I sat home and strapped on headphones and played 'Moving Pictures' and 'Exit... Stage Left' and 'Signals' and all these great albums. So I think meeting some of those guys - Neil Peart, Ozzy [Osbourne], James Hetfield, Steven Tyler, Joe Perry - all those childhood heroes of mine - that was certainly great memories in the twenty years that I've been on the road. ...
TeamRock.com posted a 10-question quiz this past week where they test their readers' knowledge of Rush's 2112. You can try out the quiz yourself at this location.
Earlier this week the Rock and Roll Hall of Fame announced the nominees for their 2017 induction class, and newly-eligible grunge pioneers Pearl Jam were one of the 19 acts chosen. The band has had five drummers throughout their career, but only two of them will be considered for induction; original drummer Dave Krusen (who played on their debut, Ten) and current drummer Matt Cameron, who has been in the band since 1998. One of the snubbed drummers was Dave Abbruzzese, who played on their classic second and third albums (1993's Vs. and 1994's Vitalogy), and yesterday addressed the snub on his Facebook page. Rush fans might remember some controversy stirred up back in 2013 when the Rock Hall decided not to induct Rush's original drummer, the late John Rutsey. This latest snub of Abbruzzese inspired Radio.com to come up with a list of 12 drummers who should be in the Rock Hall, one of which is the aforementioned Rutsey (thanks RushFanForever):
Only hardcore Rush fans realize that Neil Peart wasn't always the band's drummer. Rutsey was the original, and played on the band's classic self-titled album from 1973 , which included some great Zep-influenced garage rock jams like "In the Mood" and "Working Man." Sadly, when they were inducted in 2013, they didn't even mention his name in their speech.
As 2013 inductees into the Rock and Roll Hall of Fame, the members of Rush are permitted to cast their vote for this year's class of inductees, as they have the past 2 years. Prog-rock pioneers Yes have been nominees twice before but failed to make the cut, and are once again nominees this year. No doubt Geddy, Alex and Neil will be casting one of their 5 votes for them, and hopefully the third time is a charm for them. To participate in the fan voting for this year's class of inductees and cast your vote for Yes (or whoever else you think is worthy of induction), visit the Rock Hall website here.
Here's the long version of the trailer for the Rush: Time Stand Still R40 tour documentary:
That's all for this week. Have a great weekend everybody!