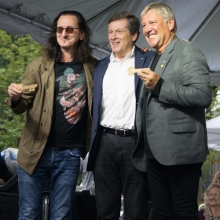 This past Saturday afternoon Toronto Mayor John Tory presented the key to the city to all three members of Rush in a special ceremony at the newly-opened Lee Lifeson Art Park in the Toronto neighborhood of Willowdale, where Geddy and Alex grew up. Hundreds of fans braved the rain to attend the presentation. Although Neil Peart was not in attendance, both Geddy and Alex along with their respective mothers, and Rush manager Ray Danniels were there. Canadian TV/Radio personality George Stroumboulopoulos presided over the ceremony which kicked off with Jacob Moon performing his rendition of Rush's Subdivisions as seen in this video. Strombo then sat down with Geddy and Alex for a 10-minute interview which you can watch below or at this location. Councillor John Filion, who initiated the naming of the park after Lee and Lifeson, then said a few words before Mayor Tory made the presentation of the keys as seen in this CTV news story. Here's a summary of the event from InsideToronto.com:
... Hundreds gathered in the park to see their rock icons be so honoured, braving a chilly rain to cheer on their heroes. "We grew up right around here, we hung out right around here, we skipped school right around here," Lee said at the event. "We played Earl Haig probably five times...in the early days," Lifeson added. "It was known as The Factory." Lee said he was "thrilled and amazed" to be recognized with a park named after he and his bandmate of nearly 50 years. More importantly, he said, the park will provide a huge benefit to Willowdale residents and others from across the city. "We're really happy for the community that there's some investment in art and leisure for this neighbourhood," he said. The 7,000 square metre Lee Lifeson Art Park features music-themed installations, a small amphitheatre stage to give up-and-coming Toronto artists a place to play and a large pavilion bearing the likenesses of Lee and Lifeson. "Art is a thing that you pour your heart into, that whatever you're doing, whatever aspect of life, whatever situation you find yourself in, art elevates, art heals," Lee said. "It's what's given us everything in our lives, so to be associated with that kind of thought and that concept is amazing to me...fantastic." ... both Lee and Lifeson say they enjoy playing and neither ruled out further collaborations. Whether they take up their instruments again for another tour or album, their rock legacy was further cemented with the park naming. "This park will still be here weeks after we're gone," Lifeson joked.
Strombo also asked Geddy and Alex about Rush's retirement from touring and what their future plans are. Here's what Lifeson had to say:
... It's been an adjustment, this past year. We've been following up on some other interests that we both have, and we've been learning to get used to the idea. It's taken a while. But I feel very confident about a lot of things, and music is definitely one of them. I'm sure we'll do something in the future. We can't just stop playing and writing music together. ...
Although several online music sites jumped on this quote as some grand declaration that Rush would be working together again, complete with clickbait headlines like Rush just can't stop says Lifeson, Looks Like The End Is Not Nigh For Rush and Rush's Alex Lifeson: 'We Just Can't Stop Writing and Playing Music Together'. However, taken in context it's not really clear whether Alex was talking about working with just Geddy or with the entire band. This also is no different than what both he and Lee have been saying since the R40 Tour ended last year, and doesn't change the fact that Neil Peart seems to be firmly in retirement mode, something that is abundantly clear to anyone who has read his recently-released new book Far and Wide. That said, it's a good sign and means we may at least see Lee and Lifeson collaborate in some fashion in the near future - maybe not as "Rush" (Dirxst?), but that may be the best Rush fans can hope for at this point. Several great photo galleries from the key presentation ceremony are available online from The Canadian Music Scene, The Toronto Sun and DeadFly Media. After the ceremony Alex and Geddy stuck around to sign autographs for fans, one of whom was a former teacher from A.Y. Jackson Secondary School where Alex Lifeson was a student in the early '70s. While attending the school, Alex purportedly painted a mural on the band room wall as described in this post from earlier this summer. The teacher got Alex's attention and asked him about the mural, which Alex confirmed he painted and even mentioned that it took him six weeks of coming to school early and leaving late to finish the job. You can watch the exchange on YouTube in this video.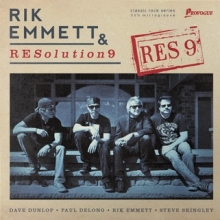 One of the many musical side projects that Alex Lifeson has been undertaking over the last year is a guest appearance on Triumph guitarist Rik Emmett's new solo project RESolution9 (Rik Emmett Resolution 9). The band's new album is titled RES9 and will release in multiple formats on November 11th via Mascot Label Group:
Allied Forces! Rock & Roll Machine! Magic Power! If you're fan of classic rock, you should know these songs by legendary Canadian rock band Triumph by heart. Former Triumph guitarist Rik Emmett signed with Mascot Label Group a few months ago, and it's time to reveal his new band and his new album. The members of RESolution9 are from Rik's touring quartet: Dave Dunlop on guitar, Steve Skingley on bass, and Paul DeLong on drums, with Dave and Steve co-producing the project. RES9 features contributions from Rush guitarist Alex Lifeson, Dream Theater vocalist James LaBrie, and Rik Emmett's onetime Triumph bandmates, bassist Mike Levine and drummer Gil Moore. The first new track "Human Race", featuring a guest appearance by Rush guitarist Alex Lifeson, will premiere in in less then two weeks. Keep an eye out on mascotlabelgroup.com, or follow us on Facebook or Twitter. RES9 is available to pre-order on CD, black and red vinyl. The red vinyl is limited to only 300 copies worldwide, and available exclusively on the MLG webstore. These will sell out quickly, so act fast!
Lifeson and Dream Theater's James LaBrie also both appear on the track End of the Line in addition to Lifeson's 12-string contribution on Human Race. From Blabbermouth.net :
... Lifeson added some period-perfect 12-string guitar alongside Emmett and Dunlop to buttress the impact of "Human Race", and he says he found it quite an honor to play with and for his lifelong friend. "When Rik asked me to play on his new album, I didn't hesitate for a second," Lifeson reports. "He's the consummate musician, a wonderful guitarist, and a terrific person, and it's always my pleasure to work with him any chance I can get. There is a rock purity in his songwriting and performance, and it's just so much fun to get together and throw ideas around. He's always so up and open for anything - even a notoriously uncooperative Rickenbacker 12-string!" Dunlop points out the way RESOLUTION9 meshed with Lifeson "stands as a great example of the collective efforts of the brotherhood."

Another one of "Res 9"'s honored guests, LaBrie, lent his own considerable talents to a pair of tracks, "I Sing" and "End Of The Line" (the latter of which also features Lifeson taking the third guitar solo), and he jumped at the chance to record with his fellow Canadian....
A video trailer for the new album has been released and features several clips of Alex Lifeson in studio with Emmett. You can watch the video on YouTube here, and pre-order RES9 via Amazon or the Mascot Label Group website.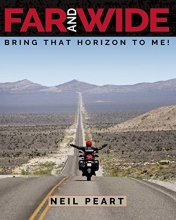 Neil Peart's latest book is titled Far and Wide: Bring that Horizon to Me! and chronicles Peart's travels on Rush's 2015 R40 Live tour. The book officially released last week but has already been available for purchase since early this month. It is available in both hardcover and for the Kindle. Here's the description from Amazon.com:
Thirty-five concerts. 17,000 motorcycle miles. Three months. One lifetime.

In May 2015, the veteran Canadian rock trio Rush embarked on their fortieth anniversary tour, R40. For the band and their fans, R40 was a celebration and, perhaps, a farewell. But for Neil Peart, each tour is more than just a string of concerts, it's an opportunity to explore backroads near and far on his BMW motorcycle. So if this was to be the last tour and the last great adventure, he decided it would have to be the best one, onstage and off.

This third volume in Peart's illustrated travel series shares all-new tales that transport the reader across North America and through memories of fifty years of playing drums. From the scenic grandeur of the American West to a peaceful lake in Quebec's Laurentian Mountains to the mean streets of Midtown Los Angeles, each story is shared in an intimate narrative voice that has won the hearts of many readers.

Richly illustrated, thoughtful, and ever-engaging, Far and Wide is an elegant scrapbook of people and places, music and laughter, from a fascinating road - and a remarkable life.
Portions of the book are also available to preview on Google Books, and you can order your copy at this location.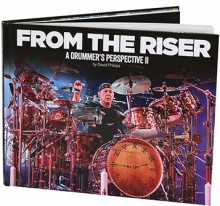 Speaking of Neil Peart and books, author and photographer David Phillips recently completed the follow up to his critically acclaimed 2010 coffee table book A Drummer's Perspective. The new book is titled From The Riser, A Drummer's Perspective II and features a foreword by Neil Peart, who also appears on the book's cover. The 180-page book features 270 previously unseen photographs taken by Phillips of over 130 legendary drummers. Here's what Neil Peart has to say about it:
Not many photographers have captured that performance art as well as David. One accomplishment is simply collecting photographs, but the greater gift is delivering such iconic images.
The book is being sold exclusively through the author's website at this location.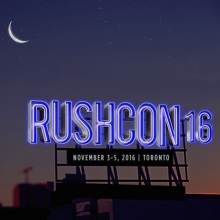 The folks at RushCon have announced the dates for this year's RushCon Rush fan gathering. The event will take place November 3rd-5th in Toronto. From the official announcement:
Hello Rush Fans! You didn't SERIOUSLY think we would go a whole year without a con? We know summer is going fast (and the nights are growing colder), so we decided to throw RushCon 16 in the golden light of autumn.

We hope to see you all this November 3rd - 5th, 2016, In Toronto, Canada. (Yep, that's Thursday through Saturday this time.) We have a huge, major event to announce, along with some fun new things! All details will be announced over the next couple weeks. But now would be a good time to ask for time off, get your Rush shirts out of the attic, and prepare to have the best weekend of your life this November. Stay tuned!
For more information visit the RushCon website and follow them on Facebook and Twitter.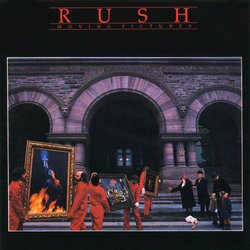 Rush's Moving Pictures is one of the forty Canadian albums from the '60s through the first half of the '00s to have been nominated for the 2nd annual Slaight Family Polaris Heritage Prize. The list was revealed earlier this week at the Polaris Music Prize gala in Toronto. From Billboard.com:
... Ten albums are honored in four time periods, 1960-1975; 1976-1985; 1986-1995; and 1996-2005. The prize was launched last year to recognize albums that may have made the short-list for the Polaris Music Prize were it in existence then.

Like the Polaris Music Prize, albums are selected based on artistic merit without regards to sales or affiliations. "This award is Polaris' version of the Hall of Fame, intended to recognize classic Canadian albums released before 2006, the year the original Polaris Prize started," said Derrick Ross of Slaight Music onstage at the Carlu.

The list of albums has been increased to 10 titles (from last year's five) for each time period, selected by four separate juries of music critics, journalists, broadcasters and programmers from across Canada. Another change for 2016 is two albums from each era will win, one selected by a jury, the other by public vote.

"I liked the idea of the critics picking one of those records," Polaris Music Prize founder Steve Jordan told Billboard backstage. "We do want to get fan engagement and the public engagement, but we don't want artists who are less popular and don't have that ability to mobilize a fan-base not to get the recognition."

He says it will not be possible for the same album to be picked by the fans and jury. "No, we'll just go down the list." ...
Voting is now open to the public at the Polaris Music Prize website here. Winners will be announced on October 24th. Moving Pictures was also nominated last year but lost to The Trinity Session by the Cowboy Junkies.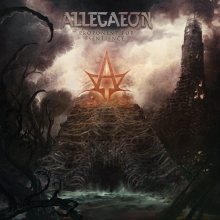 Colorado-based melodic death metal band Allegaeon's fourth full-length album releases today via Metal Blade Records. It's titled Proponent for Sentience and includes a heavy cover version of Rush's Subdivisions which you can listen to on YouTube at this location. You can order a copy of Proponent for Sentience at this link, and learn more about Allegaeon via their Facebook page.
Don Henley was recently interviewed for the Montreal Gazette and the interviewer (a Rush fan) at one point mentioned being disappointed at Rush's semi-retirement. This prompted Henley to discuss his experience with Rush fans at the Rock Hall induction ceremony back in 2013 when he was on hand to induct Randy Newman (thanks RushFanForever):
... the Rush fans - I encountered them when I inducted Randy Newman into the Rock and Roll Hall of Fame and Rush was being inducted the same night. They were a drunken, rowdy bunch. (Laughs) They shouted down Oprah Winfrey! It was funny. But Rush, they were very charming. Which one was it who got up and did a whole acceptance speech just using the words "blah blah blah"? [interviewer notes that it was Alex Lifeson] ... It was brilliant. It was f-ing brilliant. Because you knew what he was saying, because of his inflection and his hand movements and stuff like that. It just brought the house down. I'll never forget that. But I was lucky that night, because I got to go on first before their audience got toasted. So they were fairly quiet while I was on. I left after my bit was done, but I understand it got pretty ugly. ...
Opeth guitarist Fredrik Akesson was recently interviewed for MusicRadar.com to name 11 records that changed his life, one of which was Rush's Fly By Night:
I remember playing along to Alex Lifeson's riff on the first track Anthem, because I was learning to play some Rush songs with my old band. Naturally, I wanted to dig into his style and learn some of his solos to help understand that way of thinking. And it took me some time to get into his lead playing. But the riffs just speak for themselves - everything he plays has this unique vibe to it. He's such a wicked player.
Guitarist Richie Kotzen (Poison, Mr. Big, Winery Dogs) posted a Instagram video a couple of weeks ago of his girlfriend (Brazilian bassist Julia Lage) singing along to Rush's Tom Sawyer in the car while driving (thanks Jeffrey C).
Music Aficionado published an article last week titled 12 Reasons Why Power Trios Rule and Rush is used as the example for Reason #3 - Trios Shift Direction, Time Signatures, etc. With Dexterity (thanks RushFanForever):
There's nothing wrong with steadiness; it's a foundational idea in rock. We just have a bit too much of it at present. One antidote is contained in the whipsmart work of Canadian prog/power maestros Rush. There are gorgeous moments of stasis on each of the trio's albums, but its best work celebrates a kind of virtuosic fleet-footedness. It zips between moods and meters in dizzying ways-the overture that opens this sprawling suite visits 12 different time signatures. That's maybe an extreme, but Rush and others (Primus comes to mind) turned this meta-composition into a cause all its own, understanding and exploiting the thrill that comes from hearing an agile trio chop up the time in jagged, asymmetrical ways.
Here's Strombo's interview with Geddy Lee and Alex Lifeson from this past weekend's key to the city presentation in Toronto:
That's all for this week. Have a great weekend everyone!!