UPDATE - 9/18@10:01AM: A teacher from A.Y. Jackson was at Rush's recent key to the city ceremony and asked Alex about the mural. Alex confirms that he did the mural and spoke with the teacher about it as seen in this video (thanks RushFanForever):
----- snip -----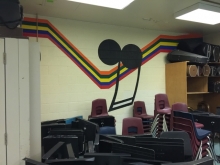 Most Rush fans know that Geddy Lee and Alex Lifeson grew up in the Willowdale neighborhood of Toronto and first met at Fisherville Junior High School. After that Lifeson went on to attend George Vanier S.S. and then A.Y. Jackson S.S. while Lee was at nearby Newtonbrook S.S. Reader Tim Scammell also attended A.Y. Jackson school in the early '80s and alerted me to a neat story involving Alex and his time at the school. Apparently Alex painted a mural on the wall of the band room that is still there to this day, complete with Alex's signature (A. Zivojinovich). Tim recently took a trip back to his old school to check on the mural and snap a few pics. He posted the photos to his blog this past weekend along with some background on the mural and a report on what he found:
... This is the band room wall mural which has been there since the 1970's and was painted by our boy Alex Lifeson of RUSH! What I was TRYING to do was to find an old photo that shows the bottom left corner with the name "A. Zivojinovich" (Alex's real name). I know it's there because I saw it when I went to the school. Unfortunately, only 1/2 of the mural is visible right now. The left side of the wall has 2 soundproof practice booths against it and I was unable to see behind them. When I was there last Thursday it was nearing the end of the day. I was able to get into the school but the band room was locked up and dark. The only people around were 3 people in the front office. Fortunately, the man is the principal. I told him that I went to the school over 30 years ago and was now living out of town.
Also, I am a HUGE RUSH fan. He was not aware of the story of the mural but was very interested to learn of it. It would be nice if he undertook to preserve it and present it so that the kids were aware of its value. I had heard rumours over the years that the wall had been torn down, repainted etc. but was very pleased to learn that these were in fact just rumours and that this fine remnant of Alex's time at A. Y. Jackson remains in great shape. I hope it stays that way. ...

Although he couldn't get a good recent photo of Alex's signature on the mural since it was obstructed, he did dig up an old photo from 1981 that shows part of Alex's signature (the ZIVOJIN portion) as seen here. Cool story! You can check out some more photos and read all about the mural on Tim's blog at this location.